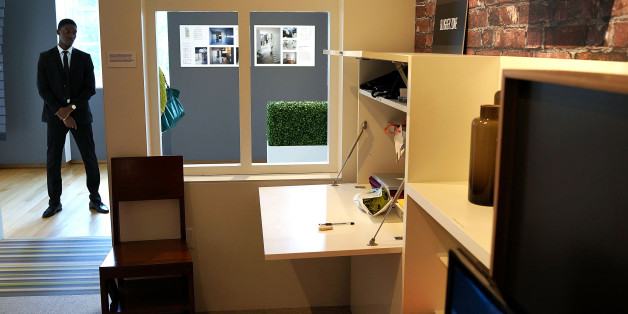 Recent reports in the New York Daily News and The Atlantic falsely assert that living in a modern micro-apartment causes substance abuse.
Lost in these articles is that the micro-units are being created to fill a real and growing demand for them due to housing crises that exist in most thriving cities -- and personal lifestyle preferences.
Also lost is that this assertion comes from a study titled "Residence Hall Room Type and Alcohol Use Among College Students Living on Campus" conducted at a mid-sized university comparing alcohol consumption of students living in dorm-style suites versus traditional dorms. It is a wild extrapolation of incomplete data to compare these 17-year-old college students living in dorms in one university in a small university town, to adults living in small apartments in New York City. I guess that would make Hong Kong the substance abuse capital of the world. Or perhaps Tokyo? Or is it New York or Bombay? Actually, it could be any city. Urban living in general takes place in smaller spaces. Does the study therefore suggest we all move to the suburbs and sit in traffic for two hours each way to work? That would certainly cut down on alcohol use.
The current housing crisis -- one that is being addressed by cities worldwide, but particularly in New York -- is creating a skewed market. Allowing developers to build micro-units is not intended to be an "be-all-end-all" solution to the housing problem. It is one solution that should be available to segments of the population that need and want this type of housing.
Anyone familiar with the Citizens Housing and Planning Council's (the authority on housing and demographics in New York City for more than 70 years) "Making Room" report and recent exhibition at the Museum of the City of New York would know that regulations designed to prevent small-space living are now contributing to the housing shortage.
There are stories abound of illegal sublets with four, five or more people sharing a three-bedroom, one-bath apartment of 1,150 square feet in neighborhoods throughout NYC. These spaces should be available for families, but instead are generating more income for landlords renting "rooms" at $1500 each (including living rooms and dining rooms converted into "bedrooms"), resulting in five unrelated adults sharing a single bath and kitchen for a grand total of $7500 per month -- about three times the real market rent and at best 230 square feet per person.
Compare this to the "micro-unit" that was shown in the "Making Room" exhibit at the Museum of the City of New York with 325 beautifully designed square feeta and an ADA compliant private bath and kitchen and home office, dining area, queen bed and seating for eight!
When these now-outdated regulations were put into place many years ago, there was justifiable concern about poor living conditions. Many micro-units now offer floor to ceiling windows, through wall ventilation, air conditioning, common areas, gyms, entertaining spaces, insulation and building-wide heat. There have been vast improvements in furniture design and space planning that now provide optimum functional space within apartments.
In both articles, Susan Saegert states her concern for children being raised in small apartments. Does a shared bath and kitchen in a "large" apartment shared by many people with individual "private" spaces of 120-230 square feet provide more privacy? Heaven forbid a single mother or father should share a studio with a child, with a private bath, kitchen and a moving wall or divider for additional privacy.
I could not agree more that a person is "happier and healthier when we can bring others to our space to telegraph who we are and what's important to us," as The Atlantic points out, but to assume that a small or "micro" home is not worthy of inviting our friends or family into is yet another misguided assumption. Perhaps what is important to the modern micro-unit-dweller is that they are living an efficient and more sustainable lifestyle and they are not wastefully cleaning or heating rooms they never use. During the "Making Room" exhibition in the Museum of the City of New York, we hosted more than one successful dinner party for eight guests in the 325 square foot apartment. I assure you that everyone had enough space -- and a great time. I invite Ms. Saegart to watch the videos from this little jewel box apartment and then let us know how unhealthy she thinks micro-apartments are.
All sarcasm aside, the bottom line is that we need the option of micro-apartments to house the flocks of people that do arrive in our wonderful city and simply want this type of housing.