The air will soon grow brisk as the days become noticeably shorter and the leaves begin to fall from the trees in various vibrant shades. The shopping list now includes book covers and number 2 pencils. The days of beach bumming are behind us and the focus shifts to the new school year for many. As thoughts turn from vacation to homework, "back to school" means spending time indoors. And those of us with children in the home know that sharing intimate quarters with them is something that best be well thought out.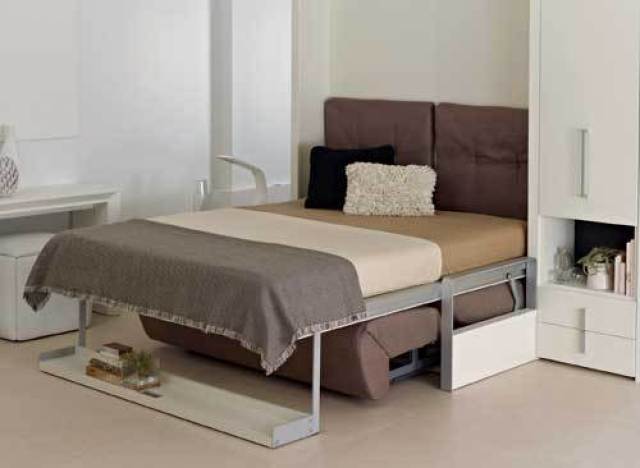 Photo from Resource Furniture.
Defining clear-cut spaces can present a challenge for even those of us lucky enough to have ample room. There are often many issues to overcome, especially when transitioning to a home that includes a young child (or two!). Providing a child with his or her own furnished space is probably not a necessity when their crawling radius is only about one room length. However, as they grow up and become more self-aware, creating a space in the home that they can call their own becomes a necessity.
Such was the case for Karen Salmansohn, a best-selling author and graphic designer who's known for her books on how to live your happiest life, her newest title being "Instant Happy: 10 Second Attitude Makeovers." After having a child, Salmansohn, whose books place a particular emphasis on positivity, wanted to make sure her living space remained an especially happy one. She already loved where she lived, in a cozy one-bedroom apartment in her sweet-spot favorite neighborhood of downtown Manhattan, in walking distance to the farmer's market. Having lived there for several years, she'd grown attached to her surroundings and the lifestyle she'd established. Admittedly, many people after having a child would immediately conclude that this called for a move to a larger home. However, in New York City, one's choice of neighborhood is a huge part of what makes them feel at home where they're living.
Salmansohn, eager to maintain the happy feelings evoked by the neighborhood that she loved so dearly, did not want to stray too far. She also wanted to avoid the inconvenience and major life disruption that comes with a move. The same holds true for a renovation - notoriously difficult and prohibitively expensive in the city.
The idea that your life should adjust to your environment - home, space, furniture - is a common one. A much more innovative method, and the one that Karen chose to employ, is to adjust the environment to your needs. The benefits of this not only impact the individual, but the community as a whole and allows for continuous evolution of one's space as his or her life evolves from one stage to the next.
For ages, furniture was compartmentalized into neat categories: modern or contemporary, for children or for adults, classic or eclectic, cheap or expensive. Easier global communication however has made us all more educated consumers, able to be further aware of the options we have and unable to settle for less than the ideal. A recent consumer behavior study revealed that good design in all areas, not just furniture, is rapidly becoming the deciding factor for the majority of consumers. While good design can mean a number of things, one consistent characteristic is that it should address consumer's unique needs.
Karen initially shared her one bedroom flat with her young son. However after one too many sleepless nights; she decided she needed the tools to make her space expand for her new lifestyle. Karen came to Resource Furniture looking for a solutions: in a sense, a way to turn her one-bedroom apartment into a two-bedroom apartment without a move or a disruptive, costly renovation. She purchased a multi-functional sofa and bed system, with a comfortable reclining sofa and a bed that pulls down for equally comfortable sleeping, a huge relief for any mother. Choosing not to compromise her favored living arrangements for more room, Karen kept her one-bedroom and created more space using the ITO.
Not only has she saved herself the trauma of moving in New York City; of looking for an apartment, filling out the applications, dealing with real estate brokers, taking time out for the search, changing her commute and dry cleaners, moving her utilities, cable and phone connections; leaving her favorite supermarket, and having to change all the service people that know her in the neighborhood and even the barista who knows how she likes her morning coffee without having to speak a word, but she has done it all for a cost comparable to a professional move.
Now, during the day, her living room is perfect for play dates. In the evening, after her little one has been tucked into his own bed, she can fall into her own, worry-free. Or at least with one less worry.