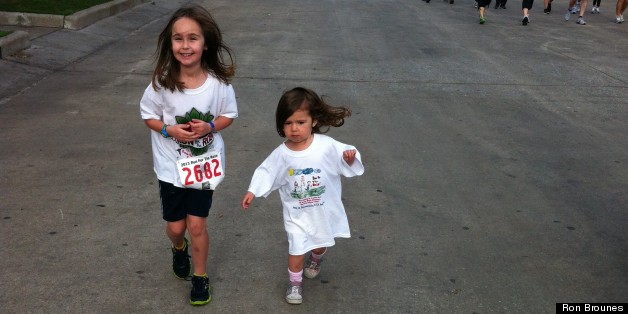 A few weeks ago, my family participated in the Run for the Rose, a fun run benefitting brain cancer research. This year represented the fourth time we have tackled the "treacherous" 1 kilometer course around the scenic Reliant Stadium parking lot in Houston, Texas. As a runner (using the term loosely), I look forward to those days when my kids can join me in a brisk jog and share one of my passions.
This year, our oldest ran the entire course with me with very little shortness of breath or any annoyingly sharp side stitch. She took great pride in staying a step or two ahead of her very athletic dad (perception is reality to a 6-year old) and had conserved enough energy for a final sprint down the home stretch. We triumphantly crossed the finish line in near-record time (not that records were kept), and she confidently announced her plans to conquer the 5K next year (though she still hasn't mastered the metric system to calculate the exact distance). She collected her well-deserved medal and we waited for her mom and 2-year-old sister to complete the race.
We positioned ourselves right at the finish line, cheering mightily as each racer went by. I found teaching moments about sportsmanship as my daughter pointed out her classmates who completed the race slightly behind her. We saved our loudest roars for her sister and mom as they approached the final banner and greeted them with enthusiastic hugs and high-fives as they were directed to the medals. As a family, we proudly moved from the course to the post-race festivities, where we celebrated victory with pizza, BBQ and Bundt cake before the clock struck 9:30 a.m.
The very next day was Monday April 15... tax day for Americans, Patriots' Day in Massachusetts, and the 117th running of the Boston Marathon. Early in the afternoon, I noticed a Facebook posting from a childhood friend who proudly uploaded a picture of her husband who was "looking strong" at mile 20. My niece, a Boston U grad, tweeted her disappointment about missing the time-honored tradition. A short time later, I received word of the dual bombs that exploded along the course near the finish line, killing three, injuring over 200 physically and perhaps millions more emotionally. For the next few days, we followed the manhunt for the alleged perpetrators, watched the news as one of the country's greatest cities was placed in lockdown, and cried for the victims of this heinous act.
I could not help but think that just the day before, in a city about two thousand miles away, in a race far less prominent, my daughter and I stood in the very spot along the finish line where 8-year-old Martin Richard eagerly waited to cheer on his dad. Where Krystle Campbell soaked up the enthusiasm of the annual Boston event and Lu Lingzi was taking a break from her graduate studies to enjoy the festivities.
I have since read of runners who were unable to realize their dreams of finishing the race and were separated from family and friends for painstaking hours. I heard of a husband and wife who both tragically lost limbs in the carnage and were recovering in different hospitals. I communicated with a client who lived a block away from a suspect and was awakened by a Code Red alert and unable to leave her home while he remained at large. Virtually everyone had a story of a friend, a family member, an acquaintance who was there, who knew someone who was there, who was supposed to be there, or who wished they were there. Six degrees of separation took on new meaning. And yet, I can't seem to get that image of Martin Richard out of my mind.
He has such an innocent face, a smile that reveals a slight gap between his two front teeth, a baseball cap that depicts support of his favorite sports team. Every parent of every young child (even those who are grown now) possesses that same exact photo in a frame prominently displayed in their home or on an office shelf. It is the very same image I see every day of my oldest daughter, who has enjoyed several visits from the tooth fairy as of late and proudly dons her baseball cap for her Little League team's three touches a week. I saw that smile when we stood at the finish line the day before as she was excited for her younger sister's accomplishment.
Martin's death is no more tragic than Krystle's or Lu's or that of MIT police officer Sean Collier, who gave his life in the line of duty, protecting and defending the public from a fugitive at large. They, too, left loved ones far too soon and had countless dreams unfulfilled. But Martin's image brings back memories of Sandy Hook and Columbine and the Oklahoma City bombing, where 15 children perished in a daycare center. For some reason, these images of children are imbedded in our memories and simply last longer.
As parents, we accept our most critical responsibilities to protect our children and keep them safe from harm's way. We baby-proof our homes, strap them into car-seats, monitor activities at parks and playgrounds, teach them to look both ways when they cross the street, learn about their friends and anticipate potentially bad influences. We worry about every runny nose, bandage up each skinned knee, research in great detail every recommended medical procedure. Through the years, we receive their dirty looks, get talked back to when they feel they have been babied, fight the urge to give in when they try to grow up too fast. We do this because we are their parents and that's our job. We dream of that day when they will treat our grandchildren in a similar way and will look back and laugh at the lessons learned from their youth.
And yet, sadly, so many frightening things are simply beyond our control. Martin was enjoying a family activity on a beautiful Boston day. He was cheering on his dad and perhaps dreaming of achieving a similar feat down the road. Maybe he and his dad could have run Boston together in a few years. He didn't act in a reckless manner; didn't disobey the directions of his mother; didn't wander off against her wishes to explore on his own or with adventurous friends.
So, what do we tell our kids about Boston and Sandy Hook? When and what are they ready to hear? My daughters are still babies, and I want to protect their innocence as long as possible. To them, a bad day simply means "time out" and a meal without dessert. Bad guys look like Darth Vader and the Joker and Scar and they don't know about Dzhokhar Tsarnaev or Adam Lanza or Timothy McVeigh. I fear those conversations are coming one day soon.
We struggle in our parenting with being overprotective vs. merely being cautious. We don't want to put ourselves and our kids in harmful situations, but we cannot lock ourselves in our homes and turn their lives into a prison either. Certainly, we cannot allow the "bad guys" to win. After 9-11, we got on airplanes again. After Columbine and Sandy Hook, we sent our kids to school again. And after Boston, we will participate in fun runs and marathons again.
On that note, I continue to look forward to those days when my kids can join me in a brisk jog and share one of my passions. Hopefully, I will tackle the 5K route at Run for the Rose next year with my oldest daughter a step or two in front. Heck, perhaps one day, we can run a half-marathon or a full marathon or even Boston together. Sadly, at my age and running ability, the latter is not a very likely scenario. But this I can guarantee: If one of my kids is doing Boston one day, I will be right at the finish line, cheering loudly from the sidelines and nothing and nobody will keep me from being there. And I will remember Martin.