Every day 10,000 more Americans turn 65. The baby boomers are behind an unprecedented agequake that will shake up not only this country, but the rest of the developed world. How will this vast new market impact the economic and social landscape? What are the opportunities for business to interface and innovate with these new, mature, sophisticated audiences. "Infinia on Aging" will explore how the experience of aging is being reshaped - and how it is reshaping consumer demand and behavior domestically and globally.
This second installment in the series examines how the aging boomer generation is shifting its outlook on retirement and employing key strategies to adapt to tough new realities.
Read our first installment, "Finding Gold Amid the Gray."
* * * *
The forecasts for an aging nation often seem grim: The generation now moving into old age hasn't saved enough for retirement, will drain government coffers for benefits, and their ill-health will cripple the nation's health system.

Even boomers themselves are looking glummer about their prospects in old age. Worker confidence in their retirement has wilted in the face of the tough economy, surveys show. More than half of workers have doubts about having enough money for retirement, according to a survey by the Employee Benefit Research Institute. More than a quarter say they are "not at all confident" about having enough savings for their post-work years, pessimism that is unmatched in the survey's 21 years.
The bleak outlook is actually good news, one of the survey's authors told Reuters. "People's expectations need to come closer to reality so they will save more and delay retirement until it is financially feasible."
So don't count the boomers out yet. Key strategies and trends are emerging that suggest the new elderly, and the nation, can adjust. Society has no choice, as all projections say the shift to an older society is permanent. It will in fact accelerate through the coming decades, even after the baby boom generation is gone.
Retiring later
Expectations are indeed getting in line with retirement reality, according to the Benefit Institute's survey, which has shown a steady rise over the past two decades in the age that workers expect to retire. Where twenty years ago only 9% of workers expected to stay on the job until at least age 70, nearly three times as many say that now.
For someone late in life without enough savings, nothing works in their favor more effectively than working longer. People can boost their retirement investment income by 22% if they stay in a job an three extra years, and by 39% if they work five extra years - assuming they save 15 percent of their income, the investment firm T. Rowe Price calculates. If a worker delays taking Social Security benefits, they also rise to a peak if started at age 70.
We should, in fact, account for longer lifespans and better health and completely rethink the years between our midlife and true old age, argues Marc Freedman in his book, The Big Shift - Navigating the New Stage Beyond Midlife. He suggests more people nearing the end of their conventional careers retire, take some time off, then return to work - what he calls a "gap year for grown-ups."
Saving faster
Most boomers still have years to work and save, even if they'll retire at the traditional standard of 65. And while incomes have suffered in the recession and its lingering after-effects, the rate of personal savings has climbed in recent years from historic lows.
Also encouraging is that younger generations are getting the message. About a quarter of Gen Y and Gen X workers are self-funding retirement plans, compared to 16% of boomers, according to a survey last year from TD Ameritrade.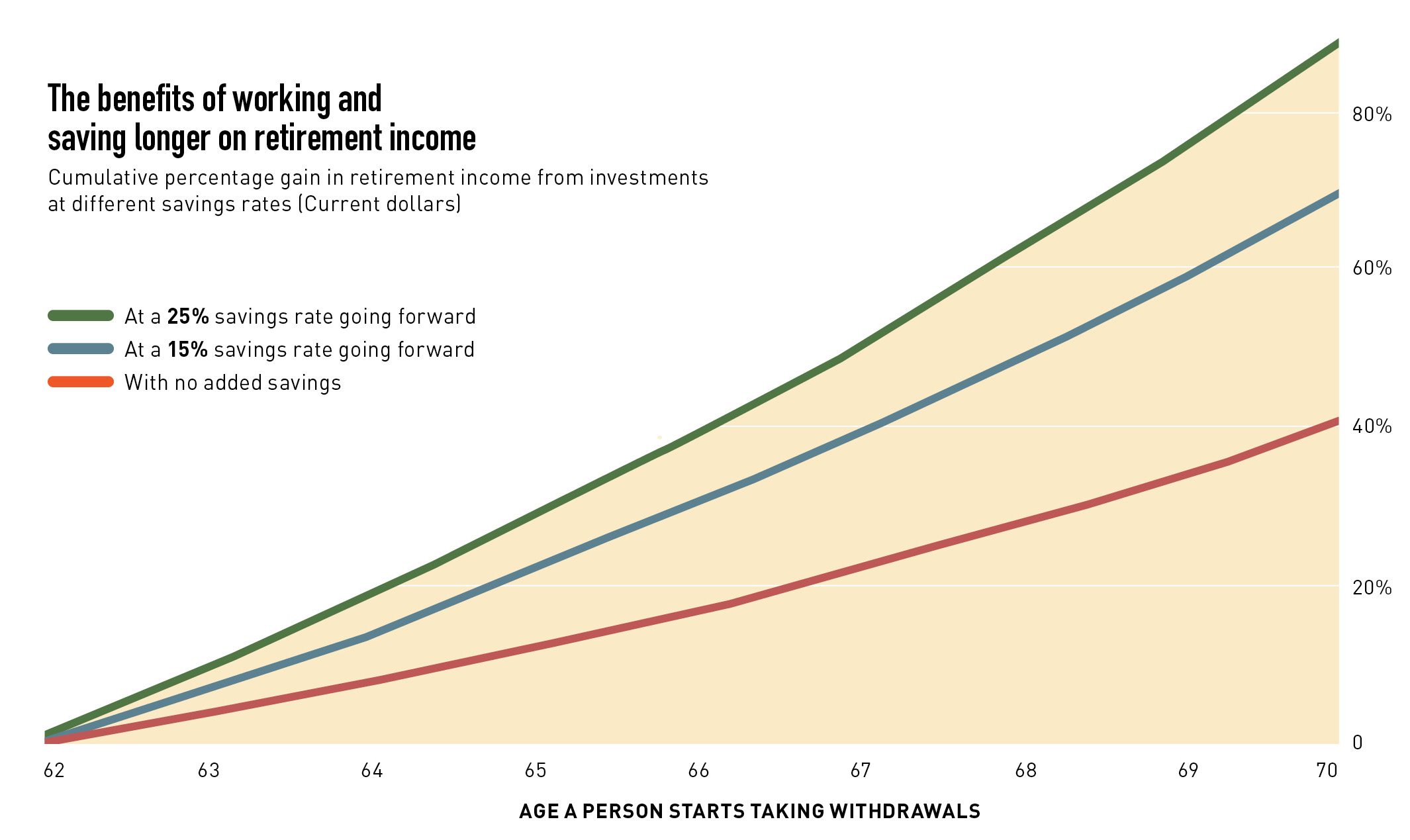 Smart moves
Downsizing to save money is nothing new to retirees. But today's workers typically have more flexibility in where they retire.
Many are moving to rural locales for a simpler and less-expensive life. Their numbers will swell to nearly 400,000 during this decade, a jump of nearly 40% over the number of boomers who moved to remote counties in the 1990s, according to a study by the U.S. Department of Agriculture.
Retirees abandoning the suburbs where they raised families also help explain revived housing in the core of many U.S. cities, where seniors are attracted to the convenience of nearby mass transit, restaurants and stores. They often find urban apartments or condos that cost less than their bigger suburban homes.
Disabilities at bay
By many measures, particularly obesity, those approaching their senior years are in worse health than past generations. But in at least one key measure, health has improved - today's population older than 65 suffers from fewer disabling maladies.
"Older Americans, when compared to older Americans even 20 years ago, are showing substantially less disability, and that benefit applies to men and to women," said a researcher at the National Institute on Aging, a federal agency. "All of this speaks to an improved quality of life."
It could also blunt fears of older Americans overwhelming health care resources. Not to say that debilitating disease is not a threat - there are plenty of slow-killing diseases such as Alzheimer's, which has struck more than 5 million Americans and costs the government about $130 billion a year in treatments.
Still, the overall trend is in a good direction, the National Journal said last year. "People are staying healthier longer - we're not producing a generation of really sick old people," Harvard Professor David Canning told the magazine.
Tech to the rescue
New technology will no doubt ease the burdens of tomorrow's seniors. Research continues full bore into exotic forms, such as robots, and not-so-exotic sensors and communicators that can, for example, help keep retirees in their homes longer. Many are already hitting the market.
But technology alone is not enough, writes Joseph Coughlin, director of the AgeLab at the Massachusetts Institute of Technology. Business needs to connect the technology to services in a package that helps seniors and their caregivers. "Real innovation brings complete solutions to consumers," Coughlin says.
The aging population represents an enormous opportunity for delivering help with a combination of technology and services, Intel Corp. executive Eric Dishman told the New York Times. "Whichever countries or companies are at the forefront of that are going to own the category."
Previously: "Finding Gold Amid the Gray"
Next: Japan's futuristic approach to retirement.