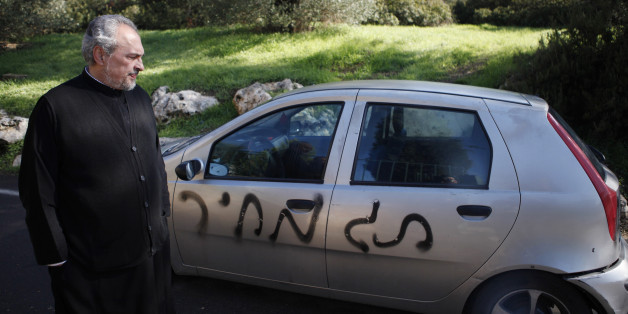 Earlier this week, I was invited to attend a meeting of the Committee on Education of the Knesset (parliament) by leaders of a coalition which I am part of called Tag Meir, Hebrew for "Light Tag," or perhaps better translated as "A Sign of Light." The group combats hate crimes that have become endemic in certain quarters in Israel during the last year and a half. We began at Hanukkah to react to each violent act of Jewish ultra-nationalists who desecrate churches and mosques and attack innocent peace activists, who go under the name Tag Mechir, Hebrew for "Price Tag." Our idea was to light a beacon of peace and reconciliation to show the sane face of the moderate mainstream of Judaism in Israel.
The meeting at our Knesset was chaired by M.K. Amram Mitznah, of the new political party, Hatenuah (the Movement), led by Minister of Justice Tzipi Livni. Tag Meir initiated this discussion within the framework of a meeting of the Committee on Education in order to place this issue firmly on the public agenda. This coincided with the publication of a report by Tag Meir about hate crimes in Israel and the Occupied Territories over the past 18 months. Mitznah opened the meeting by stressing that this issue is a crucial one within Israeli society, one that can no longer be ignored, and it needs to be addressed by the educational systems in Israel, both formal and informal.
Gadi Gvaryahu, who serves as chairperson of Tag Meir, summarized the report, which delineated more than 100 attacks by extremist Jewish groups against Christian and Muslim Arabs, against Jews and against foreign refugees residing in Israel. He reminded everyone in the room that the Torah tells us no less than 36 times that we need to be kind to the stranger. In addition, he told the committee that not one single perpetrator has been brought to justice yet (and that if it had been Palestinians doing this, they would have been brought to justice a long time ago).
Many of the Arab Knesset members who attended this meeting of the Committee on Education spoke up strongly about the plague of Jewish right-wing extremist attacks on Arabs and called for changes in the educational system in Israel. Some of them also mentioned that they also suffer from verbal racist attacks almost every day in the Knesset by members of right-wing Jewish political parties.
This became obvious to me as I watched the way that some of the Jewish members of Knesset spoke with disdain about this problem and tried to shift the problem to the other side. Yes, our parliament is a democratic one, and all voices can be heard, but one must wonder why some of our Jewish members of Knesset cannot simply treat their fellow Arab colleagues, who are in a distinct minority within the Knesset, with a modicum of decency and respect. I found it rather shocking and sad to see for this for myself.
One of the people who spoke eloquently at the meeting was Suhad Abu Zmiro, about whom I wrote on April 5 on this blog. She is a young Arab teacher from the Israeli Arab village of Kalansaweh, whom I met a few weeks ago when I visited her in her home with a delegation from Tag Meir, to express our empathy with her since she was attacked by Jewish students in a "religious" neighborhood of Jerusalem. Suhad, who teaches in a Jewish school in the town of Ramat HaSharon, north of Tel Aviv, told the Committee that she has been shocked to discover how ignorant Jewish teachers are concerning Arab identity and culture in Israel.
"We have to introduce them to Arabs and Arab culture so that they will not be afraid," she said. Much can be done to improve the knowledge of Jews in Israel about their neighbors, the Arab citizens of Israel, via formal and informal educational programs.
Unfortunately, Tag Meir is getting busier and busier, since almost every week there is a hate crime perpetrated by Jewish nationalists against Arabs or Arab institutions in Israel. This must stop! Our law enforcement authorities must arrest the perpetrators! They are capable of finding them if they want to, if they will only decide to do so, without worrying about internal political considerations.
But this issue is not just an issue of law enforcement. It is an issue of religious values. Rabbi Gilad Kariv, the director of the Israel Movement for Progressive Judaism, eloquently reminded the members of the committee that we are commanded to be holy by treating the stranger in our midst fairly. I would add that this is not only in our enlightened self-interest as a democratic state, but it is a fundamental Jewish value which should guide us as we try to reduce hatred and xenophobia in our society.