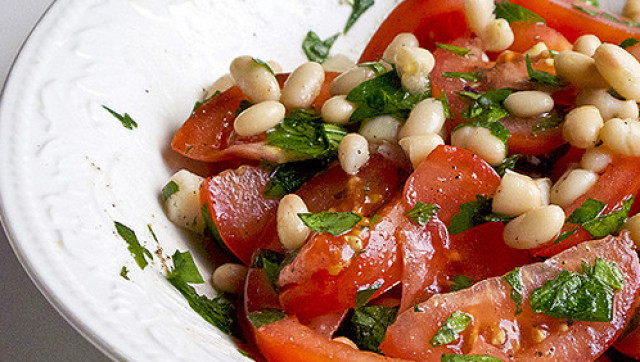 Gerald Lieberman wrote, "Vegetarian: A person who eats only side dishes," in reference to dining out at restaurants. And if you are a vegetarian, you know what I mean when special request ordering vegetarian, especially vegan, off a casual or fine dining restaurant menu serving traditional Western Cuisine. Vegetarian menu offerings improve with ethnic restaurants (Asian and Indian), which are primarily served in a variety of stir-fry, Pot-au-feu or New England boiled dinner type one-pot dishes. In America, chefs move the side dish to a center plate entrée, embellish them, and charge as much if not more for the special menu item than for their menu listed meat entrées. Currently the vegetarian entrée is, in general, a vegetarian side dish created as an afterthought. And that is the challenge confronting culinary professionals serving Western cuisine. Do they have the culinary fortitude and knowledge to create a vegetarian entrée that would rise to the stature of conventional meat entrée?
Vegetarianism is a cuisine focused on plant based or animal biproduct proteins. In Western cuisine protein is about center of the plate entrees. Entrees focus on creating an innovative protein with taste, eye appeal and perceived value. By perceived value is meant the vegetarian entrée is worth the price charged. In Montreal I was dining at a restaurant with friends and it was a prix fixe $50 for a 3-course dinner. I was served a quinoa pilaf with a few side vegetables and my friends had a wild duck entrée with a bigarade sauce. In food cost, the quinoa entrée cost about $1.50 and the duck entrée with sauce cost about $7.50. But we both paid the same.
To meet consumer demands professional cooks would be well served to improve their vegetarian culinary skills to an acceptable industry standard by learning about vegetarian protein options starting with the ancient proteins like beans, Seitan, tofu, and tempeh. Integrating nuts, seeds and Kalamata olives, ingredients with perceived value, into the ancient proteins and forming them into a center of the plate entrées (i.e. cutlet, cake, or patty) with a complimentary sauce is a viable strategy. Beans are the under rated protein on menus. Bean steaks, bean pates with roasted nuts and bean moussaka are some menu ideas. Beans need not be the entire protein. They work well in combination with tofu and Seitan. They also work in sauces. One of my favorites is smoking tofu and infusing it with beans with regional flavors and forming them into loaves or cutlets. Twenty-first century vegan meat analogues such as vegan ground beef style or chicken style proteins are now available through foodservice distributors. These analogues function similar to meat and have the perceived value. They are expensive as a frozen product and about half the price as a dry product that offer more menu or recipe options.
Think vegan. To proficiently cook vegan professionally is to master the art. It allows the chef to create the spartan version of vegetarian cuisine. From experience I would always have a vegan entrée on your menu to assure that you can cover all vegetarian requests. But using eggs with the highest Net Protein Utilization of proteins is acceptable since the 35 percent of American consumers who are part time vegetarians don't care of the entrée is vegan.
The American Natural Foods, a non-profit, has been working on a certification program to teach culinary professionals core vegetarian skills. It is in the final stages a launching Certified Vegetarian Culinarian (CVC) program for professional cooks. It was addressed in previous blogs for Huffington Post and will be launched around March or April of 2013. You can learn more about the CVC at the nonprofit website www.americannaturalfoods.org and it is supported by World Association of Chefs Societies (WACS). They intend to launch the certification program into approximately 30 countries once they approve the curriculum. The CVC is focused on vegan center of the plate proteins and classical/modern American desserts. Vegetarians are people who used to dine on side dishes. Now they expect an entrées that are innovative, delicious and healthy. The American Chefs will have to improve their vegan entrée skills if they intent to satisfy the ever increasing vegetarian and healthy dining consumers request for vegetarian entrees. The ANF is focused on helping culinary professionals meet the vegetarian challenge.
The following is a picture is a Tofu Entrée made with the ancient protein tofu. The version is Thanksgiving Day Tofu with Cranberry dressing, Seitan ala Normandy and Veloute sauce. You can find the recipe on the recipe page. www.americannaturalfoods.org. The tofu could be filled with a mushroom filling, smoked and served with a Sardaline Sauce for a German version of the entrée.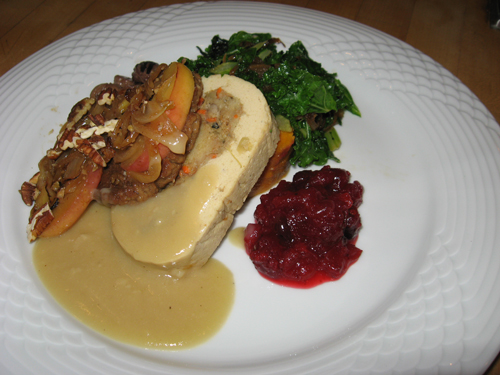 The following is a vegetarian analogue entrée called Le Coq Au Vin (Chicken with Wine).