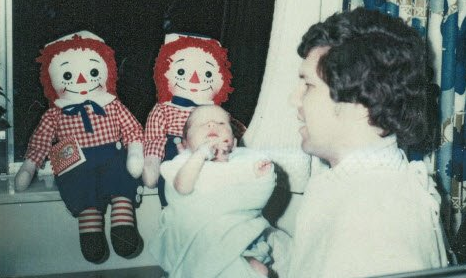 Photo Credit: Brenda Rowe
Nothing. I felt nothing the first time I held my twin boys in the hospital.
I was expecting to feel a rush of emotion, a tidal wave of love and dizzying heights of nirvana.
Nada.
I have talked with fathers who did experience those emotions, instantly.
Not me.
It troubled me for a few moments, then I realized: "We have just met. This is the beginning of our relationship. Their mother had a 9-month head start on me."
Once we were home and I realized that our sons depended on us for survival, I felt needed, for the first time in my life.
When I looked into their eyes, the part of me that protects against saber-toothed tigers assessed the situation and said: "No danger here -- you can let your shield down."
With them, I could be authentic.
With them, I could remove the mask.
With them, I could be vulnerable.
And I let them into my heart -- deeper than I had ever let anyone go.
I experienced a love that cannot be expressed in words -- a love that is different than any other love relationship.
I have talked with other fathers who felt nothing when they first held their child, but never mentioned it because they were afraid they were the only one.
It was only after hundreds of diaper changes, bottle feedings, burping, rocking to sleep, etc. that these fathers experienced a deep, emotional connection that lasts a lifetime.
Science tells us that when there is skin-to-skin contact between a father and his newborn that hormones are released that starts the nurturing process.
While this is built into our DNA to ensure the survival of humanity, I believe that there is much more than brain-chemicals at work here -- there is another dimension involved.
After the first six months of sleep deprivation became a distant memory (their sleep schedule was an hour and a half shifted so someone was awake all the time), joy became my constant companion; yes, there were moments of frustration as they grew, but there was also joy.
As happens with most fathers, I decided to choose a better future for our sons.
I wanted them to be happy, successful, have a meaningful life and make a positive contribution -- nothing new here.
However, the hospital had forgotten to give us the manual on how to raise our children (oh, there isn't one?), so we were winging it on a day-by-day basis, with no direction, no plan, no strategy.
I decided to review how I was raised to see if there were any clues as to what to repeat, what to modify and what to leave behind.
The aunt who raised me taught me life-skills for when I would be a single adult: how to cook, iron, vacuum, wash clothes and mow the lawn.
She also gave me incredible freedom to roam during my pre-teen years, throughout our farm, down to the country store alone on my bike.
Life-skills and freedom -- check -- those I decided to bring forward with our sons.
One modification: some of my life-skills were taught too late: swimming lessons started at age 13; using my voice to speak before groups started at age 32.
Note to self: build in those life-skills early with our sons.
Our boys were swimming at age 2, and ordering their own food at 3.
We gave them the freedom to dress themselves at age 3 (polka dot shirts with plaid pants?).
Leave behind: the parenting style of never saying: "I love you!"; never giving hugs.
Replace that with saying "I love you!" daily, with abundant hugs, kisses, back rubs, caresses, this-little-piggy-went-to-market.
Breaking that "no-felt-love" cycle laid the foundation for their future success and happiness.
What line of work they would choose and who/if they would marry was totally up to them. My guiding north star was equipping them to thrive in a dynamic future -- to be equipped better than I was equipped.
Investing in our children yields emotional dividends -- as their mother and I look at our sons and their children we realize that we are very, very rich!
P.S. Their mother, step-dad, and grandparents contributed immensely to our boys having manners, character, work ethic, etc., and I would be remiss if I did not recognize their awesome efforts in forming and guiding our small humans into adult humans, especially during the pre-teen and teenage years! They really did the "heavy lifting" during those times!