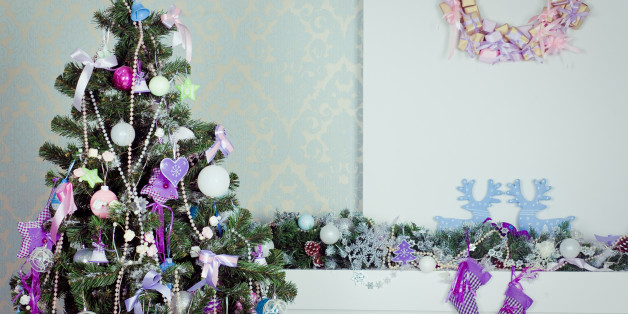 As a child, we had the artificial pine about six feet tall. I remember being about 6 years old when my mom made our ornaments. She took cardboard and cut it into stars, bells, and trees. We decorated the cut-outs with red, green, gold, and silver glitter. I loved that tree with our handmade ornaments.
In my teens, we went with no tree just lights, still festive. During my junior year in high school, Mom and Dad gathered us in the living room. After years of renting, they wanted to buy a house. That required saving for a down payment and making double payments on debts to clear up credit. Because of this, we would not receive Christmas gifts. I do not recall being mad or disappointed. That Christmas morning, my sisters and I walked into the kitchen for Christmas breakfast. There was a small jewelry box at each of our seats. Mom and Dad bought us gold rings with our birthstones. The rings probably came from a discount store. However, I was never as appreciative of a gift as then. Mom and Dad said, "We don't want the first time you receive jewelry to be from a man giving it to you with ulterior motives."
My nieces and nephews where born while I was in college, living on the west coast, or in law school. Therefore, my visits during holidays were not long and we had a short period of time to get all of our Christmas fun in. So began the tradition of putting up the tree Thanksgiving evening. My nephews would assist in setup. My young nieces would pretend the garland was a feather boa and parade around like Hollywood starlets. The soundtrack to A Charlie Brown Christmas played in the background. When the theme song played, we would all stop decorating, pick a character and dance their dance.
One year, there was the mystery of the broken ornaments on the bottom of the tree. Was the tree leaning? Did it fall over? If so, why just the bottom ornaments? I was tired and napping on the sofa. The lights were out since the tree was lit. I heard ornaments shaking. I opened my eyes. Behind the tree, there was my nephew, only 2 years old. He had one hand on the wall for balance. Then he hiked his left leg back like he was going to punt a football. He aimed at an ornament, kicked, and started giggling. He almost jumped out of his skin when I came around the tree. He exclaimed, "Auntie what are you doing here?!" Really, like I should be explaining myself. For years, we only used cheap ornaments and would not put any on the bottom of the tree because of him.
I am a rather involved auntie. My sister faced the same dilemma every couple with a newborn has. How do we make both grandparents happy on holidays? Forget about the grandparents, what about Auntie?! I want to see their faces when they open their gifts. I am not waking up at 6 a.m. to come to your house Christmas morning or worse yet, treated like second skimmings by having you visit Christmas evening when the poor kid is tuckered out and on the verge of rem sleep. I commandeered Christmas Eve as Auntie's special time with her babies. My nieces and nephews open my Christmas gifts on Christmas Eve. That way I did not miss the awe on their faces when they rip into presents and wrapping paper goes flying in the air.

After my father passed, I felt the need to make sure memories of him did not fade. My Granny passed a year later. To honor them, I expanded Auntie Ronda's Christmas Eve celebrations. For Christmas vacation, the nieces and nephews would come to my house. We bake cookies, go sledding, take in the Christkindl market, drink hot chocolate,and watch A Charlie Brown Christmas.
Great care is put in my Christmas Eve menu. I try to include international fare or recreate meals from restaurants I like. I take out the good china and crystal stemware. My mom protested that this should not be taken out for the kids. I replied that if good china and stemware cannot be used for family, then it cannot be used for anyone. Plus, I used this as an opportunity to go over table manners with the nieces and nephews. In a nod to my dad, we watch O.Henry's Full House -- The Cop & the Anthem, Gift of the Magi, and Ransom of Red Chief.
One Christmas Eve, my teenage nephew, who used to kick the ornaments on the tree, kept teasing my three year old nephew that he would take his Christmas gifts. My mom told my older nephew to stop aggravating the baby or he would get it. He joked, "Granny what are you gonna' do -- you're getting old?" There was an uproar of laughter and my teenage nephew yelling, "Granny get off!" Mom had hopped off her chair and tackled him in the hallway. Here is my 60 something mom in her holiday velour skirt-set acting like Junkyard Dog from the WWE. She pinned him down with no exit. Tears were rolling off of everyone from laughter. She made him apologize to my three year old nephew. Then she looked at him and said, "Who's the old lady now?" More laughter ensued. Mom sat back in her chair trying to look dignified, except in her impromptu wrestling match, her wig was cock-eyed on her head. There she was sitting all prim and proper with her bob wig hanging half on her head and half on her shoulder. By this time, we were all on the floor laughing. I'll be home for Christmas!