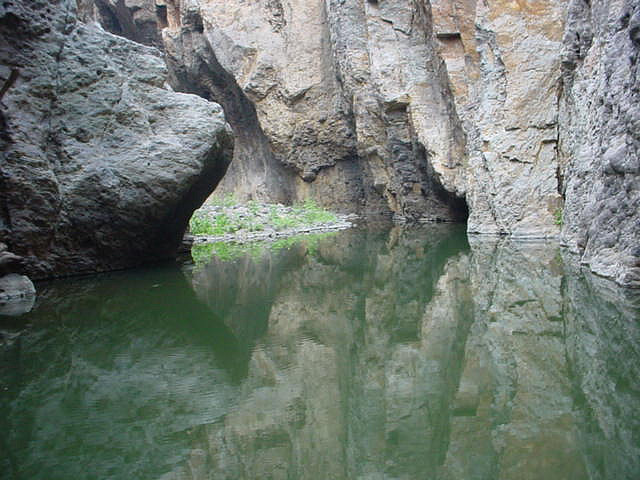 Image by Jack Fiallos
I asked, and the Nicaraguan man on his bicycle replied by pointing his lips trumpet style towards the path. Once this habit had been pointed out to me, I kept having to suppress a giggles.
Following his lips down the path and through the green, we reached the opening of Caᅢᄆon de Somoto. I was with my American friend, Garret, who'd prepared for adventure by tying a bandanna around his head. We were in the North of Nicaragua in a canyon that was only found in 2004. It's 200m deep, and in places just a few meters wide. The locals know it as Namancambre.
A group of Nicaraguan men bathing with their Toᅢᄆa beers, greeted us. Or rather they greeted Garret, as they argued over which state is best. They ignored me until the moment he was around the corner, when I got a tirade of "I love you baby!"
We walked over the still warm rocks: marbled grays and purples and pinks with violet flowers along the side. Soon we couldn't walk anymore. We packed our things in big plastic bags and moved through the canon like swimming Santas.
The sun beginning to set, we reached our cave. Its ceiling was high and its front wide open. A window was formed perfectly in the side. The air tasted like water and it was surrounded by river and rocks. It was escape.
"Away from all that mumbojumbo." Garret half joked, referring to the rest of the world.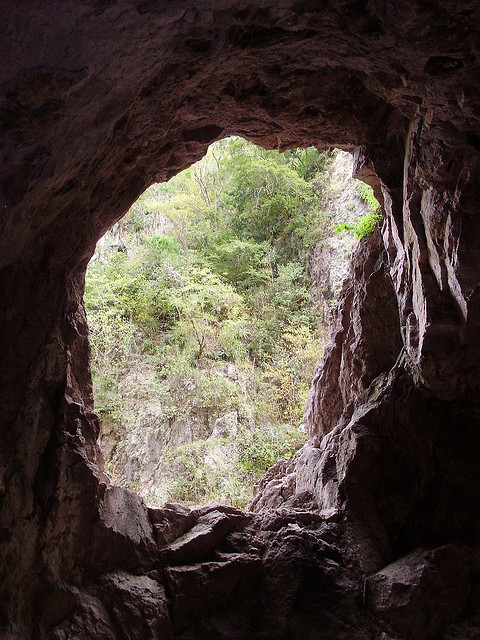 Image by Jack Fiallos
And for the first time in weeks I had it back. That calm I felt last time I was by a stream away from all that mumbojumbo (what better word?) My thoughts slowed, my worries seemed at odds with the surroundings and lost their power. So what if I had red marks on my legs from shaving? Was that really what I'd been thinking about?
I filled the cave with candles we'd brought as Garret lit a fire. The candles threw little halos of light on the rocks while the heat of the fire on my skin took me back again. I thought of the drums I heard last time I was beside a fire. But we didn't need them here. We had the beating of the water on the rocks.
Over the fire we made our strange meal of tortilla with refried beans, tomato and processed cheese. The love child of local ingredients and laziness. It didn't compare to the lunch we'd had in a comedor (cheap local cafeterias) of fried plantain, gallo pinto (rice and beans), chicken, salad, and an overly sweet refrescoe (fresh fruit juice with lots of sugar).
We lay down on blankets on the sand, looking out of the cave's window at the stars and the trees peeking in over the cliff edge.
In the morning we swam. We splashed and we dove and then we stretched ourselves out on warm stone. Light rippled along the smooth edges of rocks arching and framing the rich blue rush of water.
I lay on my back; Garret said,
"I'm dancing with a lizard!" as I saw a butterfly the size of a bird. Baby blue wings framed by black. There were so many -- butterflies and dragonflies and the calls of birds. It was almost too much beauty in one place.
We climbed and sat on a smooth rock facing into the canyon with the water flowing beneath. Garret taught me a chant:
"It goes like this: Nam myoho renge kyo. Nam means devotion, myoho mystic law, renge cause and effect, and kyo rhythm and sound. The real focus is cause and effect. Just try and focus on that as we chant."
As our voices vibrated through the air, I realized its power.
I'd bought a plane ticket and it had taken me to this place. The rain fell and the river flowed. You put one foot in front of the other and they take you to different places, people and moments. Someone throws a plastic bottle and it leaves an ugly mark on the landscape. Someone starts a conversation and a friendship begins.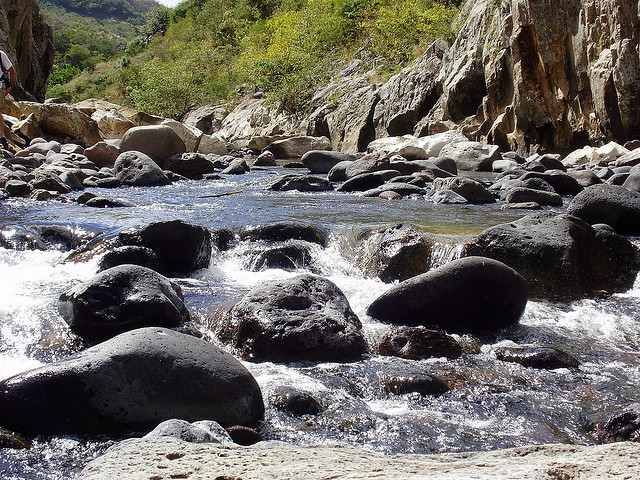 Image by Jack Fiallos
From Esteli there are buses to Somoto, leaving hourly from Cotran Norte. From Somoto, there are taxis to the entrance for around 1$. The canyon may be harder to pass in rainy season (September/October), when there can be strong currents in the water.
If you base yourself in Estelli, your hotel or hostel reception should be able to book a guide in advance. You can go as a day trip, or there are camping and homestay options available in the canyon. A guide will provide you with life jackets and a dry bag for possessions. Prices start at $15.