If you were at the corner of Market and Sansome streets in downtown San Francisco for the Giants' World Series victory parade last week, you may have wondered why the crowd suddenly began chanting, "Save Our Climate" to the tune of "Let's go Giants."
The polar bears put them up to it, of course. Giants fans were responding to a life-sized polar bear wearing a Giants cap and closing pitcher Sergio Romo's signature socks and holding a sign that read: "Sergio: Now, please save our climate."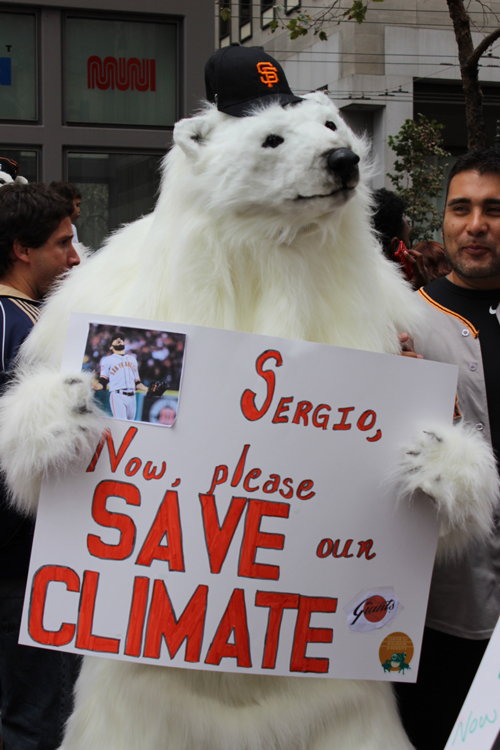 A second bear held a sign addressed to the World Series Most Valuable Player, slugger Pablo Sandoval, reading, "Hey Panda, Help out another bear in need. Stop global warming." These weren't actual ursine refugees from our melting Arctic, of course -- they were costumed activists from my organization, the Center for Biological Diversity.
We were there to cheer the Giants -- we've got some die-hard fans in our office -- but also to make a serious point about the risks of climate change. The Giants parade rolled down Market Street just two days after Hurricane Sandy rolled over New York and New Jersey. According to scientists, the disturbing fact is that manmade global warming can contribute to the heartbreaking destruction caused by storms like Sandy in three important ways:
1. Global warming loads storms with more energy and more rainfall. A new study in the Proceedings of the National Academy of Sciences found that Katrina-magnitude Atlantic hurricanes have been twice as likely in warm years compared with cold years. Global ocean temperatures hit their second-highest level on record in September, according to the National Oceanic and Atmospheric Administration.
2. Because of global warming, storm surge rides on higher sea levels, so more coastline floods during storms. In the northeastern United States, sea levels are rising three to four times faster than the global average, putting major U.S. cities at increased risk of flooding and storm surges, according to a June 2012 study in Nature Climate Change. The West Coast is not immune: Most of California could experience three or more feet of sea-level rise this century, heightening the risk of coastal flooding. Here in San Francisco, that could threaten the Giants home field, AT&T Park.
3. Melting sea ice and accelerating Arctic warming are causing changes in the jet stream that can contribute to extreme weather to the United States. Recent research, including studies by Georgia Institute of Technology and Rutgers University, has linked Arctic warming to increased risk of a variety of extreme weather events.
What can be done about these disturbing problems? While Sergio Romo has a wicked slider, he probably can't save our climate on his own. Luckily, we have the Clean Air Act, America's leading tool for curbing greenhouse gas pollution. Forty U.S. cities have joined the Center's Clean Air Cities campaign urging the EPA to use the Clean Air Act to help reduce carbon in our atmosphere to no more than 350 parts per million, the level scientists say is needed to avoid catastrophic climate change. San Francisco and Detroit have both joined the effort. If your city wants to make it to next year's series, maybe your city council should consider a Clean Air Cities resolution?
Rose Braz is a Giants fan and the Center for Biological Diversity's climate campaign director.