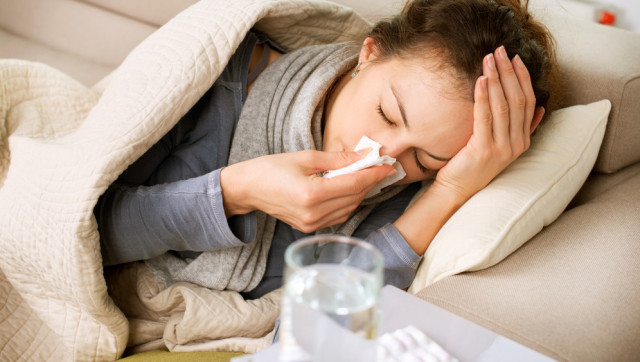 And that capital T could stand for telework! The flu is running rampant right now -- across the U.S. and throughout the halls, offices and cubicles of organizations. Just the simple fact that we congregate five days a week at work makes the situation even worse. They're dropping like flies in our IT department and there is no end in sight. What to do?
Organizations can address this in several ways. Right now, they need to encourage their employees that are too ill to work or who are contagious and ill, to stay at home in bed and recover. Absenteeism for those that are ill is more desirable than absenteeism for an entire unit or department because someone came to work contagious.

Secondly, if you already have a telework program, now might be a good time to encourage the use of it in order to reduce the impact this flu season is having. According to WorldatWork's 2011 Survey on Flexibility, 68 percent of companies offered telework on an ad-hoc basis and 57 percent offered it to eligible employees on a weekly basis. The same survey revealed that 56 percent offered flexibility arrangements as a part of their business continuity plans. So, if telework is not a common practice in your organization, the very least you should consider is to have it as a component of your business continuity plan. Because this too (the flu) is an emergency! Although it is not the ideal time to implement a telework program during the actual crisis, there are tips and information available.

So what do you tell your employees? Announce through normal communication channels throughout your organizations that if they are sick with a flu-like illness, stay home for at least 24 hours after their fever is gone except to get medical care or for other necessities. (Their fever should be gone without the use of fever-reducing medicine.) Keep away from others as much as possible. This is to keep from making others sick.

This is good advice. People have the tendency to come into work because they feel they need to be there to complete their work or to make sure their supervisor can see that they are committed to their job. A recent study commissioned by Cintas Corp revealed that 84 percent of employed adults admit to having gone to work while sick. It's probably wiser in the long run for supervisors to ask those employees to go home and recover. And if part of that recovery period includes working from home while those persistent coughs and sneezes continue, then everyone gains. Employees will recover faster and work (through telework where feasible) will be able to continue during the convalescent stage.

And remember, next year before flu season begins -- research your organization's health care and wellness programs regarding coverage of flu shots for employees and their families -- potentially arresting the problem before it even begins.