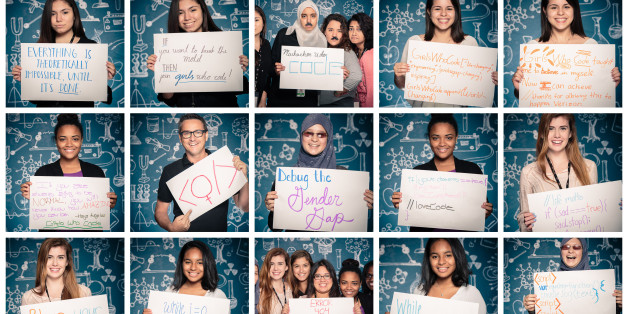 This summer, while most kids their age were hitting the beach in Miami, a group of high school girls were working hard. They were learning how to code and more.

We watched as 40 Miami-Dade County 11th and 12th grade girls learned computer science skills as part of an intense Summer Immersion Program. For seven weeks, the girls received mentorship and more than 250 hours of intensive classroom instruction in computing; mobile app development; robotics; graphics and animation; data structures and algorithms; and Web development and design.

What these girls learned was not just coding; they were brought together and given the skills they need to succeed in any career. Unfortunately, not enough of the girls who would benefit are involved in this national program and others similar in nature. That needs to change quickly for the sake of all our kids, especially young women, because what's at stake here is nothing less than economic gender equality.

Workers trained in science, technology, engineering and math (STEM) fields are increasingly in demand; 80 percent of the fastest-growing U.S. jobs depend on STEM literacy. That demand is significantly larger than previously thought; according to a new Burning Glass Technologies study, there were 5.7 million STEM openings in 2013 and they paid, on average, 26 percent more than non-STEM jobs.

Yet, not all STEM jobs are created equal; tech, engineering and programming are growing at the fastest rates, with computing projected to make up 71 percent of STEM jobs by 2018. Unfortunately, these hottest careers too often see the fewest qualified female candidates. In 1984, 37 percent of computer-science degrees went to women, but now that number has fallen to only 12 percent. The U.S. Labor Department predicts 1.4 million jobs will be created in computing-related fields by 2020, but U.S. women will fill just 3 percent of them. What we are seeing is not lack of growth, but disturbing declines.

We might fix this by doing a better job of interesting girls in STEM careers, but we appear to be actively discouraging them; while STEM jobs are clearly the future, only 13 percent of girls say they plan to pursue a career there. Males are three times more likely to be interested in STEM careers than females, and that gap is widening at an ever-quickening rate as STEM jobs go unfilled.

One of the Girls Who Code participants we met in Miami, Bangladesh-born Shahrine Islam, pointed out the problem about as clearly as any social critic could. "People fear what they don't know," she said, "and we live in a world where women have been conditioned to fear male-dominated fields such as computer science."

We need to reverse this cultural trend by encouraging our girls, personally, and at a younger age. We have seen the enthusiasm young women show when given the chance to turn their ideas into reality through this program and how, with coaching, they are very interested in STEM. Maria Mejia, another of the young women we met in Miami, wants to own her own Fortune 500 company in the future, and wants to help other girls who are interested in STEM but face cultural discouragement. Yet another participant, Aysha Habbaba, believes that by taking part in coding instruction, she is actually encouraging gender equality and denouncing stereotypes.

The enthusiasm and dedication to succeed are there among our young women. Now it's up to the rest of us, parents and those of us in business, non-profits, education and government, to support and nurture this clear and evident enthusiasm. The success of efforts that foster a love of tech and engineering among our young women needs to be built upon and expanded, ensuring that as many girls as possible are encouraged to stick with studies in STEM when they have a passion for it. Together, we can begin to level the playing field.

This new school year, let's resolve to join together to encourage America's girls to reach their full potential in these subjects and support them with concrete programs and initiatives that yield results. If we fail, we'll be passively allowing inequality, cutting the next generations of women out of the fastest-growing industries in America with the best paying jobs.