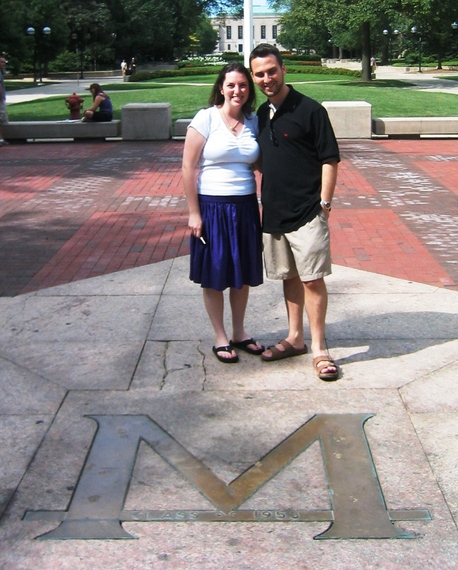 With my wife -- a University of Michigan alum -- at the campus in Ann Arbor, August, 2006
As a diehard Maryland Terrapins fan ever since my freshman year in 1996, I would never have married a Duke University alum. I would not have spent the rest of my life with a graduate of my alma mater's athletic archrival.

When I was a student at Maryland, I went to every home football and basketball game. I cheered along with the crowd when we were up, booed the other teams when we were down and celebrated wins with my classmates and my friends. After graduation, Maryland had a great basketball team. Steve Francis, Juan Dixon and the coach -- the legendary Gary Williams -- were household names. By 2001, the year after I left College Park, my beloved Terps made it to the Final Four.
As much as I loved cheering on our team, I reveled in the friendly rivalries even more. I watched future NBA champ Tim Duncan (then a student at Wake Forest) play at Maryland's majestic Cole Field House. We enjoyed wins and endured losses against other ACC schools: Clemson, Florida State, UNC, NC State and -- of course -- the hated Duke Blue Devils. Oh, how we loved to hate Duke and its brilliantly talented "Coach K."
But as of July 1st, Maryland is officially a Big Ten school - along with Penn State, Northwestern, Ohio State and the University of Michigan, where my wife of almost nine years went to college.

Uh oh.
In the summer of 2001 -- a month before the world stopped turning for a moment -- I met a girl named Stacey at a party. She was pretty, smart, laughed at my jokes and she was a Michigan Wolverine.
Big Ten vs. ACC. No problem, right?
Stacey and I dated and fell in love. I could respect her school's football team and its record of success (1997 national champions).
After dating for a while, I was conditioned to utter the obligatory "Go Blue" as I passed anyone on the streets of Manhattan wearing maize and blue. (Imagine their occasional consternation when they realized I was wearing Maryland gear.)
In 2002, the Terps' men's basketball team won the national championship. Three years later, Stacey and I were married on the beach in San Juan, Puerto Rico.
The afternoon of our wedding was the annual Michigan-Ohio State game. All of her friends from college were glued to the TV at the bar right up until the wedding started. At the end of the night, after many wedding celebratory cocktails, my new bride and her Ann Arbor friends requested the band play the Michigan fight song. The rousing chorus of my wedding party singing "Hail to the Victors" now closes out our wedding video, right before the retrospective montage of our walk down the aisle.
We traveled and spoke of children. If we had a boy, I declared, he would go to Maryland. Okay, she said, as long as the girl could go to Michigan.
In 2010, we had a little girl. She was dressed as a Michigan cheerleader and a Maryland basketball player. Last year, we had a little boy to round out our family. He has a Maryland t-shirt and a Michigan sweatshirt. My daughter, now four, knows exactly where Mommy and Daddy went to school (and also says "Go Blue" unprompted).
We were just a happy blended, bi-collegiate American family until the NCAA and the University of Maryland got involved.
In the fall of 2012, Maryland announced that, after 60 years, it was leaving the Atlantic Coast Conference to join the more lucrative Big Ten. That's right; it was strictly for the money.
"Membership in the Big Ten is in the strategic interest of the University of Maryland," said my alma mater's president, Wallace Loh. "[B]y being members of the Big Ten Conference, we will be able to ensure the financial sustainability of Maryland athletics for decades to come."
Alright, financial stability is all well and good, I guess. Never mind the hundreds of thousands of devoted Terps fans all over the country who have loved the feeling of community that comes with vitriol for Duke and the rest of the ACC.
What President Loh and the NCAA do not realize is that they are coming in between families. Just like the Civil War pitted "brother against brother," Maryland joining the Big Ten will pit husband against wife.
I can no longer casually cheer for Michigan football as part of my husbandly duties, nor will I mutter "Go Blue!" upon the sight of a big yellow "M" on a blue shirt.

Up to now, fall Saturdays were easy and enjoyable. Stacey and I could watch Maryland football games or Michigan football games without incident. But what will become of our Saturdays now? What will we do when Maryland and Michigan play each other? What if I want to wear my treasured Maryland sweatshirt and it suddenly "goes missing"? Can I call the NCAA and complain? Will the University of Maryland buy me a new one?

What if Michigan loses to Maryland in football? Where will I sleep?
This move into the Big Ten had bigger implications than anyone could imagine. Neither the NCAA nor the University of Maryland gave absolutely any thought to perhaps the most important factor in this entire equation of national reputation, financial stability and athletic successes: my marriage to a Michigan alum.
And what about the kids? We used to have a good deal.

Now, they both have to go to Maryland. I'd never let them attend a rival school... like Michigan.