It may seem unimaginable to witness an event that brings together HIV and AIDS education in Africa, bone marrow transplants, celebrities and soccer for people of all ages. That event took place, however, Sunday at LAFEST at the Home Depot Center in Carson, CA. LAFEST co-founders and soccer enthusiasts Dylan Leiner and Jeffrey Saunders hosted the event alongside sports-industry power couple Mia Hamm and Nomar Garciaparra and Grassroot Soccer Co-Founder Ethan Zohn to raise money for bone marrow and HIV awareness charities.
Zohn has a way of making the impossible become possible. The winner of Survivor Africa and recipient of two successful stem cell transplants for Hodgkins Lymphoma said, "Personally it's a combination of everything that's important in my life. Soccer, entertainment, celebrity and saving lives. Nothing like this has ever happened in Los Angeles. It's a full day of soccer to benefit two charities that mean the world to me. It's literally a dream come true. We want to do this every year."
Grassroot Soccer was started in 2002. The organization uses the power of soccer to stop the spread of HIV by empowering African youth to make life saving decisions. The educational program has transformed the lives of 570,000 youth in Africa by using a proven approach to prevent HIV. The genius concept of utilizing the platform of soccer to reach kids with a positive message was developed by Dr. Thomas Clark, Methembe Ndlovu, Kirk Friedrich and Zohn after they lost many of their friends and teammates to AIDS.
Drawing on her personal experience from losing her brother Garrett to cancer, Mia Hamm started her foundation in 1997 to raise funds and awareness for bone marrow and cord blood transplants as well as girls' sports. The organization encourages people to join the National Marrow Donor Program Registry to increase the chances of people in need of transplants to have their lives saved. Hamm said, "The most important part of this day is getting people to become a part of the bone marrow registry. If one of you is ever called to become a potential donor, please say yes."
The day started early at 9 a.m. as 42 teams with kids ages 8-12 played a five-on-five futsal tournament. The teams were separated into brackets by age group and gender. Families cheered as the future Mia Hamms and Landon Donovans battled to see who would come out on top.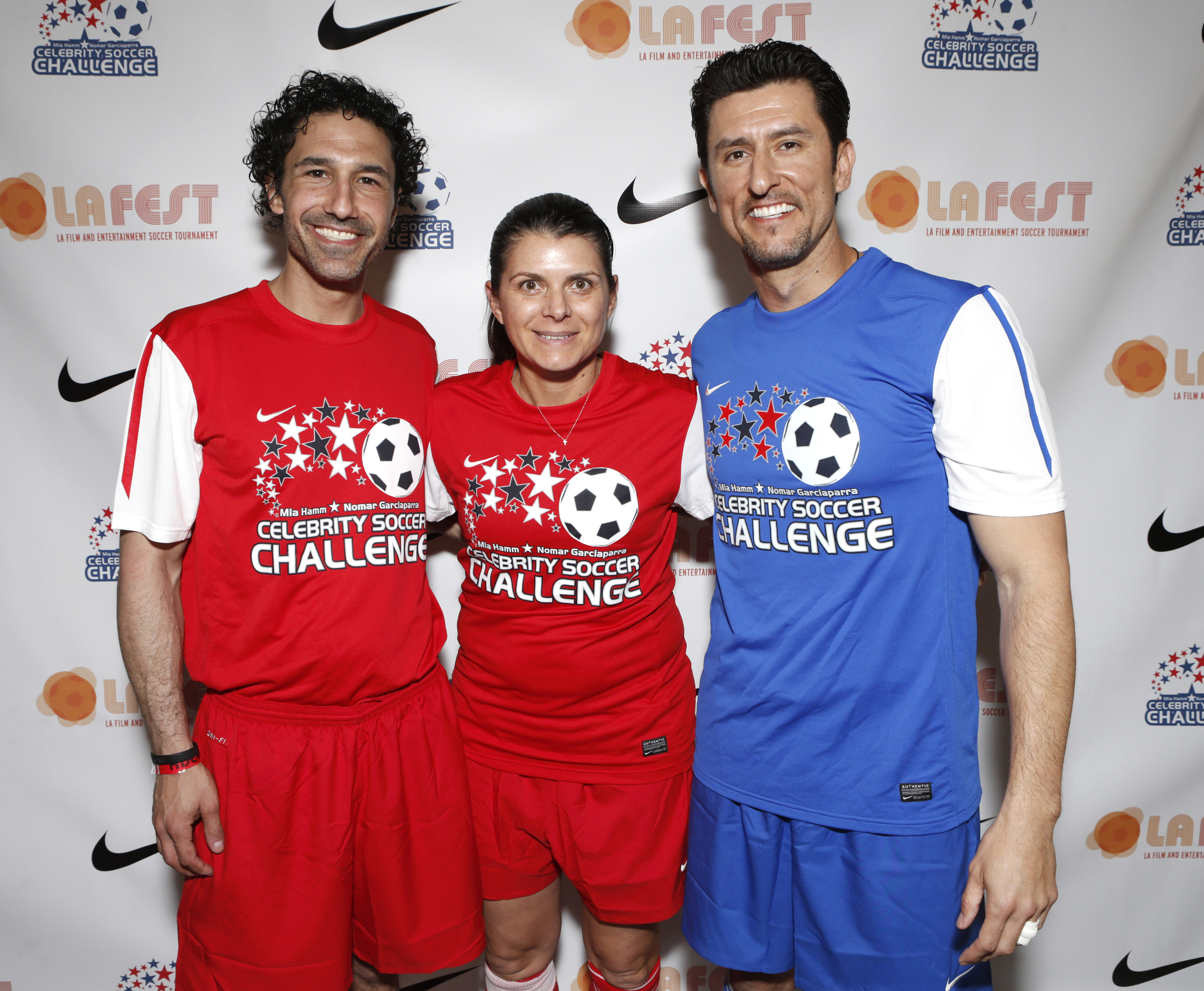 Photo Credit: Todd Williamson/Invision
Gloria Rodriguez, a proud mother of two daughters, shared her thoughts on the day, "This event is a great way for people from all over L.A. to have a chance to come together to support our kids, soccer and learn about issues that matter to the world. My girls look up to Mia and these other athletes and celebrities. I am so happy they take the time to give back."
While the kids were doing their thing, 40 teams from the entertainment industry were battling it out in a five-on-five tournament of their own. Companies entered teams from film, music, sports, fashion, TV advertising and design. Some teams brought in ringers to increase the chances of winning. Competition was fierce complete with genuine chippy moments including slide tackles, shoving and elbows, but definitely no flopping. Sony Pictures Classics captured the title in the advanced category.
After these two tournaments, it was time for the celebrity soccer match. Fans moved into the Home Depot Center for a chance to see some of their favorites and possibly snag an autograph. Celebrities from sports and entertainment were separated into Mia Hamm's "FC Mia" or Nomar Garciaparra's "Nomar United." Alex Morgan, Abby Wambach, Julie Foudy, Joy Fawcett, Chris Harrison, Jimmy Conrad, Jay Feely, Indi Cowie, Lauren Cheney, Cobi Jones, Rebecca Soni, Clark Gregg, Anthony Lapaglia, Ben Lyons, Mike Medavoy, Demian Bichir, Eric Wynalda, Miss Universe Olivia Culpo and Miss USA Nana Meriwether rounded out the teams.
The all-stars impressed the crowd with their extraordinary footwork, precision passing and quick goals, but the true highlight happened at halftime. Two patients who were suffering from leukemia, lymphoma and other life threatening diseases had the opportunity to meet their bone marrow donors in person for the first time.
Dr. Ami Shaw from Los Angeles Children's Hospital introduced Monica Tapia and an eight-year-old boy named Jack Schlumpberger. There were more than a few tears shed as Jack took the mic and thanked his donor, "for giving me a chance to live and go home to my family." The donors walked out onto the court to meet the people whose lives were changed and their loved ones in a truly impactful greeting.
Nomar Garciaparra said, "When I played baseball a lot of people would approach me and tell me I am their hero. The real heroes are the people we're honoring for donating bone marrow and giving others a chance to live longer."
Eventually the match resumed and fittingly it was a go ahead goal from team leader Hamm past a surprised Garciaparra that broke an 8-8 tie and eventually led to a 13-8 victory for FC Mia. Somehow, I doubt the scores of this day will be what anyone remembers the most.
LAFEST left it's mark on all of the people who attended and resulted in donations to assist two fabulous organizations that will reach people all over the country as well as children in Africa. As the sun set outside the stadium, families walked to their cars feeling connected to these issues in a new way. Check out LAFEST next year!