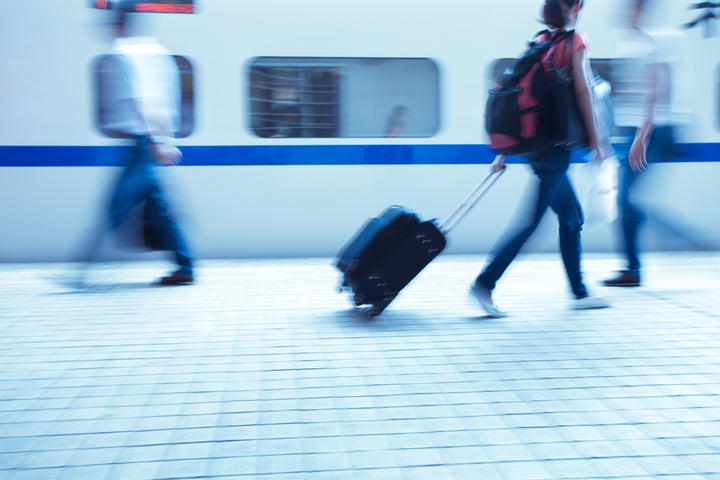 This has been a record-breaking summer for the United States for more than just Olympic medals and stifling heat waves. The domestic travel industry broke its own set of records putting it on the leading edge of the nation's recovery. That's good news for America's economy and for the millions of workers whose jobs are supported by people traveling.
For the past few years, travel has been a growing bright spot in the economy. The travel industry has created nearly 300,000 jobs nationwide since 2010 far outpacing most other industry sectors. In the first half of 2012, hotels sold a record 500 million room nights, boosting occupancy to pre-recession levels. The United States is also the world leader in spending by international tourists, which generated a $40 billion trade surplus last year, alone.
Despite these successes, there are major challenges to address. Flight delays, security lines and aging, congested roads are just a few of the things travelers cite. We need to commit to, once again, making our transportation system the envy of the world.
Both industry and political leaders need to face the fact that traveling across the United States is an increasingly frustrating adventure. It's not just dealing with long airport security lines or flight delays, but also the everyday hassles of congestedroads and highways. Our once iconic interstate highway system is slowly crumbling while investments in faster rail, mass transit and airport improvements are not keeping pace with demand.
The strain on our infrastructure is being exacerbated by another record-breaking piece of good news. Last year, 28 million of the 62 million international visitors to United States were from overseas, an all-time record. Much of the growth in overseas visitors can be attributed to streamlining the travel visa application process. International visitation will continue to increase as the United States ramps up tourism advertising in Europe and Asia. While that means billions of dollars in new economic activity, it also puts more strain on infrastructure.
That's why the travel industry is focused on three clear policy goals. The first is to ensure that our industry has a seat at the table for infrastructure planning at every level of government. All municipal planning should seek out the input of local restaurants, hotels and tourist destinations. At the federal level, decisions on major funding or infrastructure projects should include the collective input of the travel and tourism industry. The focus should not only be on greater investment but also building greater connectivity between different modes of transportation for an easier travel experience.
Second, the federal government must fully fund the transition to Next Generation Air Traffic Control, also known as NextGen. NextGen will allow more planes to safely fly closer together, making air travel far more efficient and safer than any time in history. We will all benefit from less stress and frustration due to unnecessary flight delays.
Finally, it's important to recognize that the meetings and conventions industry is a critical driver of the broader travel economy. The meetings industry generates nearly $500 billion in economic activity for local businesses and directly employs 1.7 million Americans. For cash-strapped states and local governments, meetings bring in $45 billion in tax revenue each year. Rooting out wasteful spending is absolutely necessary; however, proposals to ban government meetings ignore the economic consequences to local businesses and the vital collaboration, education and work that take place when people convene in person.
The travel industry stands ready to shoulder its increasing share of responsibility for driving America's economic growth and job creation. We are stepping up by making significant investments and integrating the best in new technology to provide visitors with a first-class experience and draw millions of new travelers to America's world-class destinations. Yet in order to realize the full potential benefits travel can generate for our economy, our infrastructure system must be upgraded to meet the already surging demand of travelers.
Otherwise, our economy may be stuck on the tarmac for years to come.
Rossi Ralenkotter is chair of the U.S. Travel Association and President & CEO of the Las Vegas Convention & Visitors Authority
This post is part of the HuffPost Shadow Conventions 2012, a series spotlighting three issues that are not being discussed at the national GOP and Democratic conventions: The Drug War, Poverty in America and Money in Politics. Check out the Shadow Conventions big news page here, and join the conversation at HuffPost Live.