Tasting menus are experiences often reserved for special occasions since prices can start at several hundred dollars per person. New York City fortunately offers some great options to experience this kind of high-end dining without waiting until your next birthday or anniversary.
RoundTable is an online restaurant guide built by a community of local experts who know where to eat. James Beard award-winning chefs, internationally acclaimed sommeliers and popular food writers curate lists of the best places to dine and drink in New York City and beyond.
Here, some of those experts share what they think are the best tasting menus around NYC for under $100.

Related: The Best Value Michelin Star Restaurants in NYC

1. Contra
"Contra is value of the best kind. An extraordinary dining experience with unanticipated culinary creations that change almost daily, dinner at Contra provides no dull moments. The tasting menu is $67 for 7 courses, 2 (read: two!) of which are dessert. Believe me you'll be begging for a 3rd. This is a place where you only take the ones you care about."
-Sagan Schultz, Sommelier at Terroir Wine Bar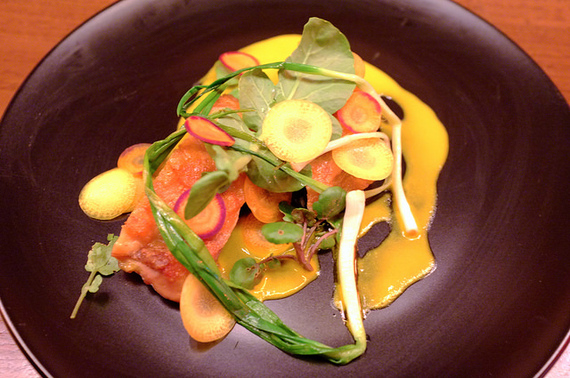 Photo by Premshree Pillai under CC BY-NC-SA 2.0
"Beautiful platings and delicate food are coming out of the kitchen at The Musket Room from Chef Matt Lambert (AKA Musket Matt). The dining room is a perfect cozy getaway from busy Elizabeth Street in SoHo. They are serving up Matt's interpretation of New Zealand fare and their $75 6-course tasting menu is the best way to sample highlights from his menu. They have a wine list comprised almost entirely of New Zealand wine, a spectacular cocktail program and you can even add a few more courses for just $15 each. Enjoy this feel good spot and don't miss any rendition of his foie gras torchon!"
-Tom Favorule, Service Manager at La Sirena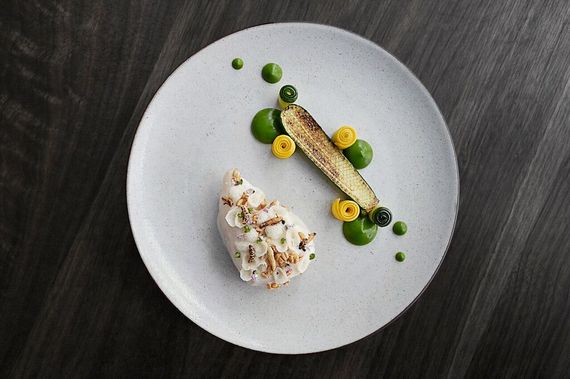 Photo by Signe Birck
Related: Local Restaurant Experts Reveal 20 of Manhattan's Hidden Gems
3. Pig & Khao
"Pig and Khao is the LES restaurant of Top Chef alum Leah Cohen. She draws on heavy Thai and Filipino influences for her Southeastern Asia inspired menu. During the week (and sometimes on a slow Sunday) she offers a $45, 5-course tasting menu. Items that can't be missed include the 'Sizzling Sisig,' a kind of pig's head hash served in a blazing hot cast iron plate and topped with a whole egg for you to break and stir in at the table, and the 'Singaporean Skate Wing,' a succulent skate wing steamed to perfection inside of a banana leaf and served with a sambal and kalamansi sauce. Her menu changes with the seasons, though there are some favorites that remain constant. The chicharrons are a must and go great with a pork slap beer, indicative of the well-assembled, eclectic beer and cocktail selection. They offer seating on the outdoor patio during the warmer weather, and I highly recommend a seat at the chef's counter if it's available."
-Jared Radas, Sous Chef at Marea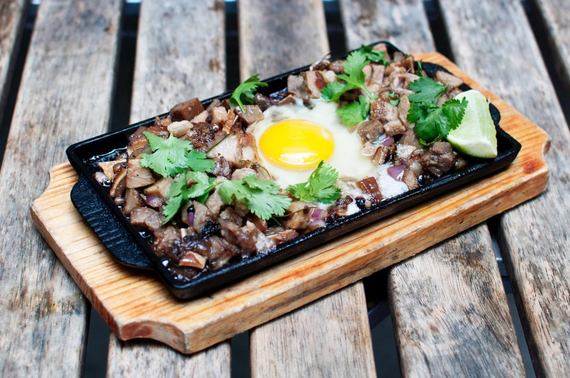 Photo by Justine Dungo
4. Hearth
"Hearth is one of New York's most consistently excellent restaurants. The tasting menu is only $78 bucks for six courses out of Chef Marco Canora's traditional Italian kitchen. The food is always thoughtful and the ingredients top-notch. While he doesn't lean on any particular region out of the Italian cannon, you are also not eating the this-came-from-nowhere style of Italian-American cooking that passes at so many of America's red sauce joints. There will be no baked ziti or chicken parm here. And even if there is a dish that resembles those, it'll be better than anything you've ever tasted. There are few other dining experiences that offer better dollars-in to satisfaction-out in New York. Service is relaxed and casual, but relatively precise."
-Morgan Harris, Sommelier at Aureole Restaurant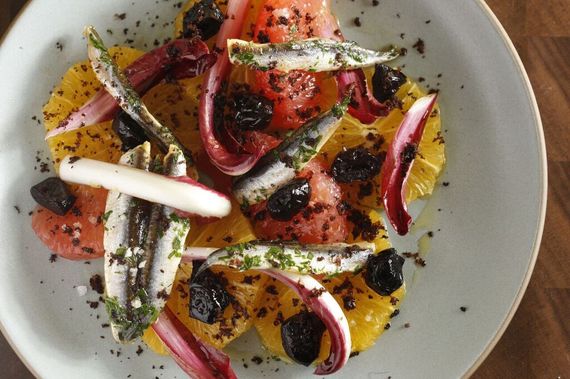 Photo by Melissa Hom
5. Babu Ji
"Babu Ji opened last June in Alphabet City and offers playful Indian street food with a modern twist. The classic flavors of indian curries and spice are all there yet those spices are mixed with underlying tones that you can't quite pinpoint. Babu Ji is a fun way to experience Indian cuisine. Try the Colonel Tso's Cauliflower, the Butter Chicken and Babu's Daal. A word of warning though, the place is ALWAYS busy with excruciating wait times. Try making a reservation online for the $62 tasting menu."
-Ida Rae Zapanta, Restaurant Consultant and former Sommelier at Le Bernardin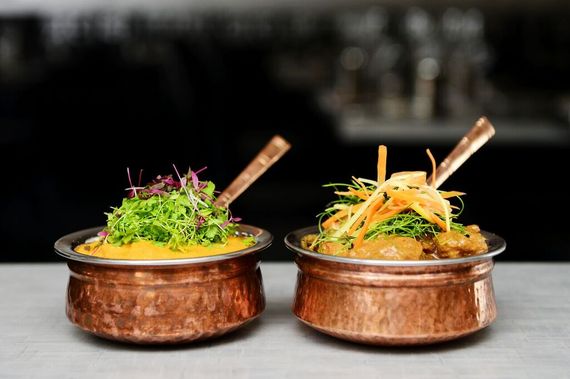 Photo courtesy of Babu Ji
Related: Restaurant Insiders Share The Scoop on NYC's Next Hot Spots
"Any place that serves delicious pizza and Chinese food is bound to be a mecca for those seeking comfort foods. The standouts here are their tasting menus where one is offered for $69 and the other at $99. I highly suggest the latter since it comes with a "cocktail cart." Yes, it is as magical as it seems. The hip restaurant is all the rage these days and the dinner set allows you to try a lot of what makes them so great without having to think. And any place that includes alcohol in a tasting menu is ok in my book. They're also open relatively late which is great for us industry folk keen on a late-night bite such as their green papaya and banana blossom salad."
-Victoria James, Wine Director at Piora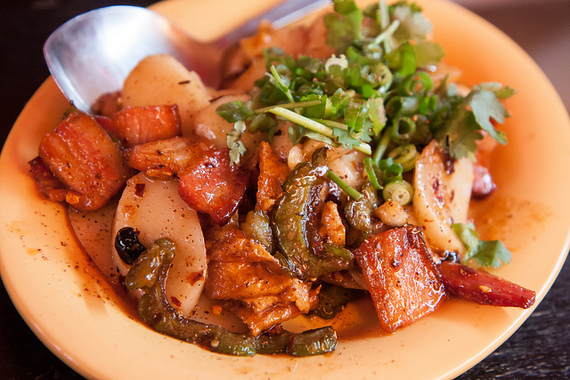 Photo by Garrett Ziegler under CC BY-NC-ND 2.0
7. Meadowsweet
"Meadowsweet, in my opinion, is not just one of the most underrated restaurants in Brooklyn but in NYC in general. They have a great mix of ambiance and food. The music, drinks, vibe are always on point and the food is killer. They have some delicious pastas (think truffles) and a must-try artichoke salad! If you go there Sunday through Thursday, they have 5-course Chef's tasting menu for $75. I've always had A+ meals there."
-David Berson, VP at Peter Luger Steak House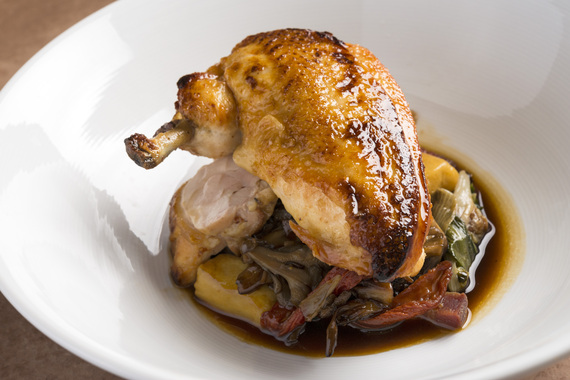 Photo by Evan Sung
8. Semilla
I am confident to say that the best dining experience I had in all of 2015 was my birthday dinner at Semilla. They offer a tasting menu for $85. The chefs and servers all shared their food with genuine joy making us feel like extended family as they delivered one breathtaking dish after another. The night turned into an endless blur of 'food moments', like when you take a bite of something unknown and don't know what to expect but the experience really moves you. It was like being whisked away. The diners do not receive menus; instead you are taken through an unexpected journey of flavors and textures. The bread course was so amazing I begged for seconds and they were happy to oblige and make our meal more special. I highly recommend this comfortable and unassuming spot the next time you're looking for a meal that makes you really feel something special."
-Sydney Wilcox, Culinary Manager at The Brooklyn Kitchen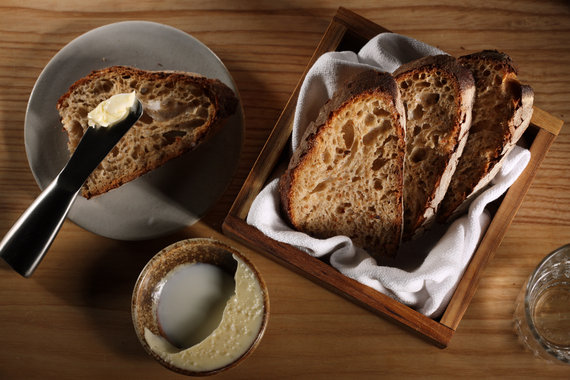 Photo by Melissa Hom
"I don't often leave Manhattan but for Patti Jackson it's worth the trip. She does amazing work with unique ingredients from local suppliers. This isn't a fancy restaurant, and I appreciate the casual yet hip vibe. It's only $54 per person, and has a selection of great beers and ciders with very reasonable pricing. Be sure to try the buttermilk spaetzle, it's so good!
-Tali Dalbaha, Sommelier at Jean-Georges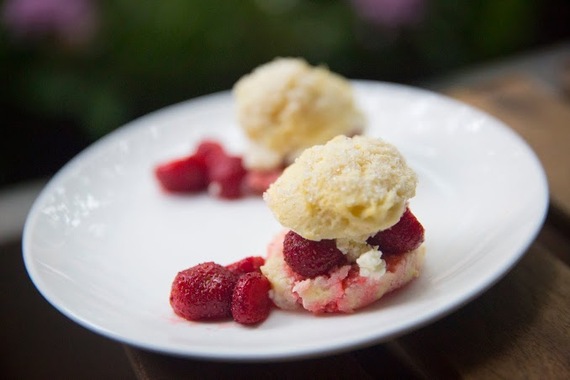 Photo by John Taggart
10. Battersby
"Battersby offers a 5-course tasting for $75 and a 7-course tasting for $95. It's "improvised" and you will usually receive several courses that are not listed on the menu. Every time we're here the menu is consistently delicious and creative. It's an excellent night out without the pretentiousness that comes along with a lot of Michelin-starred places. You can actually relax and enjoy yourself and your company while still being served in quality fashion."
-Regina Myers Magazini, Owner/operator of Black Mountain Wine House, Bar San Miguel and more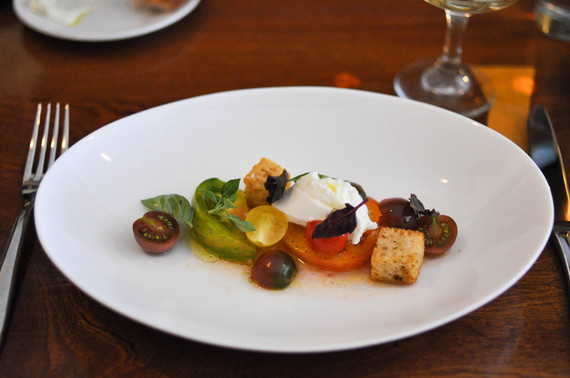 Photo by Matthew Abbick
More from RoundTable:
20 of Manhattan's Most Underrated Restaurants, According to Food Experts


Chefs Share Favorite NYC Restaurants Rated Only 3.5 Stars on Yelp
16 of Brooklyn's Most Underrated Restaurants, According to Food Experts

Follow RoundTable on Facebook: Facebook.com/RoundTableIO
Follow RoundTable on Twitter: Twitter.com/RoundTableNY
BEFORE YOU GO
PHOTO GALLERY
Cold Noodle Salads