When your child is spending a lot of time in the hospital, nothing is normal. You don't have time or energy to try to "do Christmas" and the outside world pretty much goes on as if everything is status quo. But it's not. As a parent, you're acutely aware that it's Christmas and this is not what you wish for your child.

Despite the chaos of the hospital itself, many hospitalized kids are more concerned about Santa finding them than the reason why they're actually in the hospital. If they can't visit Santa, how will he know what they want for Christmas? And if they're not at home, how will he find them to deliver their presents? (When you're 7 years old, these are important questions.)

When there's an opportunity to bring some of the outside world into the hospital environment, it can be pretty amazing.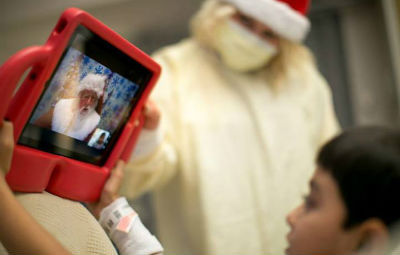 And it can lift the spirits not just of the kids, but everyone around them: parents, family, medical staff. As a parent myself, I know there is nothing quite like seeing your child's face light up. And there's something about Santa that's all about comfort and hope.

And so Santa has found a way to spend some one-on-one time with some special kids around the world before Christmas - using videoconferencing. The Connected Santa program began with Cisco employees in the United Kingdom and Ireland. Now in its seventh year, it reaches children in more than 70 hospitals and extends into Canada, the United States, and Latin America.

Instead of just sending him their Christmas lists, the Connected Santa program gives the young patients and their families the opportunity to speak directly to Santa in the North Pole. This brings that all-important sparkle to the ward at a time when being in the hospital means children miss out on the magic of Christmas.

As the children meet Santa and play with their new toys, staff, family, and friends can share in the joy while the virtual experience allows Santa to be in the comfort of his own surroundings.

Who knows? Even the Grinch's small heart may grow three sizes when he sees this.