Picture this: A member only, 130-acre sports club and hotel made up of large concrete and glass saucers (think: "The Jetsons") hovering above Runyon Canyon in Los Angeles.
If architect Frank Lloyd Wright and playboy Huntington Hartford II had their way in 1947, that's what Angelenos would be gazing at today while hiking Runyon Canyon Park. I learned about this what could have been scenario, in the now-closed exhibit, Never Built: Los Angeles at The Architecture +Design Museum. The show profiled proposed LA projects that never came to be.
Just days after the exhibit closed, I read that access to one of Runyon Canyon's popular hiking trails had been blocked by a private landowner. More here.
Realizing that the Runyon of today (and its surroundings) was never a guarantee, I started thinking about the park in a way I hadn't before. What purpose does Runyon Canyon have in my life? What does this place mean to the people of the city? Last month, I went back for a few visits, with the intention of answering these very questions.
I've been hiking Runyon's trails for the last twelve years. It's where I catch up with friends. It's where I feel connected to the city. And thanks to it's bird's eye view of LA, it's where I connect with myself, by quite literally looking at the big picture.
Now, I realize I'm not alone. At the peak of the main trail I watched countless strangers grab a seat on benches, or cliff sides, and peer out onto the city. Some came alone, some with friends. Some stayed for minutes, some much longer. Maybe we're all here for the same reasons: to find solace, to feel a sense of place, and to connect with fellow Angelenos -- without saying a word.
It must be said that Runyon Canyon is known as a prime spot to see celebrities and, well, it can be a bit "sceney." But that's only a fraction of the perspective. There is so much more to LA's quintessential urban hike.
To see for yourself, go there. Or, for an instant view, enjoy the photos below or watch three short vignettes, filmed during my recent visits. In the videos, there are no edits, just short windows of longer conversations, the sound of feet hitting the dirt and pavement, and of course, incredibly cute dogs, all shot or recorded on my handy iPhone. It's my snapshot of Runyon Canyon and the LA culture that comes along with it. Whatever that means.
Want to share your own Runyon Canyon moments, observations or photos?
Tweet, Instagram, or send a smoke signal with the hashtag #myrunyoncanyon.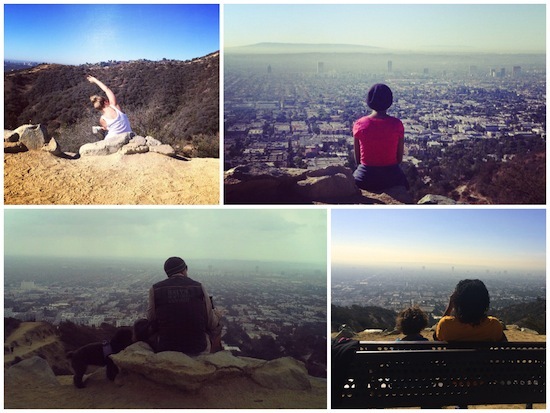 Perspective.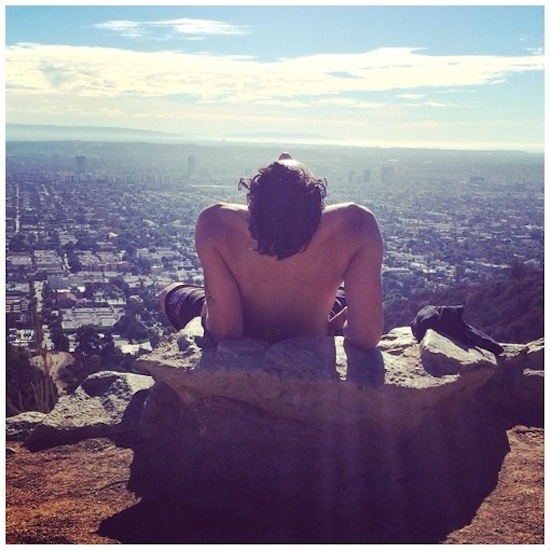 Sun seeker at Clouds Rest.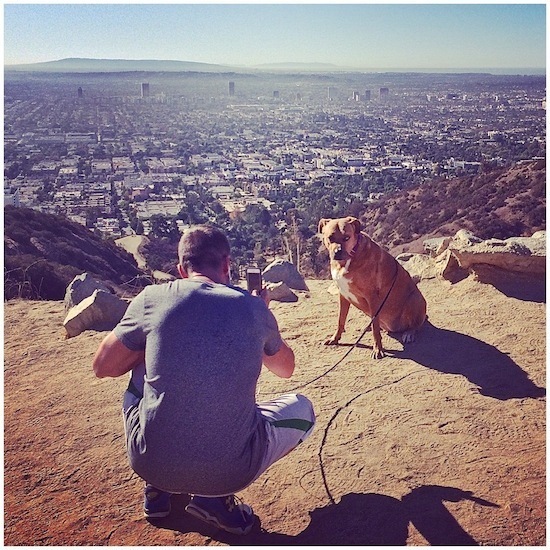 The best kind of selfie - the one your dog would take if he had hands.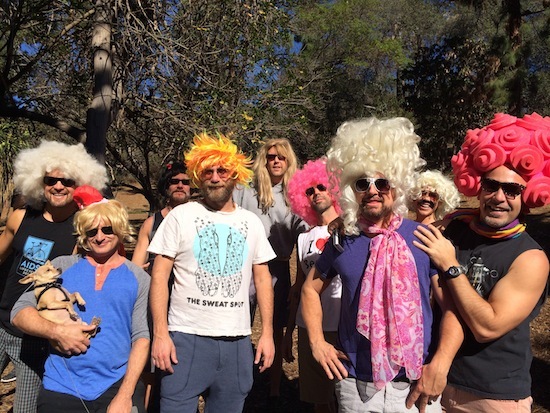 From left to right: Ulisses Guimaraes, Roger Ferrin, Sean Studds, Brian Harris Krinsky, Todd Hovey, Tyler Colton, Albert Day, Kim Colton Bosnos, and Billy Lambrinides. Every year this group goes up Runyon the day after Thanksgiving donning wigs. They call the tradition, "Thankswigging." (This year the hike was postponed by a day due to rain.)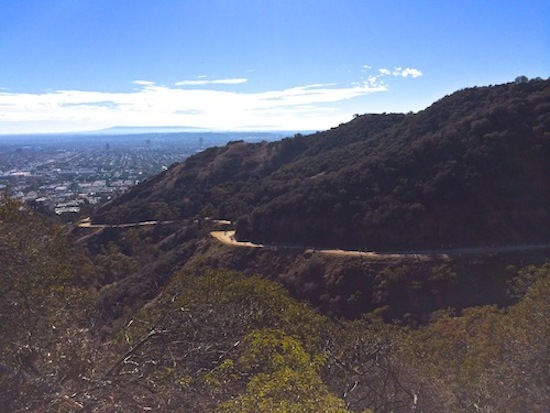 One of the more intriguing conversations I overheard on this trail:
Three middle-aged men discuss what they consider cheating and what their wives would be upset about.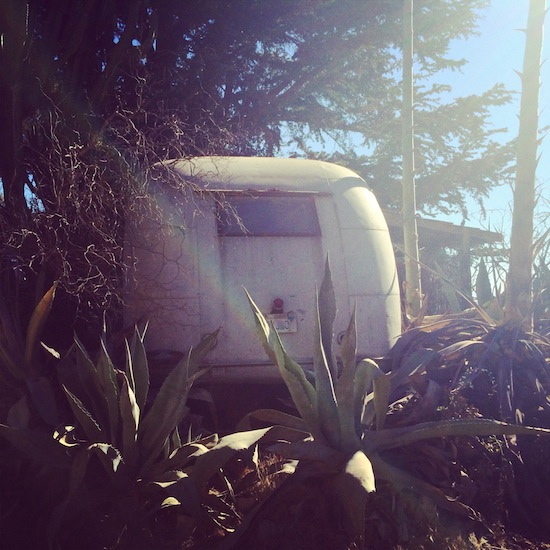 This looks like a potential "Breaking Bad" scene.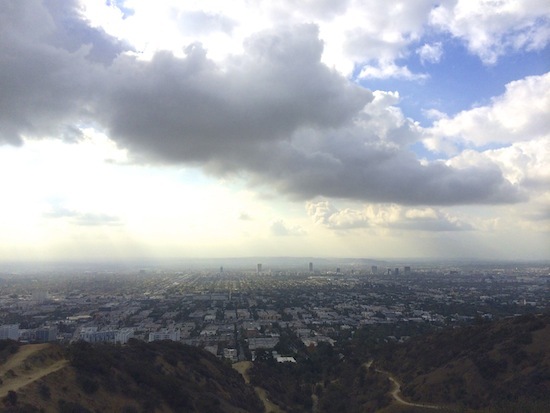 The city landscape.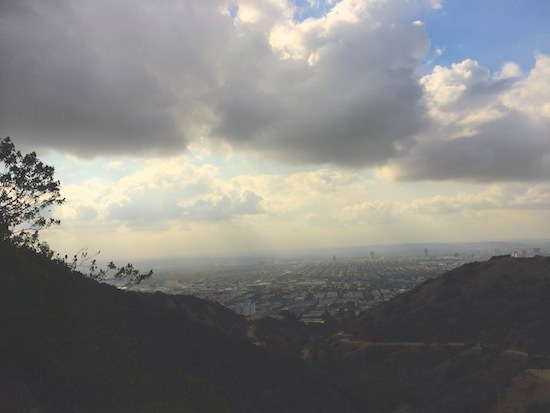 A peak of the city through the hills and clouds.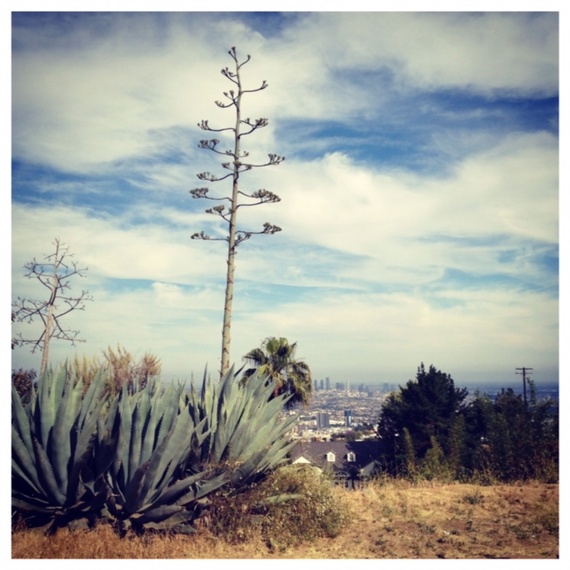 Standing tall, Agave Deserti.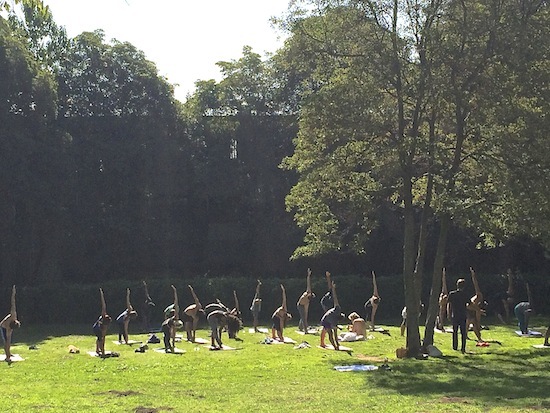 Namaste, LA.