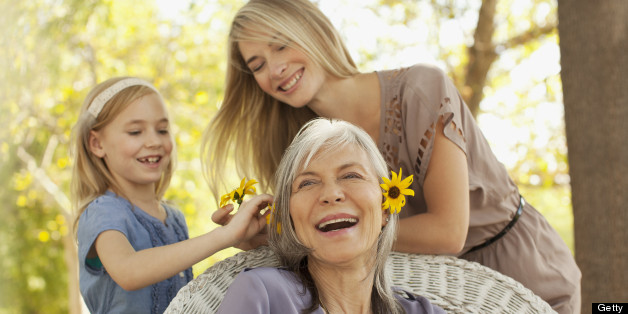 My son and his wife are moving to California. Although Tom and Amy were born and raised here on the East Coast, the move makes sense. He's a computer genius. She's a tech marketing PR whiz. They graduated from Johns Hopkins two years ago and are doing great work in Baltimore.
But Silicon Valley, inevitably, beckons.
They're not thrilled about how far they'd be from their East Coast families. "But when we have kids, you'll move there too, right?" Tom asks me.
I was an at-home mom. I love kids, and I'm great with them. And I really love babies.
But I also love my life in the Philadelphia suburbs.
Growing up in Detroit, I couldn't wait to move to the East Coast. That's where I knew I belonged. I saw myself living and writing in Manhattan. In a penthouse. With a kick-ass view of Central Park. And although I've had to make a few adjustments to that dream over the years, I'm perfectly happy living near Philadelphia, visiting Manhattan often and blogging for The Huffington post, Women's Voices for Change and the New York Times.
At Tom's age, though, I had my own California dream. After four years at the University of Chicago (Unofficial motto: "Where Fun Goes To Die"), I was more than ready for sunshine and good times. I moved to Palo Alto and got a job in an ice cream parlor. I loved the fabulous weather, the relaxed vibe and the friendly, easy-going people. But relentlessly pleasant, feel-good California just didn't feel like home to me.
Within a year, I was enrolled at Boston University Law School, happy to trade scooping ice cream for studying law. I've lived on the East Coast ever since.
California? Been there. Done that. Not for me.
But grandchildren can be game-changers.
"Welcome to the world's best club," a friend commented on Facebook when my pal Liz posted a photo of herself, beaming, her brand new granddaughter in her arms. One by one, my friends are becoming grandparents. It's a club I'm longing to join.
With any luck, I will. I'm even luckier that Tom wants me to be there for his kids. In fact, he could be counting on it.
I could become a Flying Grandma! The kind who lives across the country but reliably turns up for vacations, birthdays, piano recitals, soccer matches and major Jewish holidays.
Or I could relocate.
My own grandparents lived nearby when I was a kid, and I have great memories, not just of special occasions, but of routine pleasures. Watching "Queen for a Day" on the sofa with Grandma Sadie, or noshing on home made gefilte fish in her kosher kitchen. Playing checkers with Grandpa. Grandma Libby, with spectacular patience, playing "War" with me for hours, games that, mysteriously, I always won.
My (as yet hypothetical) California grandchildren will have a stable home and loving parents. I'm sure they'll get along just fine without my being there day-to-day, to play with them, snuggle with them, sing them goofy songs, and read them "If I Ran The Circus."
But why should they have to?
It could be worse. The kids could be moving to Salt Lake City. Or Ohio. Even for the world's most adorable grandbaby, I'm not sure I could relocate to Akron.
California is a great place. But it's not my kind of great place. I'm a walker. I love sidewalks. And bookstores. And the theatre. I cherish my MOMA membership. And my edgy, urban friends. Not to mention my wonderful sister (and fellow transplanted Midwesterner) who lives here too. (And with whom I share the world's cutest Yorkie-poo.)
At 58, I finally know exactly who I am. A writer who lives and works in suburban Philadelphia and makes frequent trips to New York. How tough could it be to expand that definition to include frequent cross country trips to enjoy my grandchildren?
"I know you," a friend said. "When you fly out to visit that first grandchild, you won't want to get back on the plane."
She could be right.
"Have a kid," I tell my son. "We'll see what happens."
This essay first appeared on Womens Voices For Change. http://womensvoicesforchange.org