Super Bowl Sunday was the day we loved to hang out with my dad. His enthusiasm for the Super Bowl made me smile. After all, my dad was a star football player who scored the winning touchdown in the Sugar Bowl on January 1,1943. He played for the University of Tennessee and was then drafted by the Washington Redskins. He grew up in Brockton, Massachusetts (where he and Rocky Marciano were sparring partners) and defected to Knoxville during his college years. Devastatingly handsome, his hands were the size of baseball mitts and his appetite leaned towards primal: boiled lobsters, corned beef hash, steaks at Peter Luger, White Castle hamburgers, jelly beans, and pecans. These recipes are dedicated to him.
Devilled Pecans (adapted from Entertaining 1-2-3)
2 tablespoons unsalted butter
1 tablespoon Thai fish sauce (or Worcestershire)
1/2 pound pecan halves
Preheat the oven to 350 degrees. Melt butter in a medium skillet and add fish sauce. Add pecans and freshly ground black pepper. Stir and cook over medium heat for several minutes until pecans are coated in the mixture. Transfer pecans to a baking sheet and bake 10 minutes, stirring twice. Drain on paper towels. Make about 2 cups
Do-It-Yourself Guacamole Kit (from Little Meals)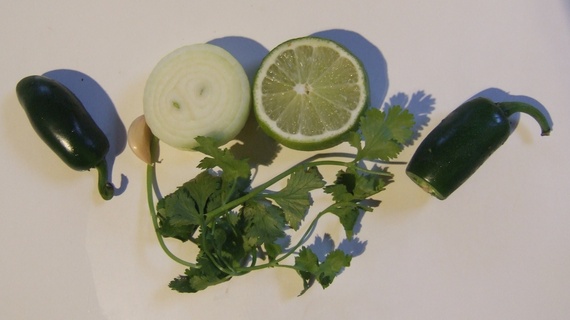 Only some like it hot, so this Little Meal puts each person in charge! The colors are like an artist's palette: Cool vegetables and spicy jalapeños surround a mound of perfectly ripe chunky avocado. Serve with warm tortilla chips and a cocktail shaker of margaritas.
4 very ripe avocados
Juice of 2 lemons
Salt and cayenne pepper to taste
½ cup chopped scallions
½ cup chopped cilantro
½ cup minced red onion
½ cup minced red pepper
½ cup minced yellow or green pepper
½ cup chopped tomato
¼ cup minced fresh jalapeño
Warm tortilla chips
1. Coarsely mash avocados in large bowl. Add lemon juice, salt and pepper taste.
2. Mound avocado in center of each plate. Surround with 2 tbsp. of each of the garnishes.
3. Place tortilla chips on baking tray and put in oven to warm. Serve in individual baskets.
Chocolate Chili with Cauliflower Popcorn
From Eat Fresh Food: Awesome Recipes For Teen Chefs (Bloomsbury, 2009)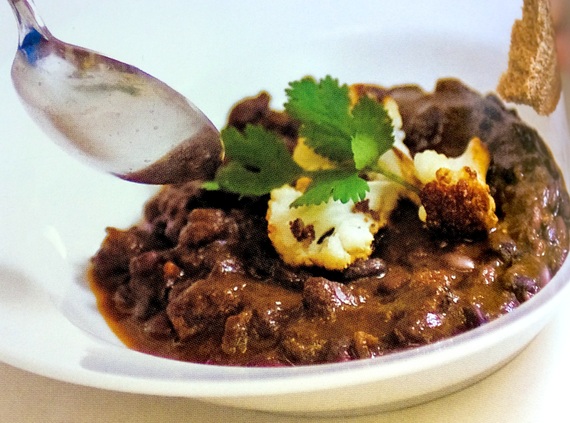 This delicious vegetarian chili is made dark and mysterious with a touch of semisweet chocolate and cinnamon. Chocolate and cinnamon are used together in several Mexican dishes. Small roasted florets of white cauliflower turn a simple idea into something that looks really dramatic.
½ pound dried black beans
2 large garlic cloves
4 tablespoons olive oil
2 cups finely chopped onions
1 ½ tablespoons chili powder
1 tablespoon ground cumin
1 tablespoon dried oregano leaves
28-ounce can crushed tomatoes
¼ teaspoon ground cinnamon
1½ ounces semisweet chocolate, chopped
1 large cauliflower
¼ cup chopped cilantro or parsley
1. Put the beans in a pot and cover with water. Bring to a boil and boil for 2 minutes. Drain the beans in a colander.
2. Peel the garlic and finely chop. Heat 2 tablespoons of the oil in a 4-quart pot. Add the garlic and onions and cook over medium-high heat for 10 minutes until soft. Add the chili powder, cumin, oregano, and 1 teaspoon salt. Cook, stirring, for 2 minutes until fragrant. Stir in the tomatoes, drained beans, cinnamon, and 5 cups water. Bring to a boil. Lower the heat, cover the pot, and simmer for 1½ hours, stirring often. Add the chocolate and stir until melted. Cook, uncovered, for 30 minutes until thick.
3. About 40 minutes before serving, preheat the oven to 400 degrees. Cut the cauliflower into ½-inch florets. Put in a bowl and toss with the remaining 2 tablespoons of olive oil and salt to taste. Place on a rimmed baking sheet and roast for 35 minutes until golden. Shake the pan often during baking to prevent sticking. Remove from the oven. Ladle chili into bowls and top with "popcorn" and herbs.
Rozanne Gold is a four-time James Beard award-winning chef and author of Eat Fresh Food: Awesome Recipes for Teen Chefs, Healthy 1-2-3, and Radically Simple: Brilliant Flavors with Breathtaking Ease.
Rozanne can be found on Facebook at https://www.facebook.com/rozannegold.