Martin Kasindorf contributed reporting to this article.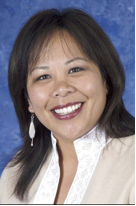 Mona Pasquil
(Photo from Filipina Women's Network website)
"We talk among ourselves all the time - Hillary Clinton delegates, and delegates in general." Mona Pasquil urges the news media to put less emphasis on the superdelegates playing a decisive role at the convention. "I feel like the press has just had a heyday with this superdelegate thing. Remember, it's not over. Many states have not voted yet. We need to let it run its course. There's too much focus on what we supposedly are going to do in August in Denver."
Ms. Pasquil, 45, a Filipina-American, was born in Sacramento, CA, and was raised in nearby Walnut Grove where she currently lives. "It's (Democratic politics) been a big part of my life since I graduated from college in 1984, starting at the local level in California. Back then, there weren't a lot of folks that looked like me, or if there were, I didn't see them. My parents and grandparents always taught us, if you want to make a positive impact, want to make change, get involved."
She has endorsed Sen. Clinton "mostly because I had a dream job," she served in the Clinton White House as Western states political director. "I worked my rear end off when I was in D.C. I learned so much from the President and Senator Clinton. I love the fact that she is smart and a great leader, but she also teaches. She has really been an important part of my growth in politics. I'm supporting her because I believe she has what it takes to lead our country. I'm a big fan - and there was nowhere else for me to go." California went big for Clinton on Super Tuesday solidifying Ms. Pasquil's decision to endorse and stay with the Senator from New York.
Ms. Pasquil has had contacts with "young folks" she knows who support Obama, "No one's approached me about switching. I've received letters and e-mails from both sides. They've been very nice. The Obama folks say 'we really wish you would support Sen. Obama but there has not been any pressure."
She works as a vice president for MHSC Partners Inc., a political consulting firm widely acknowledged for expertise in microtargeting and data analysis. The firm advises candidates, organizations including the Sierra Club, and some corporate PACs. The company claims in its promotional materials to have helped 16 governors, 16 senators and 40 representatives get elected.
Also, she firmly supports the DNC's decision not to count the delegate votes in Michigan and Florida, "I'm on the rules and bylaws committee. I support what our decision was. And nothing has been brought to us formally (to change it). I support the decision that was made. When something is brought to us, then we'll deal with that."
Ms. Pasquil was a deputy CEO for the 2000 Democratic National Convention and served as Political Director of the 2000 Gore-Lieberman campaign in California. Much of her involvement now is mentoring - helping local office holders who aspire to run for higher office or want to do more in the office they hold.
Her extensive political biography was published in HuffPost's OffTheBus section last Thursday as a part of a listing of DNC California Superdelegates.