Novalis says, "In every language, what is said is never what is spoken."
When diagnosed with multiple myeloma in 2009, Lisa Ray began a blog -- a scrapbook -- as a form of expression. She shared intimate moments, ones that some of us would find difficult to relate to, but wanted to understand.
From 'coming out' at the Toronto International Film Festival to her 'chemo cut', it was through her album of experiences that we got a glimpse of what it meant to face a disease that is believed to be incurable.
On July 18, 2010, Ray wrote, "so my girlfriends are gathering close... and before I spill all my colors, I remember the words I have not spoken. I was dying. I am still here. The journey is the now."
Coping with the reality of this disease manifested itself in different ways, but for Ray, there would be no words left unspoken.
Statistics suggest that an estimated 2,500 Canadians will be diagnosed with multiple myeloma in 2013. According to the Canadian Cancer Society, risk reduction strategies include maintaining a healthy body weight, eating well and being physically active. For Ray, incorporating fresh plant-based juices has helped to control the disease along with a drug protocol.
"Getting diagnosed with multiple myeloma has been a catalyst for change in my life. It is still considered incurable and ultimately fatal. While I'm living with cancer I've also learned how to live more fully," Ray explains over a cup of fresh coconut water.
She now chronicles the words to describe her experience with life, love and cancer on nine yards of fabric. Her journey, narrated through the Ray of Hope collection, is an illustration that can be draped as a sari, or framed as artwork. One she describes as simple and elegant, wearable art.
As Ray brings out the beautiful pieces, she explains the story behind each one, "the faith sari I designed is an expression of my experience. One needs faith to fall in love, to start a business, to get through your day. Faith binds us together, as does hope, so my sari line is about essential qualities which everyone -- not just someone dealing with a cancer diagnosis -- needs."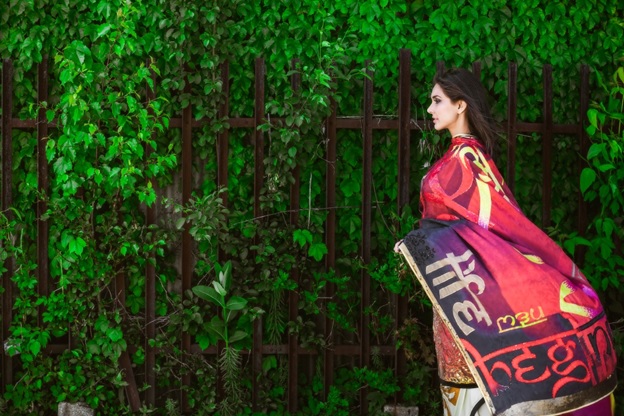 Photo Credit: Mirza Noormohamed
With proceeds supporting multiple myeloma research, it is a collection that endeavours to make an impact. "I believe we are close to transforming multiple myeloma from something that is fatal to something chronic. Research dollars and awareness are vital. I have faith that we are close," says Ray.
With The Molly and David Bloom chair for multiple myeloma at The Princess Margaret Cancer Foundation leading the charge in Canada, the outcome for patients is improving. The hope is to transform this cancer from fatal to chronic, and the Ray of Hope collection simply expresses faith, without having to say a word.