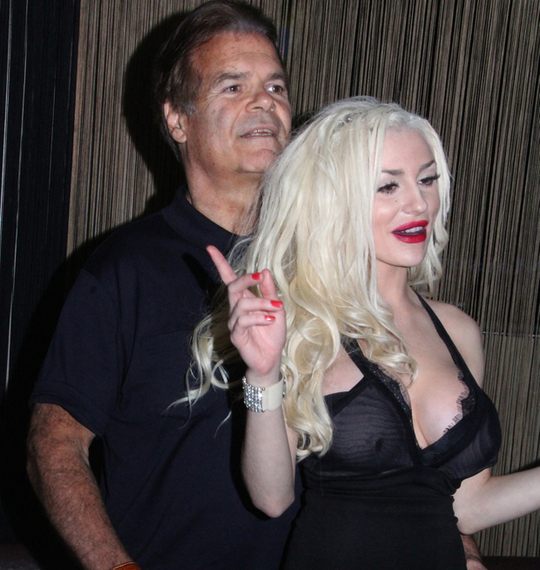 Does Courtney Stodden have daddy issues? You decide.
The 19-year-old has gone from the arms of a 53-year-old right into another one.
RumorFix.com tracked down Edward Lozzi, who was photographed Friday in an embrace with the Internet darling. At first we thought the older man was merely her publicist getting a little handsy.
But, Lozzi tells RumorFix exclusively that's not the case, and the two were actually on a date.
Stodden married 53-year-old actor Doug Hutchison when she was 16-year-old, but broke up with him in November.
Lozzi considers himself lucky, comparing his new gal pal to his ex Anna Nicole Smith.
Photos: Courtney Stodden Wardrobe Malfunction
Lozzi tells us, "Courtney has the same wit, and sense of humor as Anna Nicole Smith who I know, that you know, I once dated."
He continues:
Courtney is a glamor girl throwback who loves all of the 1950s stars like Mamie Van Doren, Ursula Andress, Tina Louise, Jayne Mansfield, Monroe. She knows every movie and quotes the scripts including Jayne Mansfield's classic, The Girl Can't Help It. I just find her fascinating.
He sure sounds like her publicist to us! Lozzi also sticks up for Stodden and bashes her band of haters, saying:
If you notice -- the huge amount of readers' comments -- they are mostly hate mail from dumpy frumpy anonymous loser women sitting at home. Hardly any guys comment except to gush on her. She is brave on how she handles the false negativity from these b*tches. I just met her. Didn't realize the huge following she has and what going on a date with her would be world news in 24 hours.