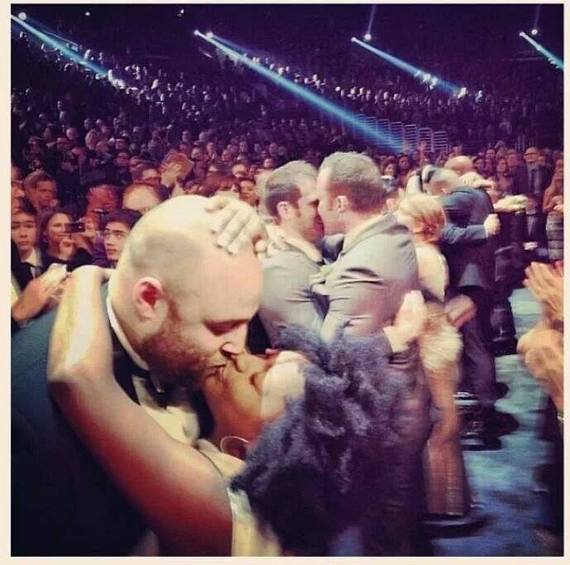 "Jay Z and Beyonce were our front row wedding guests, Paul McCartney cried like a proud papa, Katy Perry grabbed me with tears in her eyes, Madonna and Macklemore were our wedding singers and Queen Latifah was our minister ... Wolfgang Puck catered the event. Who the hell are we?! ‪" Melody Murray Parks asks.
Well it turns out Melody and Jake Parks are one of the 33 couples who got married during Sunday's Grammy ceremony.
Melody, who is a reality show producer getting a graduate degree to become a therapist, says she was approached to be on the show in November by a friend who was working on the Grammys, "I said 'F**k yeah,' but Jake was like 'Ahhh Nahh.'"
The couple got engaged in July and Jake wanted a traditional wedding, "So I shamed him into it" she tells RumorFix exclusively.
For almost three months they had to keep the secret -- they were even forced to sign a non-disclosure agreement. "We knew there was an event happening at the Grammys, but we didn't know who was going to be involved," she says.
Being the astute producer that she is, Melody took an educated guess that Macklemore would be singing "Same Love," but "We didn't find out about Madonna until she sang on stage during the rehearsal Saturday" she says. "We all freaked out. "
Melody says Sir Paul McCartney had just finished rehearsing and stayed to watch the wedding rehearsal. "He cried," Melody says.
That's the moment Jake told his bride-to-be, "I can't believe I was going to pass this up."
Then on Sunday the dream wedding took place. "When we walked on that floor standing in those aisles, you could feel all the loving energy coming toward us," the Seattle resident says.
"Beyonce cried. Katy Perry grabbed my arm. I don't get star struck but I had legends all around me!" she adds.
"Leonardo DiCaprio saw me get married, Carole King saw me get married. It blows my mind."
But, what about her friends and family? "Since every was able to watch the Grammys -- they were there too!" Melody adds that they are going to have the traditional ceremony in the Fall.