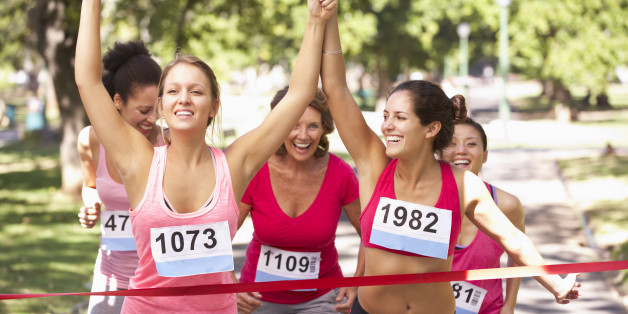 For most people tackling a physical challenge that exceeds (what they believe to be) their body's limitations is a daunting thought. Ask most people about running a marathon, a mud run or hiking a mountain and they'll quickly tell you, "Oh, I could never do that." Not only do these tasks present a physical challenge, but an emotional one as well. Fear of failure, pain, accountability or being among superior athletes stops most people from even lacing up their shoes. But often times these fears are unfounded, and what people find is that inspiration, support, integrity and inner strength are the true results of meeting that challenge.
Inspiration
Every year more than 400 people gather at the Empire State Building to take part in a grueling run up the building's 1,576 steps. Last year I was one of those people, churning my legs, gasping for air and climbing higher and higher above the city skyline. What I always remember about that day was not my triumphant finish, or the calories I burned, but the 73-year-old man I ran alongside and the way he inspired me to rise to the challenge. It's easy to make excuses in life, but when we come face to face with people who refuse to let excuses get in their way it makes us push harder. How can I, a young fitness instructor, slow down if this man has clearly never slowed down in 70 years? It's these sorts of experiences that become fuel, not only in the gym, but throughout your life.
Support
A couple weeks ago New York City was buzzing as 50,000 runners made their way through the five boroughs of New York, en route to completing the NYC Marathon. Watching the steady flow of runners, all with their different backgrounds and personal histories, one can't help but feel inspired. The streets lined with cheering fans, signs of support adorning the buildings and volunteers dedicating their time to assist the competitors. Seeing many of the runners finish hand in hand, or alongside loved ones, it almost calls the term "competitor" into question. Yes, this is a competition with world class Olympians vying for a top spot, but the majority of participants are ordinary people who have taken on an extraordinary challenge, and have found that they have the support of everyone around them. Receiving phone calls from friends, pep talks from family and the camaraderie with others enduring the challenge are irreplaceable experiences.
Integrity
"I am not bound to win, but I am bound to be true." -- Abraham Lincoln
At the 1992 Summer Olympics in Barcelona, Derek Redmond was halfway through a 400m race when his hamstring suddenly popped. Rather than allow the medical staff to take him off on a stretcher, Derek, with the help of his father, limped his way across the finish line. Afterwards Derek's father said, "I'm the proudest father alive. I'm prouder of him than I would have been if he had won the gold medal." Be proud of whatever victories you are making in your own life, despite how it stacks up against others. Challenging yourself is a personal commitment. Comparing your performance to others can weigh you down emotionally, rather than letting your personal best lift you up. Be your own competitor and motivator as you prepare for whatever challenge lies ahead, and make sure, even if you have to limp, that you have integrity through to the end.
What is a challenge that seems daunting in your life, yet deep down your heart wants to tackle it? It could be a 30-day abs challenge, a walkathon, a mountain climb, a bike ride -- anything that goes just beyond what you think you're capable of. Get creative and explore the events, races, climbs and challenges in and around your area. There are so many incredible, inspiring individuals who will cheer you on and be equally inspired by your efforts. Demonstrating to yourself that you can go above and beyond provides an inner strength that shines into every area of your life. That's putting the change in challenge.