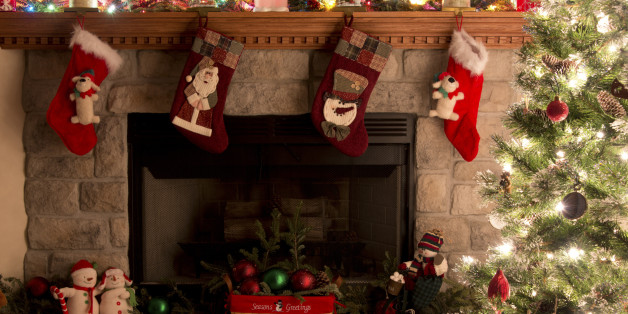 This can be a very heavy time of year. We put on heavy clothing to go out into heavy snow. We drive through heavy traffic to carry our heavy boxes of presents into a packed house of family where we share a heavy meal before heading home for a heavy night's sleep. And yet, 'tis the season to be jolly?
The holidays can be a time of extreme contradictions. It's a time of "peace on Earth and good will toward man," unless that man comes between you and that discounted 52" inch plasma screen on Black Friday. It's a time of relaxing with hot cocoa by the fireplace, but also a time of added work pressure and financial strain. Along with the candy canes and chocolate stocking stuffers comes the guilt of over-indulging. It can be challenging to avoid the common trap of holiday worries and stay emotionally fit throughout the holiday season.
Words can play a powerful role in our emotional state, and this time of year in particular, can illustrate this effect. On one hand the holidays bring us words like merry, jolly, cheer, good tidings, joy, blessed, happy holidays. However, for so many people the holidays are a time of unyielding heaviness. Their minds are filled with words like spending, shopping, shoveling, stress. One person looks at holiday shopping as a time to give thanks to loved ones, while another sees it as a frantic chore that adds financial burden. One person sees snow and says "it's a beautiful white Christmas," while another says "what a travel disaster this will be." Just being aware of our words and how the energy they create can help us all feel lighter.
Spending time with family can also bring waning levels of heaviness into our lives. Notice how some family members make you feel lighter and others heavier? Ask yourself what qualities or actions have this effect and let this become a tool for being emotionally lighter. My mom, Nalini, is always so present when someone is speaking to her. She listens with a vibrant smile and always sees the silver lining, responding with encouragement and enthusiasm. It's amazing how one person can make an entire room full of people feel lighter. Being aware of her light energy not only makes my holiday more joyous but also gives me an attribute to strive for throughout the rest of the year. If I can be more present with myself I can provide that lightness to my life and hopefully others.
When discussing emotional weight I often encourage others to think of someone who is physically fit, but "feels" heavy. Emotional weight is the weight of life, words and actions that everyone that everyone can carry to varying extents. And, the Christmas holiday gives us a great illustration of these disparities -- the epitome of physical and emotional imbalance -- Santa Claus. Much to the dismay of nutritionists, Santa has been indulging in a steady diet of milk and cookies for nearly a century. Yet despite his robust silhouette and physical shortcomings, it would be hard to argue that this jolly, merry soul is emotionally heavy. He is, in fact, the very definition of emotional health and serves as a constant reminder that this is a time of year for generosity, laughter and love.
Regardless of your beliefs or background, I encourage you to embrace this holiday season and set forth a determined effort to remain emotionally light. It's inevitable that most of us will gain a bit of physical weight, but I guarantee that if you pay attention to your words, actions, and those around you who make you feel lighter, this can be your best holiday yet!