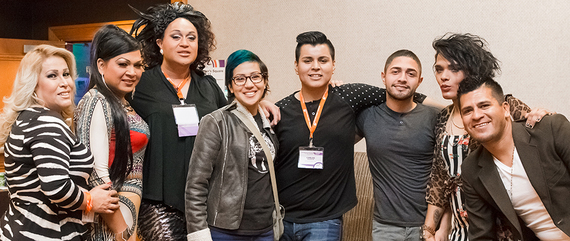 By Russell Roybal and Sue Hyde
The National LGBTQ Task Force warmly welcomed 4,000 activists and organizers to the 27th National Conference on LGBT Equality: Creating Change in Denver, Colorado, which took place on Feb. 4 - 8, 2015. Among them were people from every race, creed, immigration status, age, sexual orientation, gender identity and expression. We strive always to have such a diverse and representative gathering at our annual political conference. We are told by many, and we agree, that the Creating Change conference is the most diverse and representative gathering in the LGBTQ movements of the United States.
Last year, we received 800 proposals for workshops, trainings and caucus sessions for Creating Change 2015. We think carefully and purposefully when selecting proposals for scheduling, seeking useful, relevant, innovative, and skills-building sessions. Included in our review process is consideration of the skills, integrity, ethics and principles of session facilitators, especially when the subject matter is such that attendees may make themselves vulnerable with personal disclosures such as immigration status. We are confident in the facilitation skills of the presenters/facilitators for both "Queering Immigration" and "Our Parents Are the Original Dreamers." We believe that the presenters/facilitators were adept and sensitive leaders for attendees in sessions that both created safe space for personal disclosures, for those who wished to do that, and opened up space for deep discussions of political organizing strategies to reform our very broken immigration system. Both of these sessions were valuable contributions to the program at Creating Change 2015.
Each year at the Creating Change Conference, we, in collaboration with our local Host Committee, organize hospitality suites that serve specific groups of attendees for whom the cost of food may be prohibitive. In Denver, hospitality suites were open and serving no-cost food and non-alcoholic beverages beginning Thursday, Feb. 5 and ending Saturday night, Feb. 7. The hospitality suites welcomed youth, seniors, people of color, disabled people, trans, gender non-conforming people, and bisexual people. With one exception, the youth suite, five of the suites were open to any person who wished to visit them, enjoy no-cost food and beverage, and share in the community being built within those suites. The hospitality suites were launched at Creating Change 1997 for the express purpose of creating greater access for youth and young attendees; the program has since expanded to include other groups of attendees for whom hospitality suites provide both no-cost nutritious meals and a respite from the hurly-burly of Creating Change.
As mentioned above, we received 800 proposals for sessions at Creating Change 2015. Submission of a session proposal is a primary and important way that attendees shape the conference program. The session proposal process is open to anyone and everyone who wants to submit a proposal, on most LGBTQ-related political and cultural topics, for consideration for scheduling. Our link for session submissions is posted at www.creatingchange.org in mid-summer; the deadline for submissions for Creating Change 2016 is September 30, 2015. We invite proposals from all who are interested in presenting sessions at Creating Change 2016.
We aim to create a safe and welcoming space to all who attend Creating Change. If any attendee feels harassed, threatened, or unsafe, there is a standing offer, published in our program book, that we are accessible 24/7 to help folks find resources for on-site assistance, including trained professionals who make themselves available to us, and thus, to conference attendees. We recognize that our attendees can encounter any kind of harassment and threat to personal safety that we experience in our daily lives and in our home communities. No matter how safe any of us may feel at Creating Change, an ugly world is at our doorstep and, sometimes, unfortunately, even in our host hotel. We take seriously that our attendees may be made vulnerable and afraid by the actions of others and we are committed to engaging in productive and constructive follow-up with anyone who feels unsafe at our conference.
For whom do we organize Creating Change? For all of us who commit to building a world where each of us can be ourselves, every day in every environment in which we live, work, study, worship and play. We hope that all who share this goal will join us in Chicago for the 28th National Conference on LGBT Equality: Creating Change, Jan. 20 - 24, 2016. We hope you will join us.
Russell Roybal is the Deputy Executive Director at the National LGBTQ Task Force and Sue Hyde is the Director of the National Conference on LGBT Equality: Creating Change at the National LGBTQ Task Force.