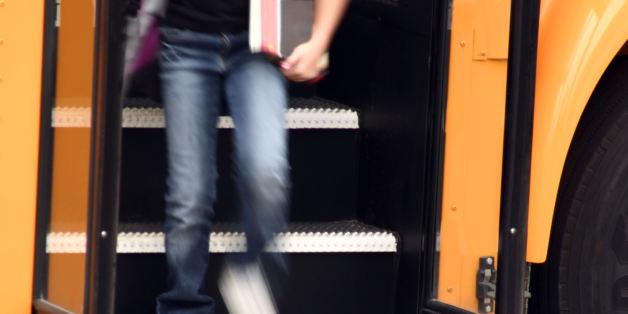 Neighborhood public schools are outdated. They were designed to keep children close to parents, especially when many had mothers at home. But today, almost two-thirds of American kids don't have a stay-at-home parent -- most moms and dads work farfrom their children's schools, creating long commutes, missed days at work, and fewer opportunities to attend school events or PTA meetings.
According to the Census Bureau, U.S. commute times are an average of 25 minutes one way. Over 40 percent of commutes take even longer. For some parents, this is exacerbated by the need to drop kids off at school and pick them up at the end of the day. Plus, married couples are spending 185 more hours per year at work than they did ten years ago, which puts extra stress on families and reduces parental involvement in schools.
In fact, research has shown that neighborhoods no longer serve as Americans' primary social networks or source of friends and advisers. More and more, these aspects of life are becoming part of the workplace; offices have even been called the new neighborhood. But assignment of public-school spaces has not changed to reflect these trends, and family stress, inequality, and segregation have consequently flourished.
When given the option of applying to schools other than the ones in their neighborhoods, millions of parents across the country have taken it. Parents now face the challenges and worries of applying for transfers to magnet, charter and lottery schools. One father, an executive at a Portland software company, did the math and was dismayed to find that, while Harvard's acceptance rate was 5%, the public elementary schools near his office had a lottery acceptance rate of 0.023% making the chances of his child being accepted infinitesimal. Just as in Portland, downtown Manhattan schools this year were flooded with more applicants for each place available than ever before.
An alternative to these long odds and long commutes would be guaranteeing all students a place in the public school nearest their parents' place of employment. Though assuring sufficient classroom space near parents' workplaces might be costly, companies would reap significant benefits from funding the expansion or creation of nearby public school facilities. Bloomberg BusinessWeek reported that 80 percent of employers said child care caused workdays to get cut short -- and created more problems than any other family-related issue in the workplace. Businesses save between $150,000 and $250,000 per year when there are onsite or nearby preschools. Economic benefits include reduced absenteeism and turnover, along with increased employee satisfaction and loyalty -- all of which substantially improve productivity.
But there could also be diversity benefits. The No Child Left Behind Act gave parents the option of applying to schools other than the ones in their neighborhoods and expanded funding for charter and magnet schools. In some states, such as New Jersey, families can even request transfers outside their school district. These alternatives were mandated to desegregate schools and provide equal educational opportunities for all children.
Unfortunately, they failed to accomplish their goals. In fact, they increased -- not decreased -- educational inequality and segregation since the 1960s. For example, New York City, which uses an open lottery for school placement, has the most segregated big-city schools in the nation.
But returning to the purely neighborhood model won't help -- over the last thirty years, neighborhood income segregation has increased significantly, and de facto racial segregation remains pervasive. However, every large company or business center, from hospitals and airports to Wall Street, includes a diversity of races, classes and ethnic groups, so placing children in the school closest to the parents' workplace would narrow the inequality gap.
The school-transfer criteria established by the No Child Left Behind Act should be expanded to allow parents to choose between guaranteed public school placement for their kids either near where they live or near where they work. This would make life easier for busy parents, decrease school ethnic and economic segregation, and increase productivity and educational equality. Since working parents are the new normal, and workplaces are the new neighborhoods, the way children are assigned to schools should change to reflect reality.
A shorter version of this article was first published by The Atlantic, 19 May 2014