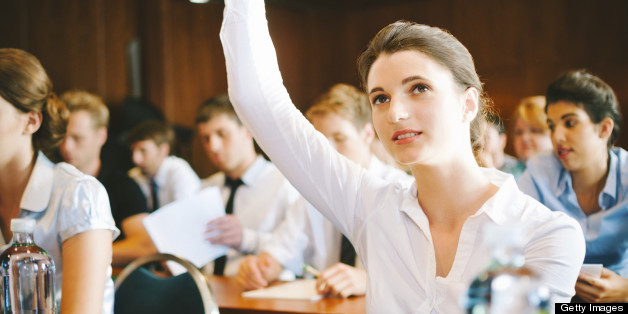 Stanford University's "Graduate Student and Faculty Collaborative Teaching in the Humanities," is training future scholars to focus on teaching in the liberal arts. With a $125,000 grant from the New York-based Teagle Foundation, this new program supports faculty-graduate student course development, team-teaching, and provides a plenum forum for collaborators to discuss humanities research and their teaching experiences.
Since 2011, a group of eight Stanford University faculty-graduate student teams have developed a series of courses that invite undergraduates to explore such diverse Humanities topics as the European economy, The 19th C. French Novel, Russian Literature and Film, the Mafia in Film and Fiction, Brazilian Songs and Literature, Warfare in Germany, German Politics, The Cold War, and African-American Literature. Each of these courses offers a different approach: some high tech with blended digital learning and others archival. There are canonical literature courses, film, media and music courses, as well as contemporary German politics and economy courses.
While offering undergraduates a dynamic classroom environment to discuss literature, language and history, Stanford's Teagle Initiative prepares graduate students for careers as teachers in the humanities. In addition to developing their own new courses and co-teaching, the whole group meets regularly in seminars to engage with readings on higher education, liberal education and the humanities, as well as the literature of assessment.
Professor Russell A. Berman, who directs the Stanford Teagle Initiative, describes its goals:
Doctoral programs have to provide graduate students better opportunities to understand teaching and learning in order to become better teachers. The future of the humanities -- and of liberal arts education more broadly -- depends on the quality of the next generation of teachers. We're at a historical point in American higher education, and the significance of teaching to research is rising. The public is demanding it.
Indeed one of the main purposes of the Teagle Initiative is to help shape future humanities professors whose teaching and research interests find productive expression in the classroom. Berman asks: "How can we create a student centered environment that asks not 'what material am I going to cover today?' but 'How am I going to enhance the student learning?'"
One particularly successful approach to enhance student learning has occurred in the plenum sessions where all the groups meet. Here, while debating humanities research texts such as Elizabeth Barkley's Student Engagement Techniques, and Ken Bain's, What the Best College Teachers Do, the focus has been on applying these ideas to the classroom: how the teaching teams can enhance their students' experiences, how to best support undergraduates who are struggling, while encouraging the whole class to think critically about the topics and take on independent projects: whether these explore the euro's seemingly interminable crisis or Brazilian music. For both faculty and students, the plenum sessions provide a rare opportunity for faculty across the humanities to talk about their teaching with each other.
Central to the collaborative project in all of the Teagle courses has been faculty support of student ideas and approaches. In many of these courses the students chose the topics and materials, while faculty offered suggestions. In Contemporary German Politics, for example, a course co-taught by Russell Berman, André Fischer, and Yevgenya Strakovsky; all three instructors shared the responsibility of collecting materials and creating in-class projects for students.
Fischer and Strakovsky co-taught with Berman in the Fall of 2012; their advanced German-language seminar exposed students to Germany's political tensions, exploring high-profile issues ranging from relations with China and the Middle East, to the growth of the EU, the financial crisis, and nuclear or alternative energy, among others. While learning to navigate Germany's unique multi-party political system and delving into the latest and most important issues facing the German government and the people of Europe, undergraduates improved their language skills, presentation techniques, and critical analysis.
In April we sat down with Berman's two early stage graduate students Yevgenya "Jenny" Strakovsky and André Fischer to discuss their teaching experience.
What was your experience of collaborative teaching?
Fischer: My overall experience was very positive, as it was the first time that I have been given the opportunity to teach together with a faculty member and to share the responsibility for a successful class. Having three people co-teaching the class, there was always the possibility to give the students multiple perspectives on the issues we were discussing, as everyone would explain things a little differently, emphasizing different aspects and using a different vocabulary. I also really liked the concept of a course that tried to introduce German political culture to intermediate-to-advanced speakers in German. This way, we always had to think about the two components, the language learning aspect and the "content" aspect, and how these two shape one another. What made the course really successful, at least from my perspective, was that on the one hand, the students were practicing their language skills in a higher register, which was often challenging for them. On the other hand, they were highly interested in talking about politics and wanted to understand the current developments in the European financial crisis, Germany's foreign policy or the follow the debates about renewable and nuclear energies. So there really was an interesting dynamic between the content of the course and they way we taught in with and through language.
Strakovsky: I really enjoyed the experience of teaching with Russell and André, and definitely had the sense that we were working as a team throughout the quarter, both in and out of the classroom. What struck me early on was Russell's interest in our input as teachers: Our discussions of upcoming courses often started with Russell asking, "So, what should we do?" It took a little while to get used to the fact that Russell would always listen to our ideas before offering his own input, but it allowed us to take ownership of the class and take some risks as teachers. He also took the time to discuss our more vague or outlandish ideas, to help us think through how to put them into practice effectively and help us improve our pedagogy throughout the quarter.
In the classroom, collaborative teaching was particularly effective for our topic (current politics), because made it easy to emphasize multiple perspectives on a political debate. Part of our task as teachers was to keep our class up-to-date with the latest headlines, to stay flexible and adjust our syllabus on our feet as things changed. We often took turns leading discussion on materials each of us had contributed. Once, for instance, we had an interdisciplinary exploration of German foreign policy by each presenting a single piece of media: I helped the students decipher a video on recent German/EU sanctions against Syria and Iran, André covered an interview news regarding an upcoming EU summit, and Russell led a discussion of an upcoming German film about German soldiers in the Middle East,. The students had a chance to think about how all these issues were related, but also about the role that different forms of media play in politics.
Russell also regularly let André and me to plan and teach an entire session independently - we ended up doing about 1/3 of the class this way. It was daunting at first, but these sessions became a highlight of my experience, because they were a bit like a laboratory for putting into practice what we had learned from Russell, from the plenum discussions, and from our previous teaching experiences. They gave us a unique opportunity to experiment with new ideas and grow as teachers. One of our most memorable activities involved students writing dystopian narratives of the future of global politics.
Did you have a sense how the students experienced this course?
Fischer: I think it was fun for the students that there were various approaches to each of the topics. We used all different sorts of media that they had to engage with. For example, right at the beginning, they had to analyze a speech by Angela Merkel in the Bundestag (Parliament), paying attention not only to her main arguments or her rhetoric, but also to the whole setting in which she spoke, which involved the political dynamic among the different party factions. One major goal of the course was to give the students a more complex understanding of how politics is carried out in Germany, and I think they became engaged in that due to the diversity of approaches.
Strakovsky: I would like to think that our collaboration as teachers extended to include our students as co-creators of the class. One of our goals was to create an environment for students to engage critically with the major global issues of contemporary politics, not just as sponges of knowledge, but as independent thinkers with their own views and interests. As much as we brought in materials, we often assigned students to bring in articles they had read, and to decide where to take the discussion. The majority of our classroom activities involved students working in pairs or groups of three, sometimes with one of us to raise questions they may not have thought of, or help out with language challenges. Students worked on reading newspaper articles closely, presenting the argument of a political speech, and collaborating to edit their own political writing.
What impact did the course have on your future teaching?
Fischer: The main impact of this course was that I realized that there is no gap between language teaching and teaching any kind of cultural studies. Throughout this course, I saw how important it is to didacticize the material with regard to the language skills that we wanted to enhance. But it was particularly this focusing on language that created the necessary sensibility for the analysis of the political discourse in contemporary Germany. For my future courses, I have learned that, in the classroom, almost nothing is self-evident, and that there are always at least two ways to engage with any given material. Another valuable experience was that in preparation of the class, Russell, Jenny, and I always had slightly different ideas on how to teach the material and the collaboration with them gave me an opportunity to sharpen my intuitions about politics and teaching. Finally, I think it was very interesting to see that students do not need to know every detail of an issue in order to talk about it, but rather, they need to be given a well structured set of analytic and linguistic tools, and most importantly, the responsibility to engage with the material in their own way.
Strakovsky: This course really showed me how important -- and fun -- it is to give students a space in which they can learn about and work through the central questions of today's society. We sometimes get defensive in the humanities, because the material we teach doesn't seem to have a direct use application in the real world, in the economy. For me, this course demonstrated the spectrum of skills that the humanities can develop. Even though we were discussing Germany, the general skills we used are directly applicable to learning about European, American, and global politics. Our students did not just learn the German vocabulary and facts surrounding political issues; they also learned to distill an argument, to see through bias, and to consider how the policies of one nation affect the lives of citizens in a different country.
This quarter, I am back in a foreign-language classroom, teaching intermediate German, but I am much more careful to incorporate activities that will develop the rhetorical, critical thinking, and analytical abilities of my students, and I have learned to delve with them into the questions that they find truly fascinating.
This is the third post in a series.