After an early morning last-minute phone call, I throw a few pairs of jeans into a bag, forget a tube of toothpaste, and perhaps, some sense of calm, and head off to La Route Du Rock festival.
We arrive in Portsmouth to the scent of fish and chips, and to the wonder of one journalist, a rather over-fried piece of excrement, known to the fish and chippy simply as 'Huss.' Marching on, unperturbed, we make our way to the ferry and treat ourselves to a few cocktails, as a piano man plays out Celine Dion's "My Heart Will Go On" as if to remind us all that, yes, we are indeed on a boat. A fair few reasonably priced cocktails later, we retire to la chambre in need of some rest for the weekend ahead.
We arrive in the picturesque seaside resort of Saint-Malo just after dawn. A handy shuttle bus waits outside the ferry port, ready to cart of the dozens of the festival-goers. It's clear that a vast majority of them are English, as they arrive decked out in typical British euro-trip gear. Unafraid to revel in the new-found sport-fueled patriotism, floppy hats emblazoned with the Union Jack sit on top of their heads. I've always found it strange how a strong proportion of British holiday-makers feel the need to outwardly express where they are from. As soon as I arrive somewhere, I feel an instant want, or need, to blend in with the environment. The word tourist being demoted to perhaps the worst swearword in the dictionary. However, with these Englishmen, if it's not t-shirts with crude nicknames on the back, it's blind ignorance toward the idea that they're in another country, and therefore, should be trying to speak it's language.
As the tourists board their bus, we try our hardest to avoid being branded with the term and head off boldly into the town. The festival itself doesn't officially start until 6:30 p.m. each day, so, we prance around Saint-Malo for a little while, loading up on café and croque-monsieurs. Saint-Malo is best described as St Ives by France. The town boasts intricate architecture on the sea, with plenty of little alleyways and side streets for snoopers to explore.
La Route Du Rock is relatively peaceful in the early evening, as a steady stream of French kids pour through the gates. They're much nicer than their British counterparts. Instead of the scowl and further "what'd you think you're lookin' at, mate?" that British teens frequently bestow, the French are happy to talk. They kiss each other on both cheeks, too. However, both nationalities are intertwined as Alt-J take to the stage.
It's boiling hot outside. The sun burns high, as lead singer, Joe, wipes sweat from his brow. The crowd, although small at the beginning of their set, have slowly started to filter into the venue, until, mid set, the field appears full. The band launch into cuts from their hype-drenched debut album, as sun-soaked European teens look on adoringly. The band end their set with "Breezeblocks," pushing several of the kids at the front to engage in a bit of 'pogo-sticking'.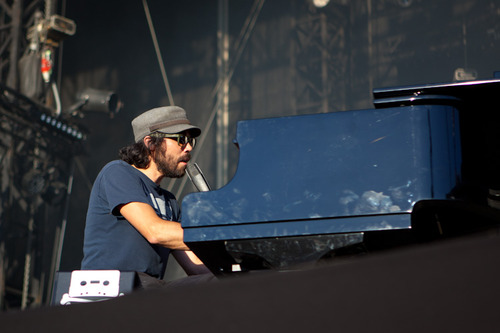 Patrick Watson is up next. I've been looking forward to seeing Patrick Watson for quite some time now and I'm pleased to announce that he's been worth the wait. Smoke billows out all around the stage as Patrick sits, bent over a piano crooning into a microphone. His mellowed out set was the perfect antidote to the energetic beat-driven set that Alt-J had delivered moments previously. Patrick, and his band of multi-talented musicians managed to hold their crowd on the tip of their fingers, valiantly diving between melody and instruments, as they all swap for each song. As the sun sets behind the castle, Patrick plays a beautiful solo acoustic number, finishing up by bringing his band mates out for a quick little stomp around. For now, all is perfect at La Route Du Rock.
It's nearing 10:30 p.m., which means time for a headline set. It also means, usually, time for spotting a variety of drunkards, slewn out across the field in various states of self-exposure and disrepair. At least, it would, in England. But this isn't V Festival. The French know how to handle their drink, and despite the price of a pint being an edict to binge drink, they manage to put back just as many as the English, whilst retaining all integrity.
Up on stage next are Spiritualized. Dressed all in white (presumably to add a godly effect) Jason Pierce prances around the stage, wearing sunglasses. Perhaps no one told him it was night time outside, but it only serves to prove that he's the Liam Gallagher/Richard Ashcroft that never quite was. The first half of their set is filled with, what I'm told, is material from their new album. It holds my attention for 10 minutes or so, until, the set highlight -- a stage invasion. Due to the fact this is a small French festival, security is very small and lax, compared to that of it'\s English counterparts. However, halfway through Spiritualized's set, a crazed fan manages to bypass the head honchos and makes his way to the top of the stage. In some way, as the small French teen jumped up and down, bopping his hands in the air, and losing himself in the music, he provided more entertainment than Jason Pierce and co did for a whole half hour.
After finding out that Squarepusher is only good for creating ear-aches, and realizing that our beer tokens have run out, we hastily retreat back to our hotel.
Day two. We awake early and excitement is in the air. The XX are in town this afternoon, ready to premiere new songs from their much anticipated second album. But first, Veronica Falls are up on the main stage delivering some gorgeous melodies as the crowd slowly meanders their way into the main arena.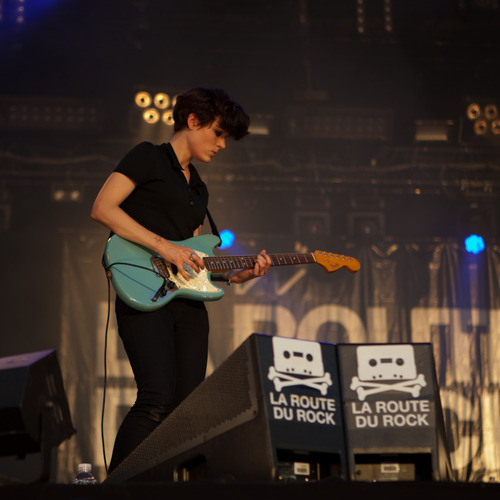 Next up are surprise favorites of the festival, Savages. Despite looking like they've walked out of Zara, the girls somehow channel the spirit of British post-punk bands, with lead singer Jehn marching into the microphone in a way that Ian Curtis would be proud of. Taking things down a notch are Lower Dens with their tried and tested chill-wave surf pop. But, the moment that most festival goers have been waiting for is almost here. The XX are in the building.
Arriving with a rather large entourage, the band spend the majority of their time holed up in their dressing room. However, as the stage lights are dimmed, the band make their reappearance amidst shrieks of delight from the crowd. They open with new song "Angels" and follow it up immediately with old favorite "Islands." As Romy and Oliver trade axes on stage, a smoke screen billows out behind them. The same can also be said for their performance, in that, it's all smoke and mirrors. The band debut three new songs, but, despite sounding like Jamie XX has had a greater grasp of the reigns, they sound much the same as their debut album, and thus, reveal little about what their sophomore record could include. The band slowly meander through their set, which seems a little too mellow for a headline slot. Although the R&B-based rhythms of The XX are enjoyable, by the last few songs, the crowd has depleted and we're left to feel dragged through the final few numbers.
Thankfully, XL labelmate Willis Earl Beal is up next and breathes a whole whirldwind of funk into proceedings.
Sunday, and it appears that the slacker bus has rolled into town. We start with Cloud Nothings who warm up the crowd with their blend of '90s era Green Day & Foo Fighters. But they're just the cheerleaders for the '90s slack pant behemoth that is coming next.
I'd seen Stephen Malkmus walking around backstage a little early, and assumed that he'd be a little bit of a ponce. You know, all rockstar bravado and a want to piss off everyone in the room, but in fact, he was probably the nicest guy at the whole festival. Despite walking up and pinching one of my cigarettes, he seemed warm and delighted to walk to people backstage, and in his own words: "I want to watch all the bands. I love watching them all."
This nicely fleshed-out persona walks out on stage too, as Malkmus greets the crowd with a simple "Bonjour" and then proceeds to talk to the crowd in French for the entirety of the set. It's a small gesture, but one that is welcomed by the crowd who scream out their thanks after each and every song. The indie godfather puts on a suitably chilled out, lazy Sunday afternoon show, with rifferteria transporting us back to the '90s. He sings songs about senators that want blowjobs and plays guitar behind his head. It's quite a spectacle, but one that's enjoyable, all the same.
However, next up we have a bit of doom and gloom, as The Chromatics walk out on stage, covered in make up. Their music may sound nice, and fits in perfect on the OST to Ryan Goslings Drive, but it brings the mood down on the last night of the festival. The same can be said for the moody Mazzy Star, who, in my case at least, brings my hangover in several hours earlier than expected. Thankfully, The Walkmen arrive to save the day. Their blend of The Killers-esque pop rock isn't the greatest thing in the world, but it's a nice end to what has been a nice festival. La Route Du Rock. Bonne, Au Revoir!
Images courtesy of Julien Nedelec