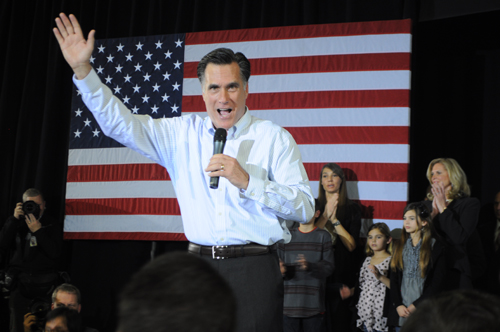 I've shaken Romney's hand three or four times, recorded a priest being manhandled by a member of his congregation at a demonstration and heard stories of children crossing the desert that they watched adults die in. I went from Romney rally to Romney rally in primary states across the country, hearing what GOP primary voters value. I've heard the most irrational Teabagger arguments imaginable, video's I've had a hand in have made national news that Mitt Romney has publicly fumbled over at debates and interviews and I've been at demonstrations in at least 10 states. It's been interesting riding shotgun in the DREAMer movement.
Starting in January, I began writing the articles on immigration law, the DREAM Act and demonstrations for DRM Capitol Group, an immigration advocacy firm that I cofounded. Those articles would become the book Chasing Romney, focusing in on his immigration policy and the lives of DREAMers. Staying on the couches of undocumented immigrants, I watched mixed immigration-status families struggle with policies that relate directly to their families, many times separating loved ones or making life unmanageable. I'd often compare this to my own perspective, being one of the whitest kids you'll ever meet from the Long Island suburbs: you can get my old neighbors fired up on immigration, but it's always "those illegal immigrants," caricatures drawn of people who are far away.
Texas is soon expected to become a swing state. This is largely due to the demographic shift of Mexicans coming into Texas. They are completely turned off by anti-immigrant, anti-Latino dog-whistle politics they've seen this year despite the Spanish-language ad buys. A good example of this was Erika Andiola, a DREAMer, being put into a headlock during a demonstration by a white male cop with enough muscle and tattoos to be a UFC fighter at a "Latino Outreach" event in San Antonio. Erika was one of a dozen Latinos at the event, even though the entire venue was packed to the rafters. I've talked with more than one conservative Latino in Texas saying he can't vote for anyone who talks like Romney on immigration issues like the DREAM Act and SB 1070.
Arizona, which I've heard referred to as "the new Mississippi of racism," is torn over immigration. The two vocal groups on the issue are aging white retirees moving in as a Western alternative to Florida and young Latinos often fleeing the conditions at the border. Similar to Texas, Arizona is turning into a swing state on immigration issues. SB 1070, an Arizona state law that spawned several similar laws in other states, became a national issue as it was partially struck down by the Supreme Court. SB 1070 was loudly applauded by Romney and most Republicans, condemned by Democrats and, for Latino families, it all went down on Telemundo.
Where a politician stands on SB 1070 and the DREAM Act have become the litmus tests on immigration and, ultimately, with the Latino community. If you ask an angry white guy what SB 1070 is about, they might say something vague about the economy and "those illegals." If you ask someone in Arizona too brown to be perceived as white, but not so brown as to be black thus finding themselves in a potential Latino swatch on the color wheel what SB 1070 is about, they answer, twice as sure, that it's about Joe Arpaio's posse finding an excuse to frisk them.
This primary season, we saw Mitt Romney jump to the right on immigration issues so that he could look more conservative while he hid his more liberal past as Governor. This was best exemplified when Romney claimed that Perry didn't have a brain because he supported in-state tuition for DREAMers. It's not difficult to extrapolate from this, as well as many of his other remarkably consistent immigration stances in an inconsistent career, that he will sacrifice Latino issues quickly when the politics demand it.
In following Mitt Romney for 10 months, I've learned a lot about politics, immigration and how different people around the United States feel about today's political issues. The biggest different between the Latino community and angry white men that the Republican Party consists almost entirely of is the immediacy of the issue. Walk around Dallas or Phoenix, both in states the Republicans are starting to lose, and you'll find a lot of people who know someone who can't work, can't drive or is being deported solely because they were brought across the border as a child. For Long Island suburbanites, the DREAM Act is a small part of the broader economic debate that can be won on other sub-issues, and immigration in general isn't something they think on much unless they're blaming someone for long lines at the Emergency Room. For a mixed-status community, what to do about DREAMers' difficult status is a large part of many debates, but not immigration: they all already agree on the DREAM Act.