Nowhere is the human toll of our American consumption more obvious than in the United States/Mexico border region. And nowhere is the border nightmare more clearly visible than in Ciudad Juárez.
Our group of 10 delegates from around the United States and Latin America came to Ciudad Juárez to learn about the violence and related social devastation at the epicenter of the drug war. The violence peaked in 2010 with 3111 reported homicides that year -- nearly nine per day in a city of around 1.5 million. Today, the violence has subsided considerably, but effects are still visible in the lives of those who call the city home.
Also obvious is the passion and resilience of the residents. Many have refused to leave, determined instead to resist the culture of crime and impunity and create a new future for their families and their children.
Father Oscar Enriquez is one such dreamer and activist. He is the Director of Centro de Derechos Humanos Paso del Norte (Paso del Norte Human Rights Center). From a deep well of moral conviction, Padre Oscar has pushed back against state corruption and church silence and inaction.
On a cold but sunny February afternoon we visited with several community leaders in the Juarez Valley -- a region southeast of the city where the violence was the fiercest, reaching a shocking murder rate of 1,600 per 100,000 inhabitants in 2009 -- including a dentist now running for mayor of Guadalupe de Bravo, a veterinarian and two priests. We wanted to know why they would stay when virtually everyone else was killed or fled.
"Why should we leave? We haven't done anything. We have a moral obligation to stay!" Victor Luque, acting mayor of Guadalupe, is adamant.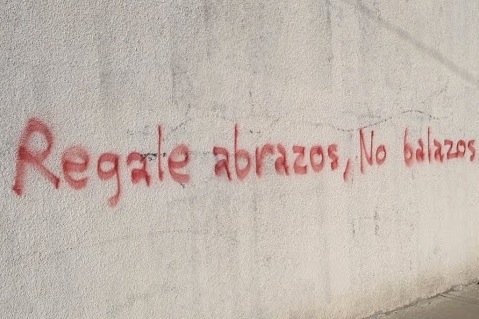 Considering that we were sitting in a church, we also wanted to know how people had related to the violence from a faith perspective. Had they blamed God? Did they question whether God had abandoned them? The priest remarked that he only ever heard this kind of questioning from the non-church members. Padre Oscar offered a different perspective, recounting a time when a woman in deep grief over the loss of her son directed her impassioned cry to an image of Jesus in her hand: "Where were you!?"
The most incisive analysis, however, came from Cynthia Garcia, a lawyer working at Centro de Derechos Humanos Paso del Norte. "The question is not just, 'Where is God?' but 'Where is the prophetic voice of the church?'" It was something I had been wondering as well.
This same sentiment was expressed, albeit less forcefully, by an evangelical pastor and member of the Groupo de Articualción, a network of non-profit and human rights organizations responding to a variety of challenges in the city. As a pastor himself he confessed that the church's role has been limited to ministering to suffering people. Understandably, engulfed in a miasma of grief and an endless round of funerals the church hasn't done much to address the violence itself and the conditions that led to it.
On our final day in Ciudad Juárez we had the privilege of meeting with a group of neighbors from Villas de Salvarcar in the location of the infamous massacre of three years ago. These women, and one man, are the survivors of this horrific event that took the lives of 14 of their sons, daughters, husbands and friends. In the three years since the massacre they have been exposed to a great deal of national and international attention. They were not thrilled to see us. Their grief is still so fresh. One of the women openly expressed her anger -- toward the Mexican government, toward God and the representatives of God who were with us.
As I stood in the back of the little front room of this attractive home listening to the outpouring of pain, I began to wonder myself where God might have been in the midst of this madness. Padre Oscar began to explain, patiently and compassionately, that God, in the person Jesus, is present with the murdered and the tortured. God, he explained, stands in solidarity with those who are slain, like God's Son. This narrative is familiar to many as liberation theology, but in that moment it made more sense than ever. In fact, it was the only thing that made any sense at all.
¡Todos los victimos!
We are all victims! No one has escaped, including God. On the cross, God was a victim of state sanctioned violence. For those who have suffered, the cross is a symbol of God's solidarity with all victims, before and since.
The question, "Where is God?" in the face of a crisis such as this, is an attempt to locate the source of tragedies that defy easy blame.
God didn't create this crisis. We did. Through an ill-advised drug war, irresponsible gun policies, dehumanizing immigration policies and corrupt governments we, Americans and Mexicans, have created this human disaster. With God's help, perhaps a new world is possible. But only if we stand shoulder to shoulder with the tortured ones in our midst.