"I've learned that people will forget what you said, people will forget what you did, but people will never forget how you made them feel" - Maya Angelou
I got a phone call two weeks ago from a classmate that stopped me in my tracks. My friend and mentor, John Cawthorne, had passed away. As I hung up the phone, I started to think about something that doesn't usually cross my mind on a typical Tuesday: the profound impact that one teacher has had on my life.
When I first met John, he was the Associate Undergraduate Dean of the Lynch School of Education at Boston College. I was an anxious freshmen sitting in his office for academic advising. In high school, the only time I visited an administrator's office was when I was in trouble and I was still trying to wrap my head around a dean who wanted me to call him by his first name.
I remember vividly pressing him for specific answers on which classes to take or what I should consider for a minor and being frustrated by what I felt at the time were vague responses. Looking back, I can appreciate how wise he was in that regard. You see, John was never one to answer questions directly, but he had always had a way of guiding you to the answer. He had infinite respect for the learning process, and each individual's journey for self-discovery.
John once said that he ran his office he like would an elementary school principal's office, and it really was true. One of his greatest gifts was his ability to make each student feel important. He had an open door policy and knew every single undergraduate by first name. It was remarkable how he was able to maintain such personal relationships with so many people, yet I always felt so close to him.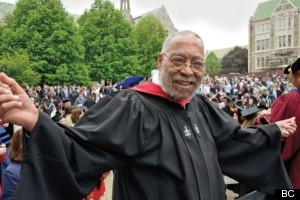 Every spring semester, John taught a seminar for seniors that we affectionately called "Book Club". The syllabus was a reading list of books that all had a coming of age theme. At its core, Book Club was John's graduation gift to us. He created a space for us to not only discuss the books, but also to talk about things that weighed heavily on our minds as college seniors. Things like our impending entry into the 'real world' and our worry about finding a job in a tough economic climate. We talked about the changing dynamic of our relationship with our parents and our great loves and our great heartbreaks.
The class consisted mostly of college seniors, but John also invited several book club alumni in various stages of adulthood. This multi-generational perspective added depth to our discussions. John would vary books on the list slightly from year to year, but there were several permanent selections. He always started with "Divine Secrets of the Ya-Ya Sisterhood" by Rebecca Wells. He pointed out how the main characters in the book had a friendship that spanned decades, and would remind us of the importance of maintaining those connections. Mid-way through the semester we invited our families to a special edition of book club, where we discussed "My Sister's Keeper" by Jodi Picoult. The conversation that day centered on complicated family ties and not judging someone until you walked a mile in their shoes.
John shared freely with us in book club discussions but he was never one to lecture. The most
successful discussions were ones where we picked up and carried the debates and conversation
ourselves. John would sit back with a twinkle in his eye and watch and listen.
John passionately dedicated his life to teaching and service. Before coming to Boston College as a researcher in 1988 he was a public school teacher, an elementary school principal, a school consultant and Vice-President of the National Urban league. The web of lives he has touched is infinite. His students at Boston College, many of whom were pre-service teachers, have gone on to influence others with their compassion, humor and humility. It is the John Cawthorne Effect.
The hardest part of learning of John's passing was wondering if he knew - if he really knew what an impact he made on so many lives. If he knew how much I appreciated his recommendations for both fiction novels and a decent bottle of wine under $20. If he knew how often I thought about the ride from Boston down to Natchez, Mississippi on our yearly service trips to the Holy Family School --a ride similar to the one he took nearly 50 years before with the Freedom Riders as a Harvard undergraduate.
Or I wonder if he knew that on days that are hard, when I am feeling scared or unsure of myself, I remember a man with an office in Campion Hall who told me he believed I could do anything.
And so, here are the words that were left unsaid. Words of gratitude for a teacher, friend and mentor who embodied the very best aspects of life: love and learning.
It was a privilege to know you and I am so sad to lose you, but sharing time and space with you has been one of the great blessings of my life. You have shaped me in ways I have yet to fully understand. Thank you for encouraging me to think critically, to never stop questioning and to wholeheartedly pursue a career I love. I hope that you rest in peace knowing that each person whose life you touched will affect the world more positively by carrying a piece of you with them.
It feels almost impossible to put all that John meant to me into words, but it felt appropriate to include the reading list from the last Book Club that John taught in 2012. It was his custom to send the syllabus out each year to all of the Book Club alumni, a reminder of the extended "Book Club" family to which we all belong.
----
Wells, R. The Divine Secrets of the Ya-Ya Sisterhood
Delinsky, B., The Secret Between Us
Sullivan, J.C., Commencement
De los Santos, M., Falling Together
Schulman, H., This Beautiful Life
Boylan, J., She's Not There
Nadzam, B., Lamb
Shriver, L., We Need to Talk About Kevin
Eugenides, J., The Marriage Plot: A Novel
Picoult, J., My Sister's Keeper (FAMILY DAY)
Simon, R., The Story of Beautiful Girl
Mosley, W., Fortunate Son
Cohen, L., The Grief of Others
Close, J., Girls in White Dresses
Willis, S., Some Things that Stay