There you are, figuring out how to slice up this seduction bread just right. There she is, manhandling fruit, all innocent-like. Hey, let's not turn this into some catchy (yet disgusting) Robin Thicke song! Let's maintain your utmost gentlemen-like composure at Whole Foods in midtown, where bohemian babes flock in droves. Is it a smooth move to blend up some light chit-chat at the smoothie counter? Does the produce section produce? Should you avoid those weird speed dating programs some Whole Foods host? Yes, of course. That's a dumb question. Let us be your personal shoppers of love today.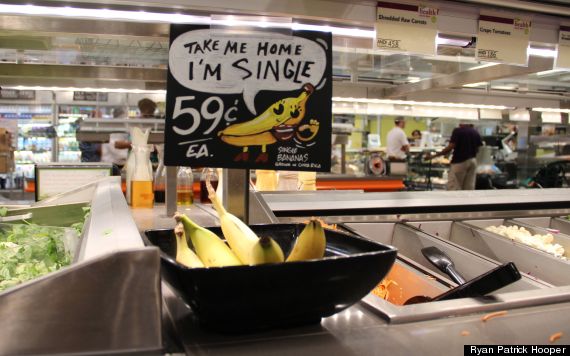 You don't have to be single while trying to pick up girls at Whole Foods, but you should be. Remember -- WE'RE GENTLEMEN -- and single bananas are the most honest peels.
Flirty Fruit Aisle Quip: "Did you know potassium is good for your eyes? You must have. Those [insert colored eyes here] are the brightest grapes on the vine."
Timing is everything. You want the situation to be ripe. The produce section does produce. You're not sure what a ripe cantaloupe looks like, so you ask the cute girl to your left. Are tomatoes really supposed to be that red? Play aloof.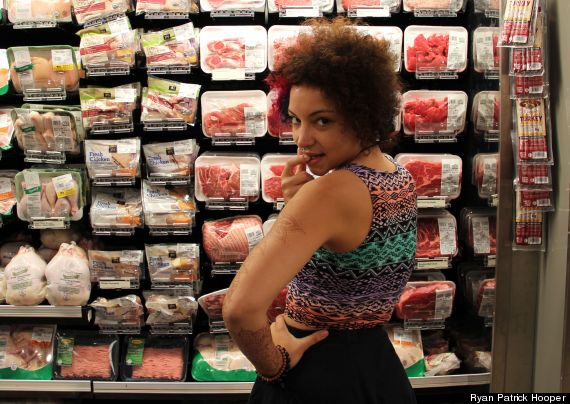 Don't mope around like a sad sack of expired beef. Keep your hands on the cart! Look engaging! Watch that posture! Come well dressed, but not like it's a grocery store prom. You might've worked at a grocery store when you went to prom in high school, but these are different times. Are you going to help this girl find the right piece of meat to grill or what?
Chop Up It At The Butcher's Block: "I'm not sure what's hotter -- that smoky Cajun andouille or you."
Don't be super eager to lurk around the beer aisle. You're not a sud sucker -- you're a goddamn WHOLE FOODS CASANOVA. But do be knowledgeable when you arrive there. Are you trying to find something delicious to talk over or something to pair with dinner, Ms. Nice Lady? Act like your fridge at home is curated like a museum without coming across like an asshole.
Break It Down At The Beer Cooler: "Oh, I love that Founder's Pale Ale. It's local and perfectly pairs with a gorgonzola and sun-dried tomato bison burger." WATCH THE SPARKS FLY.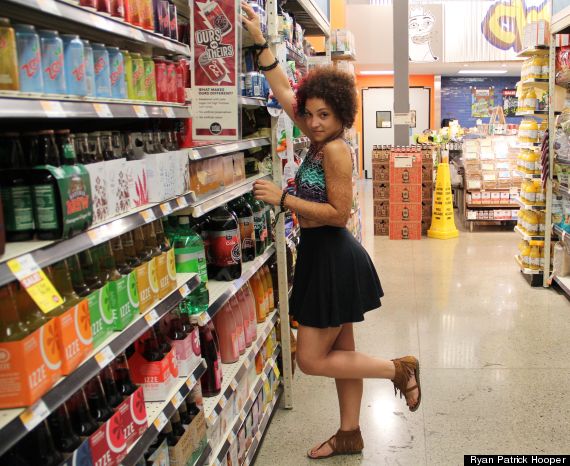 Be helpful and embrace local culture. The Whole Foods in midtown is packed to the brim with local delicacies -- Motor City Brewing Works, McClure's Pickles, Avalon Baked Goods -- and it's real big on putting signs all over the place letting you know that. Work it to your advantage. Go the extra mile. Help her get that fiber cereal from the top shelf. Don't think too much about it. Never judge a girl by her grocery cart. You'll find out way more than you'll ever need to know six months down the road.
Breakfast Fast Break: "I was about to ask if you liked your eggs sunny side up or scrambled in the mornings, but you seemed more like a granola and yogurt girl."
DISCLAIMER: The author's girlfriend patiently let him use her as a model to illustrate ways to BE A GENTLEMEN while meeting people at Whole Foods. They did not meet at the grocery store, but did purchase some beer and hummus while there.