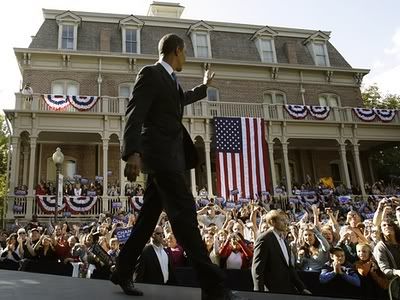 Barack Obama takes the stage Tuesday at the University of Nevada, Reno (AP)
Today's Los Angeles Times looked at the Democratic party's surge in registrations in Nevada, with 43 percent of registered voters to the Republicans 37 percent (compared with 2004 when Republicans had the slightest of edges with 40.5 percent versus the Dems 40.1 percent) and concluded "there may be no better test of Obama's campaign strategy than here in Nevada."
"The Obama campaign believes that by turning out thousands of newly registered younger and Latino voters... they can capture the Silver State's five electoral votes," writes Dan Hoyle in Salon.com. But getting newly registered voters to turn out is often easier said than done.
"Democrats love to tout voter registration numbers, but that's putting the cart before the horse," McCain spokesman Rick Gorka said in Salon.
Nevada Democrats' "secret weapon" may be out of state volunteers who help register new voters, canvas neighborhoods to convince undecideds, and are expected to get people to the polls come election day, writes Hoyle. Alise Moss, a healthcare consultant from Sparks, Nevada, told Hoyle, "We love those crazy Californians," and estimated up to 400 have stormed town on any given weekend.
"While registering and contacting voters here in California is a great way to be active, the reality is that California is not a contested state," Los Angeles City Council President Eric Garcetti wrote to his supporters last week, urging them "to travel to help walk precincts and work with voters in that swing state [Nevada]."
In their "Drive for Change" push, the Obama campaign is also reaching out to California voters looking to make a difference. "Nevada is a crucial battleground in the race for the Presidency, and Barack needs support not just from all Nevadans, but also from Nevada's neighbors -- especially California. This is the chance for Californians to have a major impact on this historic race," reads the plea on Obama's website.
McCain cancelled a stop in Reno scheduled for Thursday, leaving some Republicans worried he's not paying enough attention to Northern Nevada and risks losing Washoe County. "You cannot win statewide as a Republican without winning Washoe County," Republican strategist Robert Uithoven told the Reno Gazette-Journal.
Obama is in Washoe County today speaking at the University of Nevada, Reno. The Illinois senator was planning on speaking about healthcare, but instead will focus on the economy. Likely to go over well in Nevada is a gambling metaphor recently added to Obama's stump speech and last heard yesterday in neighboring swing state, Colorado.
"I read the other day that Sen. McCain likes to gamble. He likes to roll those dice. And that's OK. I enjoy a little friendly game of poker myself every now and then," Obama said. "But one thing I know is this -- we can't afford to gamble on four more years of the same disastrous economic policies we've had for the last eight."
Check out liveblogging of the UNR speech by the campus paper the Nevada Sagebrush.
---
Read the rest of the Battle For The West Daily Digest here.