Jacksonville Jaguars center Brad Meester has seen a little bit of everything during his 12 seasons in the National Football League. The Parkersburg, Iowa native has played and started more games than any player in franchise history.

Off the field, Brad has been heavily involved in the community whether it's visiting local hospitals, supporting charity golf tournaments or participating team sponsored functions.

Brad met his match in January of 2011 when he was asked by the Jaguars to visit five-year old Luke Akerstrom at a local rehabilitation facility.

Luke suffered a 30-minute seizure on December 29, 2010 in the back of his parents' car that ravaged the left side of his body with what doctors have diagnosed as a rare form of encephalitis. There were no warning signs. Doctors had no answers as to why this would happen to a perfectly healthy young boy and no one knew what his condition would be in the long-term.

Luke was fighting his own body, his right side moving uncontrollably while his left side stayed limp. His speech was nonexistent and he had trouble sitting up on his own.

An hour visit by Brad and his wife, Jamie, has turned into a friendship that grows every day. The Meesters are parents of five girls so Luke has become their only son.
The Meesters made weekly visits to see Luke whether it was at Wolfson Children's Hospital where he was readmitted several times or at Brooks Rehabilitation Facility. This wasn't a typical visit with a simple photo and autographs.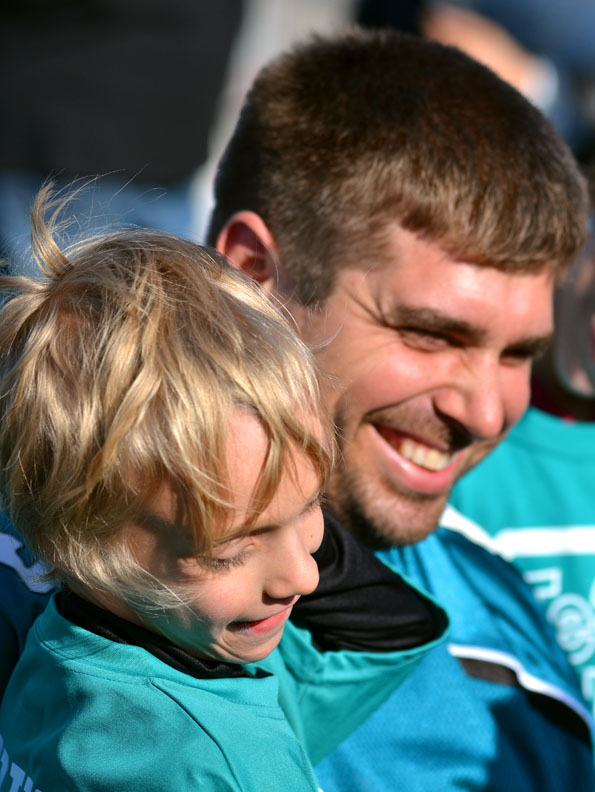 These were two-hour trips where Brad learned about Luke and his family and his life before his illness. There were many times it was just Luke sitting on Brad's lap playing with his iPad or iPhone. Brad's daughters begged to tag along to spend time with their friend.
When he was allowed to go home, the visits became more frequent. Each weekly visit usually consists of dinner and a chance for the kids to play.
Luke kept pushing himself in rehab, yearning for the opportunity to walk again. His favorite saying was, "Jaguars don't roll, they run."

Seven months after first meeting Luke, Brad wanted to introduce his teammates to his buddy. Surrounded by the entire Jaguars team and coaches at a morning training camp practice, Luke surprised Brad by taking his first steps since before his illness. Tears rolled down the faces of many in attendance which included more than 50 friends and family members.
It was an emotional time for Brad because this is exactly what he wanted people to see. Luke was a fighter and he showed the Jaguars those traits, something Brad had witnessed for seven months.

Two months later, Luke showed his progress to more than 65,000 fans at EverBank Field when he walked, by himself, to midfield prior to the Cincinnati game on October 9 to perform the coin toss. Of course, he was proudly wearing a Meester jersey.
Brad's relationship with Luke has provided so many thrills over the past 18 months.
There have been lunches at his school, First Baptist Academy, with Jaguars Blaine Gabbert and Uche Nwaneri and Samantha from the ROAR cheerleading squad. He has spent time with Tim Tebow, Peyton Manning, Maurice Jones-Drew, just to name a few.
Jacksonville Mayor Alvin Brown declared 'Luke Akerstrom Day' in February of 2012 as more than 1,000 people watched him play in a flag football game.
His story has been documented in local newspapers and a national television network came to Jacksonville to feature him in a series about kids overcoming obstacles.
The Luke Akerstrom Award was created in 2011 by the Jaguars Athletic Training Staff for an athlete or coach who exemplifies the exceptional qualities during their rehabilitation consistently demonstrated by Luke during his amazing recovery.
Luke and his parents, Magnus and Brandi, along with his younger brother Abram are appreciative of every opportunity. You make a trip into Luke and Abram's playroom and it's easy to see his favorite players. Several framed autographed Meester jerseys are on the wall along with a Manning and Tebow jersey. There are numerous sweat bands, gloves and hats given to him by his favorite Jaguars. But the family would trade it all in for a healthy Luke.
No one knows for sure what his future holds. One thing is certain, the Meesters and the Jaguars will be along for the ride every step of the way.

Meester's playing career is winding down but there is no doubt when his family settles back in Iowa, Luke and his family will be yearly visitors.

It's what best friends do.