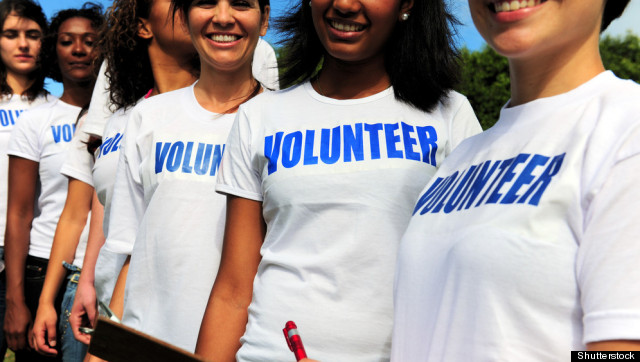 Human resources professionals know the drill: if you want to maximize an employee's potential, you need to engage him as fully as possible.  That's why attractive employee benefits and compensation packages only go so far, and why corporate volunteer programs are on the rise. Corporate managers agree that volunteerism delivers big benefits with employee engagement, professional development and employee morale.  No surprise, then, that according to the Committee Encouraging Corporate Philanthropy's 2011 Giving in Numbers survey, 89% of leading companies had a formal domestic employee volunteer program and 94% offered at least one matching gift program in 2010.
So now that businesses are increasingly engaging their employees through corporate philanthropy, what's the next step in competing for talent?  How are companies going to up the ante?
The latest employee engagement practice is to link sustainability measures to job descriptions, bonuses and compensation packages.  It's what the people who coin these sort of terms are calling "employee integration," in which employees are rewarded for participating in company sustainability practices and goals.  For example, companies such as Bank of America, Google and Timberland offer cash incentives to employees who buy a hybrid or alternative fuel car. Sony Pictures Entertainment offers employees up to $5000 for installing solar panels on their homes, and Patagonia pays employees a month's salary and benefits if they choose to take a leave of absence to volunteer full time for an environmental cause.  
Given how much most workers -- especially younger employees -- value sustainability, it's no wonder that employee integration can lead to greater employee engagement.  A recent Net Impact survey found that 45% of polled students would take a 15% pay cut in order to work for an organization that makes a social or environmental impact.  Slightly more than half of surveyed professionals reported that they are currently in a job where they can make a social or environmental impact on the world, and these respondents are more than twice as satisfied with their job than those who can't make an impact with their jobs.  High satisfaction rates were also reported from people who were involved in workplace sustainability issues.
Corporate social responsibility innovators agree that the notion of employee integration is still evolving as companies try to figure out how to effectively weave this practice into their corporate lives.  The goal is to make employee integration important to the employee and helpful to the company's bottom line.  But what does that look like, exactly?  Should businesses establish personal sustainability goals for each employee, or should goals be collectively set across the company?  Will individual goals detract from the collaborative and team-building effort that these kinds of initiatives inspire, which are valuable from a business management perspective?  Will collective goals diminish the sense of individual responsibility, urgency and accomplishment?  
Experts such as Chris Jarvis warn that since not everyone engages in social responsibility, some new employees may view employee integration as an obligation instead of a benefit. That's why it's important for an employee to take the first step toward volunteerism and engagement on his own before employee integration is introduced as part of the parameters of his job (after all, no one likes feeling voluntold.)
Employee engagement is imperative to a company's bottom line, so companies are constantly looking for new ways to improve upon their existing practices.  Employee integration offers another opportunity for companies to demonstrate good corporate citizenship while encouraging employees to further their company's CSR values.