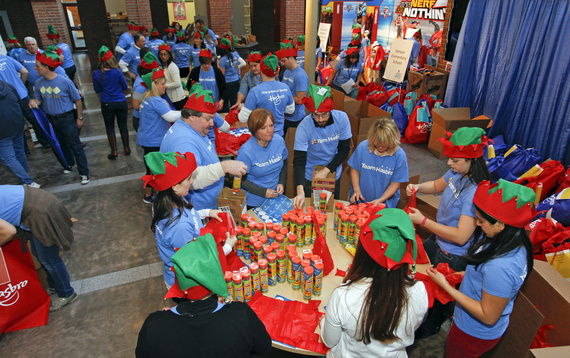 Santa's workshop is in high gear right now, making sure there's enough toys for boys and girls across the world. And to ease the workload, it appears there's a satellite office in Rhode Island, where Hasbro, Inc. is headquartered.
How else can you explain the impossibly heartwarming Global Day of Joy?
Definition of the Global Day of Joy: a day when Hasbro empowers all 5,100 of its employees in 33 countries around the world to combine their philanthropic spirit and engage in community service projects that help bring smiles to needy children this holiday season.
For this recent corporate volunteerism spectacular, more than 140 community service projects were organized through the Global Day of Joy -- approximately 90 in the United States and 50 more spread out in the communities where Hasbro has offices in Canada, Latin America, Europe and Asia Pacific. The 90 national projects took place in areas where Hasbro has operating facilities, including its global headquarters in Rhode Island.
To most effectively help children in need, Hasbro worked with more than 100 charitable organizations around the world -- many of which are trusted partners the company works closely with during the year -- that integrate elements from the company's core philanthropic pillars -- the sparkle of hope, the joy of play and the power of service. According to impact data provided by these nonprofits, the company estimates that its team of employee volunteers helped spread joy to more than 80,000 underserved children around the world.
"This is one of those infrequent opportunities in life where we get to see at massive scale the power of people bringing their skills together to make an impact, on one day around the world," said John Frascotti, President of Hasbro Brands. "Everyone at Hasbro puts down their pens and closes their computer for one day, and instead spends that time helping other people."
The service projects ran the gamut - from toy delivery donations; "Game Day" events where Hasbro employees brought toys and games to a nonprofit site to engage with children; "Playful Painters" mural designs and other creative events where local charities have their outdated play areas re-imagined and re-designed into safer, more vibrant play areas; and holiday party decorating sessions and food assembly lines where more than 30,000 nutritional food packages were prepared for food pantries. The company has been one of the largest funders for Toys for Tots, and Hasbro employees at the Rhode Island headquarters brought elementary school students on a tour to learn about how toys are made, where there were elves and stacks of toys waiting for the kids.
Across the world, Santa made his rounds. In Mexico, Santa's Hasbro elves created toy libraries, where kids can borrow a toy that they plan to return. In Peru and Bulgaria-Romania, they helped build new playrooms for SOS Children's Villages. In Greece, Russia and the Czech Republic, the elves created game days for kids.
In many countries, this sort of volunteering is a new concept. "We have received great feedback from the international community. This rallied employees together and served as a source of pride for local sales and marketing teams because it allowed them to be very involved in a local charitable pursuit and share the experience with the rest of the company."
The employee turnout spoke volumes about the success of the day. Whereas the national average for service projects is usually 30%, Hasbro was able to get an 81% participation rate for its Global Day of Joy. "To me, this speaks to the kind of folks who choose to come and work here," said Frascotti. "They consider giving back as part of their DNA."
The feedback from employees has been overwhelming. "Many have said it's their favorite day of the year," said Frascotti. "It doesn't matter if you take a whole or half day, employees feel they were a part of something greater than themselves, and they feel connected to the greater good."
Frascotti believes that the gifts of the day keep giving back to the volunteers. "What's unique is that these employees then model great behaviour for their children. They tell their children what they did that day and it allows them to demonstrate the gift of service."
"This one day just shows the power of the human spirit. When you give toys to young kids who might not otherwise get them, some who are having surgery or don't have a home, and you see the appreciation and gratitude in their eyes...it's very personally rewarding. This place has been bursting with pride all week."