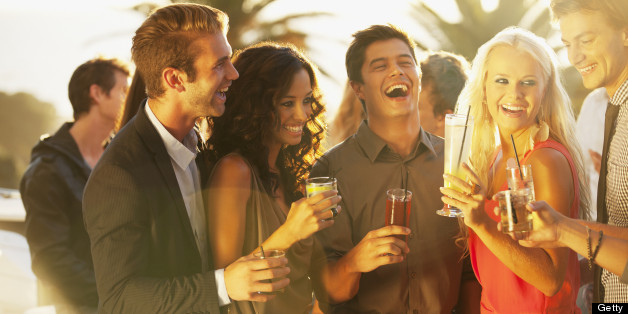 It's becoming an age-old question: How do you engage today's 20-somethings in charitable giving and community engagement? Organizations and nonprofits have racked their brains and devised development strategies to engage millennials. They've made Generation Y out to be an elusive, almost unobtainable mindshare.
But what if it were as simple as putting on a good old shindig?
Rewind to a few years ago, when a friend-of-a-friend ran all 2,663 miles of the Pacific Crest Trail in just over two months -- that's an average of 44 miles every day, or about 100 consecutive marathons from the Canadian to Mexican borders.
The runner, Sam Fox, 23, made this journey to raise awareness and money to fight Parkinson's, a disease his mother was diagnosed with in 2000. Through an incredible test of willpower, Sam inspired others to join the cause and pledge dollars for Parkinson's research across the country.
This epic adventure, known as "Run While You Can," raised nearly $300,000 for the Michael J. Fox Foundation in only 61 days.
On the weekend Sam crossed the finish line in October 2011, we decided to host a benefit event far away in Washington, D.C. -- to applaud the feat, to celebrate the finish, and to donate to the cause. In less than two weeks we leveraged our personal and professional networks to reserve a host venue, book music, and promote the occasion.
Together, we quickly raised over a thousand dollars for a man neither of us had ever met.
This nearly spontaneous achievement shared between a host business, performing artists, a powerful cause, and compelled attendees would eventually become the crux of a new endeavor.
Our organization, Raise Your City, was founded in June 2012. It's a social enterprise that curates hyper-local benefit events targeted to millennials. RaiseDC, the organization's first of many city-based chapters, helps to accelerate positive change in our immediate surroundings. The premise of this "virtuous nightlife movement" is simple -- turning social activities into acts of civic engagement.
Of the thousands of nonprofits based in D.C., only a small fraction reinvest directly back into this city. It is this fraction that we serve, with the foremost objectives of raising funds, heightening awareness, and attracting volunteers for these smaller, resource-strained organizations. We are also a temporary extension of their teams, providing a viable fundraising platform and digital marketing services at zero cost.
In partnership with a committed board of advisors -- a balanced mix of young non-profit leaders, event planners, social media experts, bloggers, accountants, lawyers and consultants--RaiseDC has raised thousands of dollars for various non-profits alleviating city issues in its first year. Nearly 100 percent of profits are turned over to organizations like DC Greens, helping to teach D.C. students healthy eating habits, and The Perry Center, providing adult education and childcare services to low-income families living within sight of the U.S. Capitol.
We asked ourselves, very early on in the project, "If this project is truly going to progress a sense of community, how can we offer that community a louder voice in the process?" So instead of a behind-the-scenes beneficiary selection process, we give the power to our followers in the most democratic process of all -- a vote held on Facebook. The organization tallying the most votes receives the upcoming benefit and proceeds.
Yet the value of this project extends beyond hyper-local philanthropy.
Raise Your City brokers venues for talented performing and visual artists, raising their exposure levels and offering them a chance to collaborate with each other. All the while, our crowds stimulate growth for the local host businesses, which are introduced to an array of potential returning customers. And, our partners and sponsors gain favorable perceptions in their community by enhancing their social footprint.
We do not throw extravagant galas, nor do we solicit large contributions from our followers. Rather, we cater to their lifestyles, providing an attractive way to engage with the city's most pressing social, economic, and environmental issues, while donating within their means. Unlike a pricey gala, our costs are spread over a much more palatable timeframe and the donations reach a much wider range of beneficiaries.
Only recently have younger demographics been targeted as real candidates for philanthropic giving, due in large part to new digital fundraising platforms ("text-to-give," "tweet-to-give" and crowdfunding) and the rise in social media consumption.
By leveraging this focus, we strive for millennials in every metropolitan city to become civic change agents while having the time of their lives. By weaving together nonprofits, the arts community, venue spaces, and a generation poised to change the world, our goal is to instill a sense of civic participation and locally-focused responsibility with a low barrier to entry and high potential for reverberations.
Before we scale to other cities in the U.S. and beyond, Raise Your City and its first chapter must expand its reach within, becoming truly representative of all the ages, colors and interests that make this nation's capital one of the most culturally diverse cities in the world.
Sam Fox was the flare of inspiration we needed, and we want to pass along our own torch to let others follow.
Raise Your City's The One Year, a celebration of the past year and all the nonprofits we've benefitted, is coming up on Friday, July 19th at Malmaison in Georgetown.