With nationwide attention being focused on the battle over California's Proposition 23 (concerning its global warming law AB32) and Proposition 19 (concerning legalization of marijuana), two of California's other ballot initiatives -- Prop 25 and Prop 26 -- have perhaps not received the attention they deserve.
Neither proposition has gone unnoticed by industry, especially oil, tobacco, and alcohol companies, all of which have been sending enormous amounts of money to the "No on 25" and "Yes on 26" campaigns, with contributions totaling over $15 million so far. An Oil Change International project called Prop26.DirtyEnergyMoney.com offers an interactive chart showing where the money has come from and what the relationships are between donors.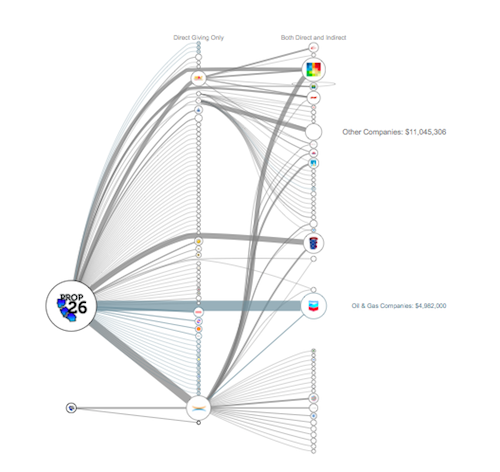 Proposition 26 would increase the legislative vote requirement from one-half to two-thirds for new and increased state and local fees and charges. According to the official ballot language, Prop. 26 "requires that certain state and local fees be approved by two-thirds vote. Fees include those that address adverse impacts on society or environment caused by the fee-payers business."
The first sentence is primarily why associations of public agencies are in the fight against it. The second sentence is the key to why certain industries are for it.
With the slogan "No Hidden Taxes," oil, tobacco, beer, wine, and beverage companies are lining up to pass Prop 26 and stop Prop 25 because they want to prevent additional fees to be levied on the products or consequences of their industries. For example, Prop 26 would make it harder to raise fees on the alcohol industry, so Anheuser-Busch has contributed $1 million. Oil companies don't want new fees that help pay for oil spill clean-up, beverage companies don't want soda taxes, and tobacco companies don't want to pay for anti-smoking programs. Having fees classified as taxes and thereby requiring a two-thirds vote makes it less likely such fees will see the light of day.
On the other hand, Proposition 25 would reduce the votes required to pass a budget from a supermajority of two-thirds to a simple majority of 55%, similar to 47 other states. Furthermore, Prop 25 would require that for each day late after the June 15 deadline, legislators would forfeit their salary and other payments. In California, both a budget and taxes require a two-thirds vote; fees do not.
Proponents see Prop 25 as helping to address one of California's most inextricable problems -- the difficulty of passing a budget on time because the minority party can easily hold up passage with demands and long negotiations. Opponents argue that Prop 25 would make it easier for the majority party to get through their budgets, with any associated tax or fee increases.
The majority of support for No on 25/Yes on 26 is coming from a broad range of interests including alcohol, tobacco, agriculture, beverages, insurance, oil, and real estate. However, the single biggest contributor is Chevron. With Prop 23 bringing in millions of out-of-state dollars from oil and gas companies, one of the questions analysts were asking was, "Why are big name California players like Chevron on the sidelines?" It seemed obvious that big oil corporations like Chevron would also be jumping on the money bandwagon to pass Proposition 23. Instead, Chevron declared their neutrality.
But Chevron was kicking in big on the No on 25/Yes on 26 campaigns, with a grand total of $4 million. Chevron is not alone among oil giants. Fellow oil and natural gas corporations Conoco Phillips, Shell, and Occidental Petroleum donated about half a million each. A dozen or so smaller oil & gas companies have contributed amounts ranging from $5000 to $150,000.
The next biggest contributor is the California Business PAC, the group representing the members of the California Chamber of Commerce, including Hewlett Packard, General Electric, Enterprise Rent-a-car, Pfizer, and Charles Schwab. As of October 22, the California Business PAC had donated over $3.5 million.
Because of campaign finance and disclosure laws, funneling money through non-profit political action committees is a way industries can spend more on an issue or remain in the shadows without their name or brand being associated with a particular campaign. For example, while utility giant PG&E has not given directly to No on 25/Yes on 26, it has contributed $600,000 to the California Business PAC.
Besides the California Business PAC of the Chamber of Commerce, other influential political action committees are the California Business Roundtable ($40,000), the Small Business Action Committee ($1.3 million), and California's largest Republican PAC, New Majority California, which has spent $110,000. Despite its name, the Small Business Action Committee has received much of its money from big alcohol, tobacco, and real estate companies. The SBA political action committee is also spending millions on ads attacking gubernatorial candidate Jerry Brown.
Alongside the CA Chamber of Commerce and Chevron, other mega-donors (giving several million dollars each either directly or indirectly) are Phillip Morris (via its service company Altria) and the American Beverage Association, a trade group that represents hundreds of non-alcoholic beverage producers and distributors ranging from Coca-Cola, Dr. Pepper, and Pepsi to Kraft Foods, Nestle Waters, and various energy drinks. The Howard Jarvis Taxpayer Association is also a leading direct donor, giving about $300,000.
Breweries, winemakers, and others in the alcohol industry such as Crown Imports, the Wine Institute, and the California Beer & Beverage Distributors have donated big, with the largest donors being Anheuser-Busch with $1 million and MillerCoors with $350,000. These industries fear so-called "sin" taxes, some of which are in the California legislature pipeline.
Investment firm Chartwell Partners has kicked in a quarter million dollars. Chartwell is owned by A. Jerrold Perenchio, the Republican billionaire owner of the largest Spanish TV network Univision. Perenchio is the largest land-owner in Malibu and has a reputation for being the largest individual donor in Californian politics, often playing both sides, but regularly donating big to Republican candidates and causes.
Other contributors to the No on 25/Yes on 26 campaign fall into one of a handful of categories: insurance, real estate, and agriculture. Several real estate firms have contributed big money, including Kilroy Realty Corporation and Cypress Management Company. Certain agricultural interests are also contributing to the No on 25/Yes on 26 campaign, including the Western Growers Association Issues PAC, California Citrus Mutual, the California Rice Political Action Committee, and the California Farm Bureau Federation Fund to Protect the Family Farm (FARM PAC).
Meanwhile, the other side urging No on Prop 26 includes the American Lung Association in California, American Cancer Society, Sierra Club, National Resources Defense Council, police officers, firefighters, the League of Women Voters, California Public Securities Association, the School Employees Association, CDF Firefighters, and the Service Employees International Union. Also the League of Cities and State and Association of Counties have joined the fight because they see Prop 26 as an overreach on their members' local authority to regulate businesses and propose fees.
Calling the Prop 26 the "Protect Polluters Act," opponents say that it would make it even more difficult to hold polluters accountable for the social and environmental harm caused by their activity. It would also make it more difficult for local governments to raise revenue for basic services. Many of California's environmental protection programs are funded with fees.
"Prop. 26 would eviscerate the funding of all air- and water-pollution programs, even oil-spill cleanup," said Warner Chabot, chief executive of the California League of Conservation Voters.
As Jean Ross, Executive Director of the California Budget Project, put it, "The fees at issue are primarily those that regulate, mitigate and otherwise respond to environmental, health, and other social impacts of products and services. In other words, businesses seeking to avoid financial responsibility for the "externalities" of the products that they sell..."
An independent analysis by the Legislative Analyst's Office (LAO) reports that if passed Prop 26 would cost Californians a $1 billion in lost revenue.
While Propositions 25 and 26 have not been getting the same amount of traction in the media as Props 19 and 23, they are guaranteed to have long-term impacts on California one way or another. Voters will do well to look carefully at the language of each proposition and who is funding them.