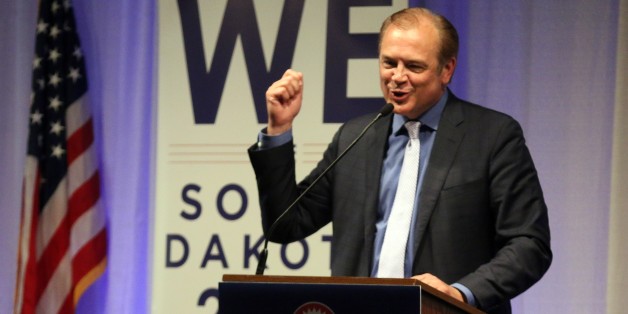 Dramatic developments last week in the South Dakota Senate race have left national political observers scrambling to make sense of it. The temptation is to parallel the SD race with the one in Kansas, where a Republican favorite is suddenly vulnerable, and the Democrat has dropped out of the race to the benefit of Independent Greg Orman. But it is a mistake to equate Kansas with South Dakota, where Democrat Rick Weiland is running an inspiring, populist campaign, crisscrossing the state and holding spirited rallies. With just over three weeks until Election Day, this 4-way race is wide open.
The South Dakota contest burst onto the national radar on October 8, when news of the Democratic Senatorial Campaign Committee's commitment to spend $1 million in the state followed closely on the heels of Mayday PAC's $1 million pledge on behalf of Weiland and his anti-Big Money crusade. In choosing to invest in the SD race, both groups cited internal polling showing the race is winnable.
In Kansas, incumbent Republican Pat Roberts barely escaped a primary defeat against a hapless, Tea Party novice. He faces growing criticism since he no longer even possesses a home in Kansas, and has consistently polled below 40%.
But in the month following the August primary, Orman, a millionaire who can help finance his own campaign, has proven to be a much stronger candidate than was Democratic nominee Chad Taylor. As a former Democrat, Orman's center-left positions make him highly appealing to Kansas Democrats and other anti-Roberts voters. Taylor, meanwhile, won his primary by default, but baggage stemming from policy controversies and gender and race discrimination suits from his tenure as a district attorney left him unpopular with key Democratic constituencies. A progressive women's group endorsed Orman, and pressure for Taylor to exit the race mounted quickly within the Kansas Democratic Party establishment. Taylor withdrew in September, and under Kansas law, his name will not be on the ballot, leaving a 2-way race between Roberts and Orman.
In South Dakota, by contrast, Democrat Rick Weiland enjoys the energy and enthusiasm of progressive activists across the state. Having styled his campaign from day one as a populist movement to rid politics from the toxic effects of Big Money, Weiland takes a page out of the grassroots playbook of heartland underdogs like George McGovern and Paul Wellstone. In fact, in April Weiland made history as the first candidate ever to visit all 311 towns in South Dakota. The next day, he started over visiting them all again.
Traveling on a shoestring budget, Weiland chronicled the campaign narrative by rewriting words to such songs as Johnny Cash's "I've Been Everywhere" and Old Crow Medicine Show's "Wagon Wheel." As of this posting, the video had nearly 30,000 views on YouTube.
À la Wellstone, Weiland has stretched his campaign dollars, eschewing 30-sec TV spots for 15-sec ones instead, just talking incredibly fast, like this one, this one
and this one.
The true wild card in this race is the Independent, Larry Pressler. A recent SurveyUSA poll shows a statistical 3-way tie, with former two-term governor Mike Rounds at 35%, Pressler at 32%, Weiland at 28% and Tea Partier Gordon Howie at 3%, with 2% undecided and a margin of error of +/- 4%.
Unlike in Kansas, in which the Independent is a former Democrat, Pressler was a three-term Republican senator with a conservative voting record. In fact, Pressler only left the Republican Party last year, though he endorsed Barack Obama in 2008 and 2012, hoping for a presidential appointment. Even now, Pressler won't say whether he'd caucus with the Republicans or the Democrats.
Pressler supports overturning Roe v. Wade. He bizarrely claims he marched with Martin Luther King, Jr., though in 1983 he was one of just 22 U.S. Senators to vote against the creation of the MLK holiday. Pressler does not possess a home in South Dakota; his principal residence is Washington, DC, which allows him to save up to $70,000 a year in property taxes. But that could explain why he once considered a run for DC Mayor.
In the Senate, Pressler held the dubious honor of having taken more PAC money than anyone in Congress, spending much of it on himself. The Sioux Falls Argus Leader pointed out in 1994: "The [finance] reports dating to 1991 offer few clues to explain how or why Pressler and his wife incurred so many expenses that required reimbursement, or how any of the $500,000 spent related to campaign activities."
Along with the gaudy campaign expense tabs for things like luxury hotels, maid services and the opera, Pressler drew a salary of more than $125,000 from his campaign for reelection, in addition to his Senate salary and generous benefit package.
Republican Mike Rounds, meanwhile, has employed a strategy of skipping debates, hiding from voters, accepting big checks from corporate donors, and generally counting on Republican inertia to drag him into the U.S. Senate. A backbencher by nature, Rounds was an accidental governor who slipped in through the back door in 2002 when two Republican heavyweights clobbered each other in a 3-way primary.
Despite two terms as governor in a Republican state, however, Rounds has languished in the mid-30s in polls. He is dogged by a scandal involving EB-5, a federal program run by each state which allows wealthy foreigners to invest in purported job creation programs in exchange for green cards. As governor, Rounds administered the program with virtually no oversight, allowing his economic development secretary, Richard Benda, to privatize the program into a for-profit corporation. The investment money was effectively siphoned into a political slush fund.
The highest-profile EB-5 project in South Dakota was the Northern Beef Packers plant, which received nearly $100 million from EB-5 investments. It went bankrupt in 2013, just nine months after it opened. In October last year, Benda was found dead in a farm field while under investigation by Attorney General Marty Jackley, though he was never charged. Benda's death, caused by a shotgun wound to his abdomen, was eventually ruled a suicide.
Rounds and the other officials involved refuse to testify under oath, though Rounds did provide written testimony to state lawmakers in September that he was not aware of litigation involving EB-5 and a California firm. News reports surfaced recently revealing that the governor's office was officially served with court papers in 2009, and that the governor's own brother, Dennis Rounds, was overseeing all state litigation for the governor. Rounds subsequently amended his testimony.
Attorney General Jackley's investigation, meanwhile, amounts to the proverbial fox guarding the henhouse. A highly ambitious politician in his own right, Jackley is fully entrenched within the South Dakota Republican political establishment. He has resisted calls from Democratic lawmakers and other critics to appoint an independent prosecutor.
As an Independent candidate, Pressler lacks the institutional and organizational support of a political party, and has only raised about $100,000 in the entire campaign. It is difficult to imagine him competing with Weiland and Rounds in the homestretch ad blitz, especially as he takes incoming fire from the left and the right. As his support wanes, the key question is which of the two major-party candidates will be the bigger beneficiary. But one thing is for certain--this isn't Kansas. Rick Weiland is bringing it, and he's playing for keeps.