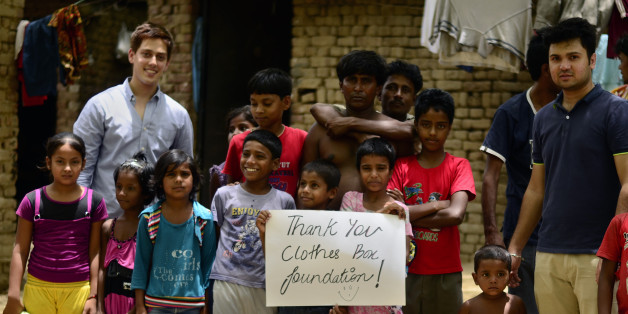 This story was produced in partnership with Facebook Stories. Submit your own Facebook story here.
---
My friend Naman and I grew up together in Guragon, India, which is near New Dehli. After I graduated from university and Naman was studying in his third year, we had an idea to give back to society and make a change in our country. We saw the disparity of resource availability where we live, but we also recognized how a little gesture of aid can go a long way.
Our idea was to take clothes that are not needed anymore and give them to the not so fortunate ones, and to do so by building a unique network all over India. Our basic insight was that we saw a poor delivery mechanism for donations, which lacked efficiency and credibility.
So in February 2014, we started the Clothes Box Foundation with a simple strategy of placing empty boxes in various parts of the country and requesting residents, students, professionals and others to make a contribution to this noble cause by dropping wearables in those boxes.
We also ask for the donors' Facebook web address. When we distribute the donations to people in need, we take a photograph of the smiling recipient and then share it on the Clothes Box Foundation Facebook Page. We notify the donor by tagging him or her in the photo.
This has a number of positive outcomes. Donors know that their clothes have been donated to the underprivileged and get to see the people who will be wearing them. Not only does this bring an added sense of satisfaction to those who donate, but this simple method also ensures transparency that donations reach the desired destination.
It also allows us to connect with all the contributors and create a community of like-minded generous people, as well as raise awareness about Clothes Box among the donors' friends. Through Facebook we have been able to collect clothes from nearly 40 donors after only four months. And Clothes Box has already delivered clothes to about 500 people to date.
On my second day of distributing clothes, I remember running into a young boy, Vishnu, who was full of giggles as he saw me walk towards him with my big bag of clothes. He told me about how his sister got clothes from me the last time and he was hoping to see me with something for him soon. When I gave Vishnu the only t-shirt I had in his size and asked if he liked it, he replied, "Blue is my favourite colour," and ran that instant towards his mother who stood smiling in the distance. Vishnu holding that blue t-shirt is one of the many instances that inspire my commitment to this project.
Clothes Box now has a group of 16 young volunteers in various cities and states including New Delhi, Kolkata, Hyderabad, Bangalore, Mumbai, Ambala, Noida and Greater Noida. There is much work ahead of us, but we aspire to deliver equality of access and esteem to all children, irrespective of their social, cultural or religious backgrounds. We realize that a majority of the country's youth is not half as privileged as we are, and we cannot keep waiting for the government to take charge and provide assistance.
Social media is a platform to connect to the masses and we are lucky to live in this day and age where we can connect to people across the world and share our ideas.
Starting this June, we want to take the Clothes Box Foundation one step further and allow a system where donors can sponsor education for children who cannot afford to go to school or are caught up in child labor just to survive. The sponsorship will account for clothing, textbooks/stationery supplies, study aids and extra curricular activities. Maintaining the strategy of collecting people's Facebook profile links, we will share the children's accomplishments with their sponsors to keep a connection between them.
At a school visit about a week ago, I met a 7-year-old boy, Haider, who lost his right arm and leg to polio four years ago -- and yet his was the most cheerful face in class. This bright young boy's smile instilled a sense of conviction in me. As I heard the enthusiasm in his voice while he spoke about his dreams, I saw an eager child ready to learn. With our next initiative, we want to empower kids like Haider with education so that despite the trials they face today, they can take on tomorrow with the rest of their generation.
The feeling of helping others through Clothes Box has been wonderful. We as a team, aim to take this to every nook and corner of the country and contribute a hand to help the needy.
Saajan Abrol lives in Gurgaon, India, where he works for American Express and runs Clothes Box Foundation with Naman Ahluwalia.