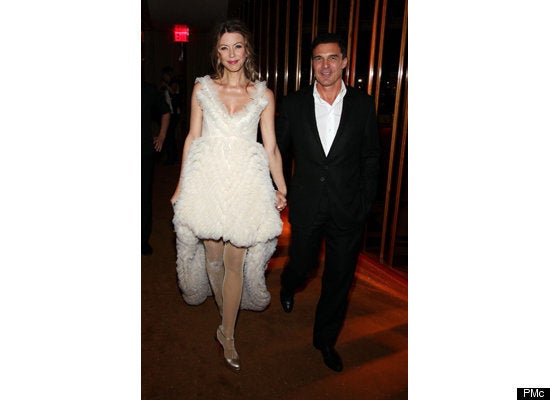 Sasha Lazard, a classically trained opera singer, who rebelliously pioneered her own musical genre -- a fusion of opera, folk, rock and electronic -- kicked off a monthly concert series Wednesday night with André Balazs, putting the boom in the space formerly known as Boom Boom Room.
Lazard sang for over an hour on the 18th floor of Balazs' Standard Hotel to an audience comprised of the who's who of New York including: Diddy, Donna Karan, Bob Pittman, Andrew Saffir, Maggie Rizer, Todd English, Carlos Souza, Jamie Johnson, Brooke Geahan, Jay McInerney, Anne Hearst, Patrick Liotard-Vogt and Zoe Kazan, who arrived with Mammie Gummer (Meryl Streep's real life daughter) in a Jason Wu strapless mini dress fresh from the premiere of "It's Complicated," in which she plays Streep's daughter.
The theme of the evening was "old world glamour" -- or, in Lazard's words, "an age when people went out and were properly dressed. Despite Lazard's sartorial formality, her artistic objective is to make the world of opera accessible to those who don't necessarily have a box at The Met.
"It feels like a living room here. Its nice for people to be able to enjoy music this way," said the effusive singer.
Not everyone was so positive. John Mayer, who remained in the corner for most of the night with two older men, complained "glamour -- that's so boring."
Of the artist showing up stag, Serena Merriman said: "John must have been collecting material for Twitter because he certainly wasn't there to flirt with girls."
PHOTOS (via Patrick McMullan):