I discovered two widows and a waitress in Greece. I think they may have slipped off the pages of a Grimm's fairy tale and tumbled to soft landings in mountains near the sea. These creatures are precious witches with warty skin, vibrant souls, and eyes that hold the truths of their lifetimes. I tracked them down in a labyrinth of ancient passageways, and I captured them, hoping they would share their magic with me. It was their spittle that I was after. The Greeks believe the gesture of spitting wards off misfortune and stops the power of the Evil Eye. The tradition is a simple "ftou ftou ftou" delivered from the mouth of a wise old woman to the forehead of a vulnerable young one. In this scenario, I'm the young one, and I wanted some blessed spit. I felt an urgency to collect the good luck offering as time ran out on my travel adventure.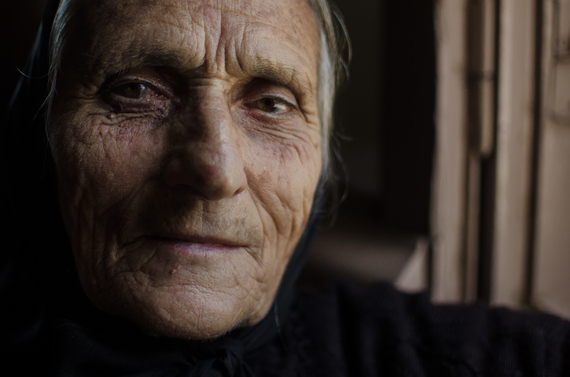 "That one. I choose her," I say to my Greek friends when I see a woman walking alone on the road that takes us through the hills of southern Greece to the coast in Mani.

The lady is plump. Bright eyes peek out from the black shawl draped over her head. An apron sits snug around her waist. Twisted fingers wrap around the handle of a basket, while the other hand negotiates balance with each of her waddling steps. This dear granny just may have the magic spittle that I'm looking for.
"I want her to spit on me!" I demand my friend to stop the car. But Leonidas can only laugh at the naiveté of his foreign passenger, and he makes good on his promise to tease me about this for months. The woman in my rearview mirror disappears. I will not let the next granny get away.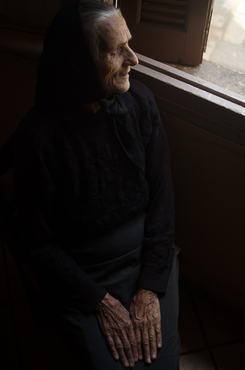 A tiny village hidden in the slopes of the Taygetos is invisible until you're in it. Quiet until it exhales. Byzantine churches built in the 10th century dot the landscape that is eerily silent, land that begs for a breeze. I walk slowly because each footstep seems to disrupt a centuries-old stillness. I pause to look around at the shapes of the stone bricks in the wall, the uneven steps leading to the tower, and the salmon-colored rooftops popping against green hills. I am alone in the enchantment called naptime in the Peloponnese. Only 80 people live in the village of Kastania, and I'm convinced the summer heat has lulled them all into an hours-long trance. I walk to the top of a small incline where a thin, dark figure sits in a chair. Helene Falideas is wide-awake. She gazes into the heat; it's a familiar companion.
"She will never leave here, but be in the earth," Helene's grandson, Ajis, is with her and welcomes me with his English. I'm relieved to hear someone speak.
From our spot in the shade, Helene can see the house that she was born in 83 years ago. The pictures of her wedding day are lost somewhere, but the church in those old photographs stands just a few feet away. The sacred building is 1500 years old, and it's closed today.
"Because this village is everything," Ajis just returned from Athens. "It gives you life. Mountains. We have the sea. We have food. It's the feelings here."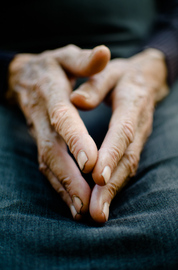 "What else do you need?" I ask the young man. "Nothing?"
"A girl!" He laughs.
Helene blinks with heavy eyelids. I've stumbled into her vault, where time has witnessed generations of her family. Helene is a great-grandmother. Her life's signature is Ajis and the others she'll leave behind. She is proud. She stands to clear the dishes off of the table. In the hour we spend together Helene laughs but rarely smiles. The widow wears black and offers me sparkling lemonade. The round bow under her pointed chin makes me wonder to what degree her life is composed of opposites. Before I leave Helene wants me to understand that she visited America once as a young woman.
"Boston," she says in Greek. "But it was not my Greece," she adds smiling.
I say goodbye and Ajis says, "Super." His grandmother tells him to say, "It is super to see you."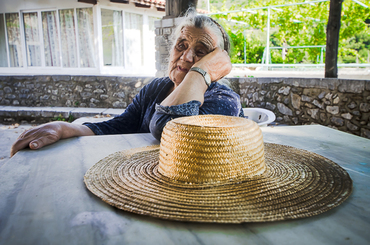 On the other side of the canyon in what a poet once called a "bewitched valley," the larger village of Milia sleeps, too. Another old soul escaped the spell, and she stares at the church that was a witness to her long life. Conversations from Sofia Hanzea's past must be stored in the air here, because when I approach her she seems to be listening to them. Milia was her playground when she was a child. It provided a husband and a life for the couple as they raised their four children. Sofia pulls long tangled hair into a braid and wraps the streaks of gray and white twice around her head. This darling has whiskers on her chin, and an endearing giggle. She rarely sees visitors, and I wonder how long it's been since she's seen a camera because she loves mine. She picks flowers from the garden next to the church, and hands them to me. I'm pleased when her friend Viki wakes up because she speaks enough English to explain that Sofia turns 90 this year, her husband died 15 years ago, her two sons are in Kalamata, and will I please mail the pictures to Sofia? She'd like to send them to her two daughters in Australia. They haven't seen her in such a long time. Yes, I think that is the very least this intruder can do.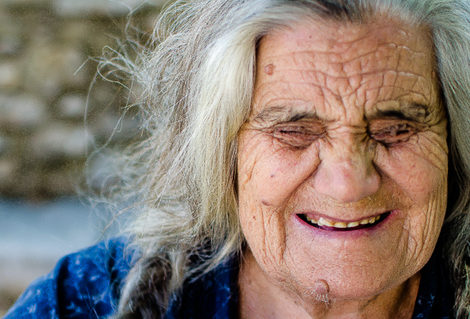 "Are you alone?' Sofia asks.
"I am," I say.
"Oh," she says.
I have yet to be spat upon.
On my drive back to Kardamili I see an older woman holding greens and walking up a hill. I park, and I run after her. Maybe it is the "ftou ftou ftou" sound effect I attempt, or perhaps the rapid pointing to my forehead that confuses her? Clearly the woman does not consider me a candidate for good luck. I've never seen an elderly woman dart up a hill so fast. Impressive.
I've been in the country for a month already! For the love of Zeus, will a Greek grandmother please spit upon me?
I've grown to love naptime in Greece. On the island of Hydra, the streets are empty. The shops close. The tourists stay in the water, away from the heart of the village. The donkeys, the only transportation allowed on this island, enjoy a respite from the heat, too. A quiet rustling on the street means an awakening.
Ostria Café opens for dinner, and I'm the first one here. I'm starving. I've waited all day to eat at Ostria because the locals tell me it's the best, most authentic dining experience on the island. The waitress plops a plate of calamari on my table along with a can of Coke.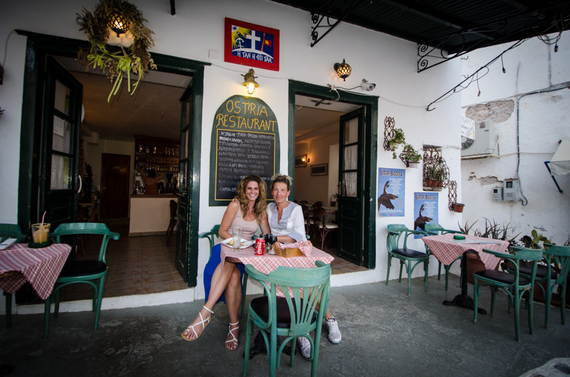 "Ah," she pauses and looks down to examine my face. "Pretty. The eyes."
She puts her hands on my head and gives me a "ftou ftou ftou" and walks away.
I get the blessed spit with a side order of the most delicious calamari on the planet, and I didn't place an order for either. Now isn't this just like a perfect moment? Refusing to be forced, presenting itself only when it is good and ready, and certainly better than I could have scripted?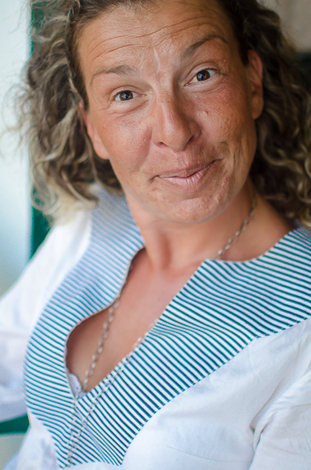 I'm glad I listened to the locals. Anastasia is, by far, the youngest, and the feistiest witch in the spittle saga. She gets her own drink, sits next to me, and begins chattering away about everything except the "ftou ftou ftou" she just bestowed upon me. She delivered the lucky spit, which is really more of a noise presentation than actual saliva, the same way she puts napkins on all the tables: dutifully. She and her husband, Stathis the Cook, have owned the restaurant for 19 years. He delights in telling me that Anastasia is the interesting one, and I believe him.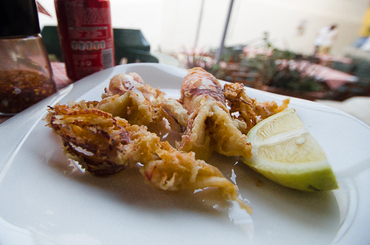 Ostria Café has a reputation for more than its mouthwatering calamari on Hydra. The "blonde lady, you'll like her, she has a big personality," was the encouragement I received toward Anastasia before arriving here. And I find her to be self-deprecating, and probably the kind of girlfriend who brings levity to situations.
"Oh, no," Anastasia looks at the picture I just took of her, and gives me a sincere eye roll. I can't help but laugh when she puts her hand on my wrist as though this is the wisdom she has to impart. "You don't want that."
Before I leave to catch the ferry back to Athens, I hear a "Wait! Wait!" Anastasia darts into the restaurant, bumps her husband out of the way, and grabs a small, glass bottle of liquor.
"You need this for your trip back to America!" She shoves the bottle into my hand and kisses my cheek.
I'm sipping from that bottle of bitter Ouzo, family reserve 1875, as I write this travel tale months later. It's the story of a journey that drew me out from my routine in Seattle, and delivered me to naptime in mountains near the turquoise sea. I searched for superstition in Greece, but found three truths instead: Helene, Sofia, and Anastasia. The women are precious memories of aged hands extended to me, solitude shared with me, and good luck sent with me. They let me capture them in these photographs so I could share their magic here, with gratitude for the two widows and the waitress I met in Greece.