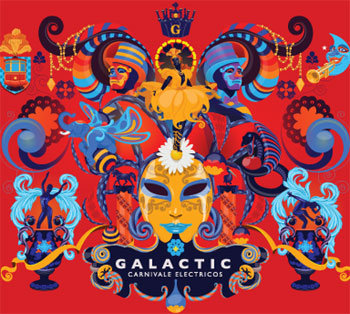 Galactic, a New Orleans band that has made immense strides from their early days as Galactic Prophylactic, is arguably one of the most important bands to come out of the Crescent City. Endless touring, not to mention years of inevitable hobnobbing with so many legendary musicians in their hometown, has turned Galactic into a band that can pretty much write their own ticket musically.
I spoke with Stanton Moore, Galactic's drummer and New Orleans treasure about Carnivale Electricos, the band's new record about to hit on February 21st, just in time for Mardi Gras.
Sal Nunziato: It seemed inevitable, but we finally have New Orleans premier band celebrating Mardi Gras on a new record. Was this a long time coming, getting the band to do something specifically for Carnival?
Stanton Moore: Yes, I think so. I think that we've talked about it off and on again throughout the years, especially when we first started. It felt like being a New Orleans band we should address the Mardi Gras topic at least at some point, but it always felt like it would have been a little bit forced. It just never felt like it was the right thing for us to do. We have more experience the way we produce records now. We wanted to do something that would be different, that would be a different take on it, not just, "Oh here are some other songs about Mardi Gras." So I think that we've accomplished, or hopefully accomplished, something that addressed Mardi Gras and blended Carnival of New Orleans with Carnival of Brazil. We got Brazilian artists and had a lot of New Orleans artists and we've done something that's not just kind of rote or run of the mill. We think we've done something that we feel is a new take on the whole idea.
SN: Yes, you can hear that right away with the record. It's really ambitious and as I listened to it, I not only got the feeling of Mardi Gras, but almost of being at the fairgrounds during the New Orleans Jazz Fest, that feeling as you walk around the track and you catch the music from every stage, whether it's gospel from one area or the world music sounds around Congo Square.
SM: I think it's just a culmination of all of our experience and experiences put together, definitely some of that. Being of this generation we had to be a little bit more comfortable with chaos and a lot of things going on and all these things happening and all these kind of sensory overloads. It's interesting, different musicians that I know tend to be kind of... tend to lean toward avant-garde, and like to go stand in places where they can hear three or four stages at one time and just stand there and trip out on that. I think this last year was our 15th time at Jazz Fest, so being out there that much I think that you can't help but experience so much sound. Whether you're out on the streets during Mardi Gras or you're at Jazz Fest, things are coming at you from different directions and it's a little bit chaotic and a little bit frantic and frenetic.

SN: The record doesn't seem frenetic at all. It's got a fantastic flow to it. It certainly covers a lot more ground than just New Orleans music, as you said. Did it feel like a natural progression for the band to incorporate the Brazilian and South American rhythms into that funk formula that you guys do so successfully?
SM: I think so, because I've been doing that for years. There are songs of ours that have come into the groove by blending the Brazilian stuff with the New Orleans stuff. I mean, it's all coming from Africa anyway, what happened when those African influences mixed with all these other cultures. What happened when it mixed with the Brazilian culture. What happened when it mixed with Haiti. Then Cuba, and then eventually New Orleans. And it was slightly different everywhere, but it developed into all these things. But when you peel back a layer and bring it closer to Africa you can see the similarities, so they're not that different. There are so many similarities between Brazilian and New Orleans or New Orleans and the Cuban or Haitian sound, so I love discovering those and then blurring the lines to come out with new grooves, then throwing it into a pop context -- I mean it's all beats and grooves coming from the same place.
SN: Right. Not including the live record, the two previous Galactic records had specific concepts and so does this new record. From the Corner To The Block covered rap and hip hop and Ya-Ka-May hit on the "bounce" craze. Tell me a little about those two records and if this new record was sort of a conscience continuation of that, continuing the concept with specific themes of New Orleans.
SM: I think that this record is a natural progression and I think that these three records do work really well together. I think that From the Corner To The Block was kind of... I wouldn't say a departure, but was kind of a step in a different direction for us, where we really started making almost like a remix record as we were recording. So I would go in and submit stuff and then they would play stuff on top of it and then replay the stuff and then sometimes cut up and splice in textures in different places. We're still using that production techinique on this record and we've gotten better at it as we've gotten a little bit more comfortable. The turnaround on this record was a lot quicker than the other records as we've gotten a little bit more comfortable.
To me, From the Corner To The Block was kind of as you said, a step in a different direction but one of the bigger steps in that we decided to take on the MC's and the hip hop element of things and once we did that, and saw how that was received, then we felt almost fearless in being able to do different things and take musical chances and risks and we realized that we're not going to hurt ourselves physically, so why not try it. We kind of looked at Ya-Ka-May as our New Orleans record. But we wanted to dip into what we see as our New Orleans, what's going on now, so we could get Irma Thomas we could get Bo Dollis, and we could get Allen Toussaint and we could get Big Freedia, so we wanted to blend what was going on with New Orleans as we see it, not just the way our parents or our grandparents saw New Orleans music but what was happening now. Yeah, there was that bounce element, but there was also classic New Orleans artists on that record as well. We felt like we had gotten someplace where we had the connections, had the production know-how, had the ability to do something different with a New Orleans record, so then that led to okay, maybe we should tackle a Carnival record, but let's do it different. Let's blend the New Orleans and the Brazilian Carnivals together.
SN: Three songs on the new record stand out for me: "Voyage Ton Flag," "Karate" and "Attack." They feel like field recordings, capturing not only the sounds of New Orleans, but also the atmosphere. You can almost feel the people when you're listening to those tracks and I think you guys did an amazing job.
SM: Thanks. I appreciate that. It's really a very interesting viewpoint on those tunes. Interesting that field recordings are usually very organic and it's good to know that we made these things feel organic because we are creating music with overdubs and I think we have gotten better at it. I'm hoping that it feels organic.
SN: It certainly does.
Carnivale Electricos hits on February 21st. This is really what New Orleans is all about.