One must be made of stone to not feel for the great people of New Orleans, as well as everyone along the Gulf Coast. People like singer-songwriter Paul Sanchez, screenwriter Colman deKay, and Chris Joseph, head honcho and chief fundraiser of Threadheads Records should be recognized and rewarded for their tireless efforts in helping New Orleans stay spirited through yet another crisis.
Please take a minute and read this.

FOR IMMEDIATE RELEASE
Threadhead Records Foundation Project, Nine Lives, a Contender for
Pepsi Refresh Project: Do Good for the Gulf $50,000 Grant
New Orleans (August 5, 2010) - Threadhead Records Foundation's project, Nine Lives, has been selected to compete via daily online voting for a $50,000 grant from the Pepsi Refresh Project: Do Good for the Gulf campaign. (http://gulf.refresheverything.com/ninelivesproject) The project's goal is to create a CD of original songs based on the book, Nine Lives, by Dan Baum, with the ultimate goal of developing a Broadway-bound stage musical.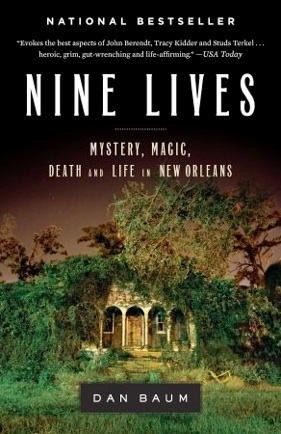 The book follows the lives of nine people from various walks of life in New Orleans, covering the 40 year time span between hurricanes Betsy in 1965 and Katrina in 2005. New Orleans' own singer/songwriter Paul Sanchez and Los Angeles-based screenwriter Colman deKay have taken the characters, neighborhoods and time periods into account and have written 38 songs in styles covering many of the musical genres that are the bedrock of New Orleans' musical heritage, including blues, gospel, traditional jazz, modern jazz and 60's soul, among others.
In order to ensure authenticity, the album will be recorded in New Orleans, employing New Orleans musicians. Noted jazz composer Matt Perrine has been enlisted to write the arrangements. Among the wide array of local, talented musicians to be invited to participate are Shamarr Allen, Glen David Andrews, James Andrews, Troy "Trombone Shorty" Andrews, Craig Klein, John Boutté, David Torkanowsky, Johnny Vidacovich, Shannon Powell, George Porter, Jr., Big Sam Williams, Jon Cleary, Tom McDermott, Evan Christopher, Alex McMurray, Susan Cowsill and Debbie Davis as well as Dr. John, Irma Thomas, Harry Connick, Jr. and members of the Batiste, Marsalis and Neville families.
The opportunity to produce a CD of new material that will eventually form the basis for a Broadway-bound musical will have a profound impact on the lives of the musicians and artists involved, the cultural and tourism economies in the region and will continue to educate the world on the need for special attention, investment and devotion to this important region as it deals with the impact of the oil spill and continues to rebuild.
Voting in the Pepsi Refresh/Do Good for the Gulf campaign is open daily until August 31st and the winners will be announced on September 22nd.