We all agree that in the perfect world we would all know how to be organized and live clutter free. But as is all too clear, the reality is that we have stuff, and that stuff can't always be neatly packed away into color-coordinated storage baskets and file cabinets we conveniently find at a garage sale being held two doors down. So how exactly can you best live with your stuff?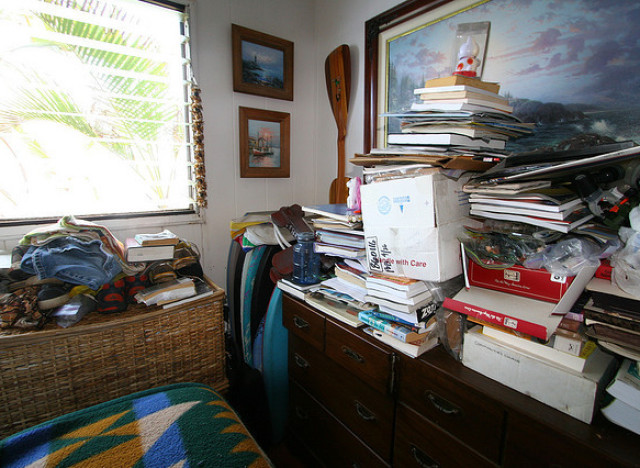 Flickr photo by puuikibeach
First off, it's good to have stuff; it's not a bad thing. It can serve as reminders not only of things we need to do, but also of what we think is important. Those cues we send to ourselves about who we are as a person with the objects we have around us keep us on track with the life we want to live. We remember that our family is important to us, so we don't travel on our spouse's birthday or that we care about the environment and skip printing out a recent email message. This may all sound obvious, but on a more subconscious level, what we're doing exactly is manipulating our own psyche in reaction to the 'stuff' (or clutter) that is in our own homes.
That said, there are a few things that make clutter particularly stressful for many people psychologically, and a little planning can help minimize its ill effects.
When clutter, for example piles of papers, gets in the way of our view of the previously mentioned personal reminders, psychological tension ensues. Possible ways to tackle these obstacles would be to move the piles or these reminders; pictures can be hung higher on walls and piles moved to the floor, for starters.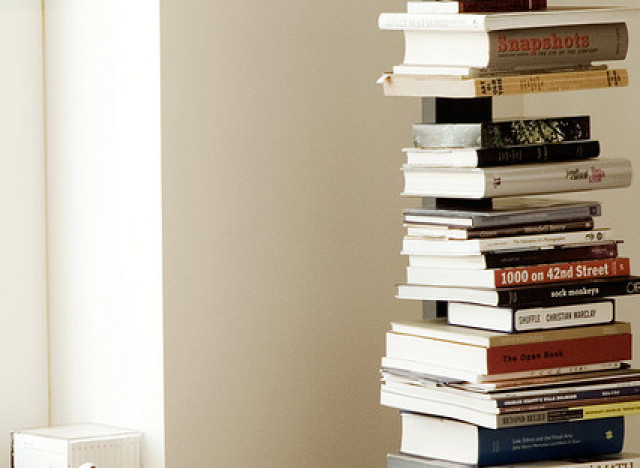 Flickr photo by celine nadeau
Clutter also shouldn't prevent you from doing what you plan to do in a space. It can become stressful if there are too many different collections of clutter in your office that there's no horizontal place to rest your laptop except on your knees. In that sort of situation, something really does have to get picked up, thrown away, relocated, etc.
Also, clutter is a lot for us to look at, literally. All that looking is exhausting and stress-inducing. Try moving whatever you can into containers with simple shapes (looking at a cardboard box full of papers in a corner of your office is a lot less taxing than looking at the entire pile), and label the box clearly. You can even attach a few important papers to the outside of the box as a reminder of what's inside it. The important thing here is that you're making it easier for your eyes to peruse the contents of a space.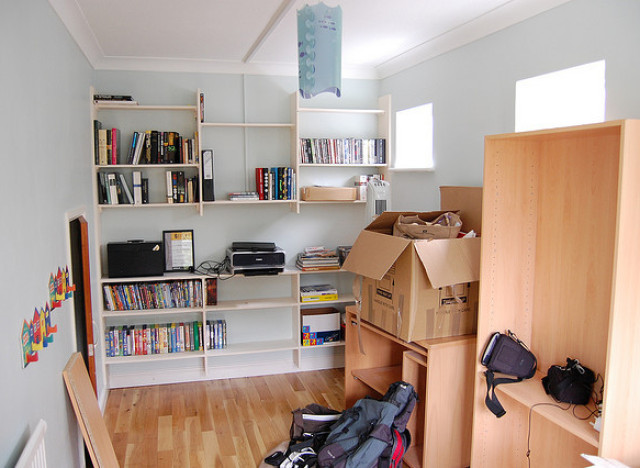 Flickr photo by DavePress
In spaces that are extremely cluttered, you can use scents and sounds to minimize the psychological implications of all that stuff. Scents you enjoy and find relaxing because they are associated with calm memories should fill your nostrils. And if no particular smells come to mind, try some lavender or vanilla potpourri. Scientific research has shown that they are smells that have a relaxing effect. As for sounds, play music that you find relaxing, whether it's classical music or a tune you enjoy listening to when you need to de-stress -- whatever works for you.
Remember, living with clutter doesn't mean completely changing your lifestyle and completely banishing clutter from your home, it's about making slight adjustments that will allow you to live with your own clutter. And in order to do that, you have to accept the reality of the possible messes in your home and approach it practically in the best possible way for yourself.