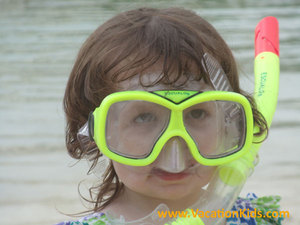 Many families are finding themselves in need of a serious "Winter-vention".
2014 has started as an odd year for family travel. Spring Break and the Easter school holiday fell late on the calendar this year. For this reason, many parents decided not to plan any spring vacations. Instead many families simply looked forward to a really fun-filled summer getaway.
The problem is this has been a rough and record breaking winter for many across the country. Parents have had to endure blizzards, bitter cold and endless snow days. Many families have needed to cancel or postpone their June summer vacation plans because of all the weather cancellations this winter.
The glimpse of a robin atop a huge snow pile doesn't seem to hold the usual promise that warmer temperatures are close at hand. Cabin fever is affecting many this spring and the demand for last minute family vacations is high.
So if you're looking to escape with your kids on a last minute family getaway this spring, where should you go? Here are a few tips to help make the hunt a bit easier...
1. Family Cruises -- Last minute airfares to Caribbean and Mexico beach destinations are running high. If you desperately need a little sand between your toes, consider a family cruise, especially if you are able to drive to port. The cruise lines are offering great deals this spring on family friendly cruises and you will save thousands if you road trip to port instead of flying.
2. Disney Resorts -- Walt Disney World Resorts in Florida are offering up to 30 percent off on select resorts from March 14 - April 12 and April 20 - June 15, 2014. Upgrade to a room and ticket package and get one more ticket day FREE! (Minimum 4-day Magic Your Way ticket required.). With Disney's new Magic bands, families can pre-select up to 3 fast passes on their favorite attractions in advance which significantly cuts down on wait times.
3. Winter Advantage -- Use mother nature to your advantage. All the snow and cold temps have allowed many ski resorts the opportunity to extend their seasons offering some great rates and affordable opportunities for families.
4. City Breaks -- If you simply need a change of scenery for a few days, consider a city break and sightseeing tour. Your family can theme a city break according to your specific interests from a zoo safari in San Diego to a country music visit to Nashville or even a spa and shopping weekend in Miami.
5. European Holidays -- Spring is low season in Europe. Flights and hotels are more affordable. It's a great time to visit with the kids because major attractions will have far less local crowds.