I went to the 8:30 a.m. U.S. premiere of, "Bonobo,"a film co-written and directed by Matthew Hammett Knott. "Bonobo," was first released in the UK to great success, winning awards and was very well received. Hammett Knott had made two short films prior to this one. "Bonobo," his first feature film, tells the story of a mother who goes to retrieve her bohemian daughter from a sexually liberated commune that follows the habits of the bonobo apes, and winds up staying there herself, discovering her own desires in the process.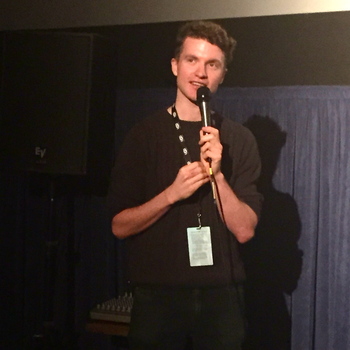 (The Co-Writer/Director, Matthew Hammett Knott)
The film's "deep message is about opening up," said Hammett Knott. He likened the tone of his film to "Muriel's Wedding" or "Tootsie." "It has a comic tone with a point to make. Society offers sexual liberty to some but not to others. The themes of sexuality and discovering who you are," are what the story is about.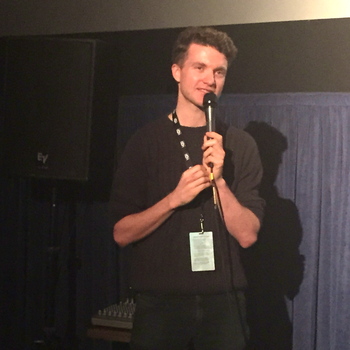 "The tone is defined by being British. I had a 'Sex? Don't mention it' vibe to my upbringing. The film actually was inspired by another friend's mother. I had a conversation with my godfather where he said, 'she's too old for me,' this woman in her 50's. I thought, is she not allowed to have her desires? In this, she is allowed." The idea to feature this particular breed of ape is that, "Bonobos are genetically close to human beings. I started with someone studying them," but then had the character actually adopt the culture of Bonobos and start this cult. "The character's science and her understanding isn't exact," but that wasn't the point of the film. "It is more an idealistic movie."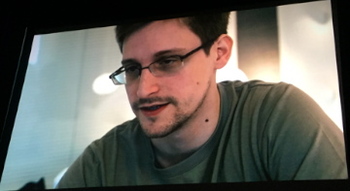 I was really eager to see the next film, "Citizenfour," directed by Laura Poitras. I remember when the news of Edward Snowden broke out, the story around him seemed so murky, hard to tell if he was a 'hero' or someone whose good intentions caused more harm. "Citizenfour," clarified both things for me about Snowden. Snowden sacrificed his life as he knew it to expose evidence that the NSA's mass surveillance had resulted in invasions of privacy "for the good of the citizens." The film also shows him as naive, almost ignorant, to the fact that his actions might also unwittingly endanger citizens. We are all hanging on this cliff with him which is unnerving. There were very real reasons why there was an upswing of surveillance on a grand scale post 9/11. Poitras doesn't elaborate on that side of the story in "Citizenfour."

Poitras' NSA reporting contributed to a Pulitzer Prize for Public Service awarded to the Guardian and Washington Post. "Citizenfour," is the third installment of her trilogy exploring surveillance in this country post 9/11. The film is a thriller and fascinating to watch. It is certainly a documentary to see for anyone trying to keep up with the complexities of this digital/satellite/information/surveillance age that we are living in, where we are all "babes in the wood." Not to mention, "Citizenfour" received the Academy Award for Best Documentary Feature at the 2015 Oscars. The Director, Laura Poitras, currently lives in Berlin.

At 1:00 p.m., I was off to see the Juliette Binoche/Kristen Stewart french film directed by Olivier Assayas, that was getting buzz around the festival, "Clouds of Sils Maria." In the film, Binoche's character, the well known older actress, is asked to perform in a revival of a play that made her famous twenty years prior in the older role with a much younger actress playing the younger role. A number of themes are hanging over the story like clouds be they aging, youth, the passage of time, art, divorce, love and acceptance as seen through the relationships between an older actress (played by Binoche) and her assistant (played by Stewart), and the starlet "It Girl," (played by Chloe Grace Moretz). The film made it's World Premiere at Cannes. All of these actresses are interesting and fun to "travel with" to different places around Europe as the story glides through Germany, Switzerland, Italy and England. It is entertaining to see Kristen Stewart in the role as the assistant as we so readily identify her as "the Star." Stewart gives such a natural performance. I loved her in this. I am a new fan! "Clouds of Sils Maria," is a perfect Sunday afternoon film to "sit back and enjoy the ride" into themes that are still interesting after all these years.
Next stop (4:00 p.m.) was to see a round of short documentaries made by Santa Barbara filmmakers. This was the first time that the Santa Barbara International Film Festival showcased locally produced docs. There were 8 films shown, ranging in length and quality. The best part was the exposure to Santa Barbara culture that I came away with after seeing them all. The films were: "A Day in the Life of Santa Barbara," (Eric Foote), "A Man's Place," (Russ Spencer), "Grasshopper for Grandpa," (Casey McGarry), "Mussel Man," (Matt Mersel, Elvis Metcalf, Megan Schmidt), "Santa Barbara Funk Zone Ride," (Jesse Natale, Eric Panofsky, Erik Fawcett), "Time Warp," (Lael Wageneck), "Vera Cruz,"( Christopher Jenkins), and "Working Artist: Erik Abel" (Aron Ives).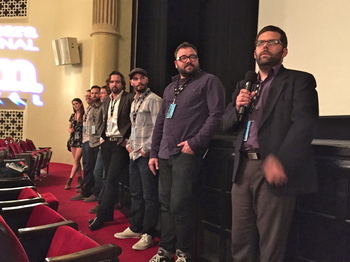 (The Lineup of all the Santa Barbara Filmmakers)
And now it's time for...The 12th Anniversary of The American Riviera Award at the Arlington Theatre!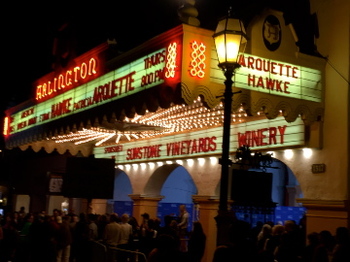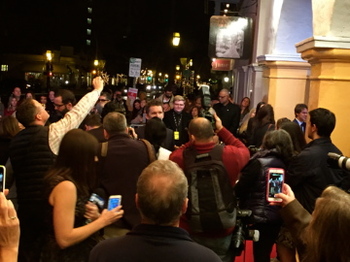 Roger Durling, Exec. Director, of The Santa Barbara International Film Festival, came out to introduce the two Awardees, Patricia Arquette and Ethan Hawke! "These two actors are pioneers. They worked on 'Boyhood' for 12 years. It proves that they are true artists. These two versatile actors have had this concurrent relationship in their careers. This is a valentine to Ethan and Patty!"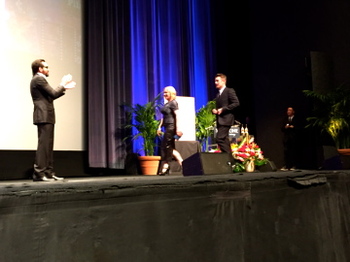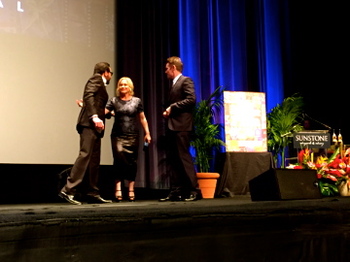 Ethan and Patricia began talking about working on "Boyhood." Ethan started by saying,"It was a labor of love. Never was it more true. It was someone saying,'I want to make a piece of art, do you?'"
Patricia,"It is crazy that Rick took that chance. Nobody had done that before." Ethan added, "I was 23, he was 32 and he talked about film like it was the 'wild west!' His thought is not in a box at all. 'This art form is in its infancy!' Richard would say. It was incredibly liberating to listen to this young guy saying 'we can do anything.'"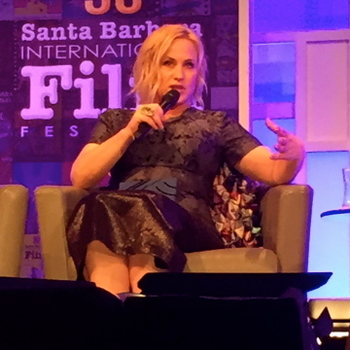 Roger, "This night is all about celebrating!" Up went a clip of Ethan in "Dead Poets Society," which prompted him to talk about working with Robin Williams. "What is it about incredibly talented people that can express in art and have a hard time in real life? Grace that happens in art, and it feels really beautiful, and it makes regular life scratchy and uncomfortable. It creates an imbalance in your life. Robin Williams was a comic genius. I was 18 and he would be making jokes. It was a thrill to be in a film with him because you had no idea what he would do. Phil (Philip Seymour Hoffman) was special. Robin was special. This was a guy who was a master....In telling eachother stories we can heal our lives."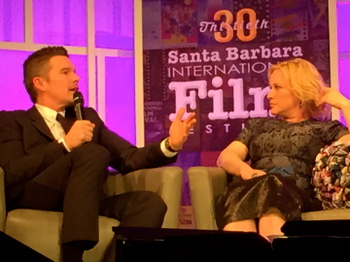 Patricia on working with Sean Penn who directed her in "Indian Runner," "He was a great director. He would jump in and say,'do it like this,' and it was terrifying because he would do it better than any of us." Patricia on working with David O. Russell in, "Flirting With Disaster," "This was his second movie. It is like working with an electric wire. He is mercurial and wild."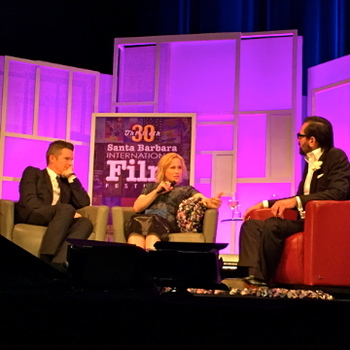 Ethan on acting and theatre,"What was conscious for me was wanting to do this at 75.... What they were burning out on was the creative swing. There is a great pull in the universe, a riptide, to make money. I started a theatre company around that time. It was a moment when our generation was finding a voice. It was an exciting time to take off with our generation."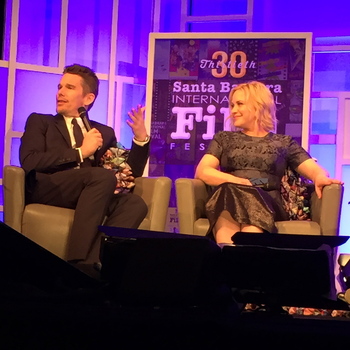 Ethan on Richard Linklater, "With Richard, plot is replaced by time...The enemy of most actors are these lines that are so bad. They pay you to say the bad lines...Tom Stoppard used to say, the plot is a device but the audience needs it. They remember emotional moments. We remember and are affected by emotional moments. What Stanislavski and Chekhov were after was, what if you let people see how real people are. They would get this realism. The minutiae of life is really interesting. 'Boyhood' is a collection of scenes that would have been cut out by every other movie. Don't feel any pressure to create drama. Rick was more, 'I don't want to fake anything. I want it to be rooted in something real.' Rick was such a great coach. You know how you become the person they think you can be?"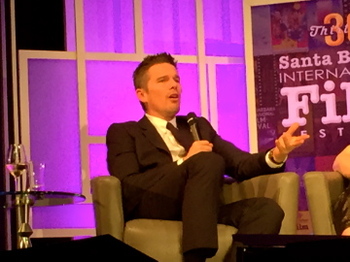 Richard Linklater and Ethan Hawke have worked on 8 films together. Ethan, "It's like when you fall in love or make a best friend....Patricia loves, 'blind spots.' We all have them. We look out for eachother's blind spots. We are simpatico. I understand his (Richard's) mission and we are pulling for eachother. It's been a blessing."
Patricia on the success of "Boyhood," "It tells me that people really want connection."
Then it was time for the American Riviera Awards to be handed out. Ellar Coltrane, their co-star on "Boyhood," came out to the podium. Before handing them their awards, he said a few words to and about Patricia and Ethan. "Both of you never are ingenuine." Speaking to the audience, "They lend their very beings to explore humanity. They inspire me to work harder."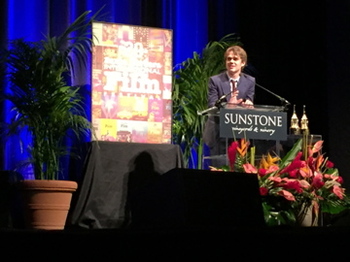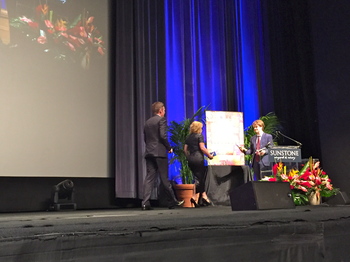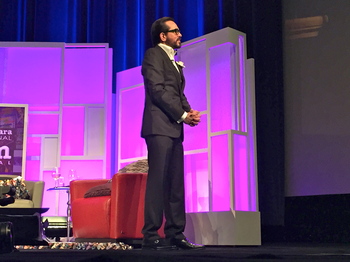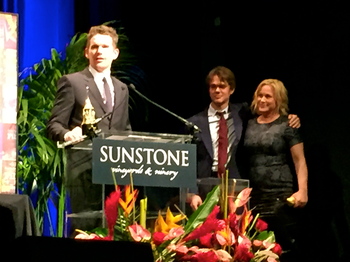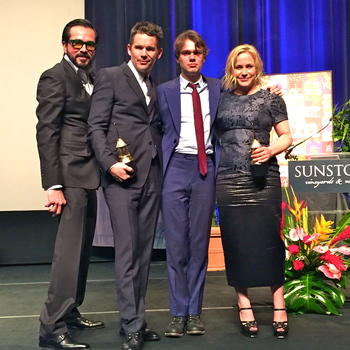 That was an impression-making day for me at The Santa Barbara International Film Festival!
Photo credits: Sally Fay