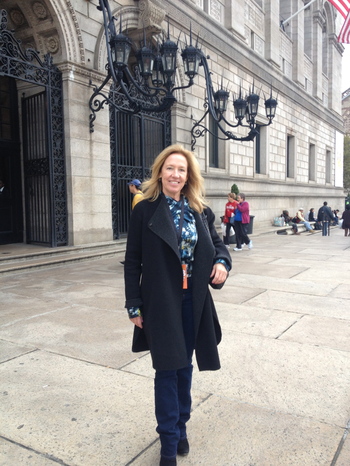 Sally Fay, Author and Moderator, for Boston Book Festival 2013 Panel on Divorce and Marriage, in front of the Boston Public Library (America's first!)
Last October 2013, as part of the Boston Book Festival Unbound Series at the Boston Public Library, I put together and moderated a panel of authors, all previously divorced, and some remarried, on the topic of divorce and marriage. Everyone on the panel, including myself, had published books, articles or blogs on the subject. The panel included Cindy Copeland, best selling, award-winning author/illustrator of over 25 books for adults and children, the newest of which is Good Riddance: An Illustrated Memoir of Divorce, have been recommended by Oprah, Regis Philbin, Ann Landers, and the hosts of Good Morning America; Tom Matlack, a writer and venture capitalist, producer/writer of the documentary film and book called The Good Men Project, as well as founder of the website of the same name where men tell the stories of their lives, which he hopes will continue a national conversation about what it means to be a good man; and Wendy Plump, author of Vow: A Memoir of Marriage (and Other Affairs), which was published by Bloomsbury US/UK/Germany. Wendy has been a reporter for 20 years. Her articles have appeared in The New York Times, RED Magazine (UK), The Los Angeles Times, The Philadelphia Inquirer, and The International Herald Tribune.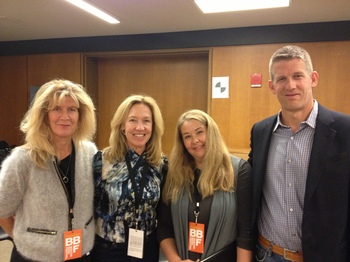 Wendy Plump, Sally Fay, Cindy Copeland and Tom Matlack in photo.
None of the authors knew each other beforehand but all of us swam easily into discussion about relationships, marriage and divorce.
At first we screened a short film called, Halfway Somewhere Else, directed by Avery Rimer, based on Maile Meloy's short story. The film had just been to Cannes. It stars real-life husband and wife, Nicholas and Pamela Guest, playing the husband and wife characters in the film. It is the story of a day in the life of a married man who is on the verge of leaving his wife of many years for another woman. The film and the website with the same title can be found on the Internet.
Afterwards, we discussed various themes touched upon in the film such as infidelity, what people would do differently in their second marriages, what some of the lessons learned from first marriages and divorces are, and how much there is to learn about oneself after a marriage breaks up. The entire discussion can be listened to on the Boston Book Festival website by going to the BBF Unbound tab, and scrolling to find the panel near the top. I have summed up the points that were made in our discussions in the following short paragraphs.
As much as infidelity is condemned, it is still the leading factor for divorce. Up to 50 percent of marriages end. Secrets, keeping your partner in the dark, and beneath-the-surface subtext are all destructive to a marriage.
With first marriages often children took priority over the marriage, with the husband fading in the back.
Areas of mounting trouble: finances, time apart, age and hormones, expectations, an assumption that when the rosiness of passion lessens that love disappears.
A good marriage requires conscious effort and awareness directed towards keeping passion and connection alive. The ability to see love as the perfect mirror. Being able to ask yourself the question: do you want to be "right" or do you want to be happy? The realization that it is less important to always be right and that the connection is more important.
Andre Dubus III was quoted about a study of marriages, he had read or heard about, that concluded that the one thing that successful couples shared was the ability to create a safe zone to argue a point without hurting or being verbally abusive to one another. Those who could find the language, when having a different opinion, without disdain and contempt, were the ones who stayed together.
The pain of divorce can have a profound creative effect; you look at life and love in a different way. Divorce gives you a chance to look at yourself and be self-reflective, asking, "Did I have a role?" or "Where did we misfire?"
Is there a way to get through the stage of a long-time marriage where you feel you are "drowning" other than thinking the only alternatives are to get out, divorce or have an affair? The authors who were in their second marriages said that it was important to put the relationship first, to check in frequently, to treat your spouse better than you treat everyone else.
A woman from the audience spoke up and commented that she had been married for 38 years. What worked for her is that "We fight and we fight well. We argue and then we laugh. Sense of humor is essential. We have shared values. It is important to have the ability to say, 'I am sorry'."
I ended with a quote that I love from Brené Brown on the definition of love:
"We cultivate love when we allow our most vulnerable and powerful selves to be deeply seen and known, and when we honor the spiritual connection that grows from that offering with trust, respect, kindness and affection. Love is not something we give or get, it is something that we nurture and grow, a connection that can only be cultivated between two people when it exists within each of them-we can only love others as much as we love ourselves. Shame, blame, disrespect, betrayal, and the withholding of affection damage the roots from which love grows. Love can only survive these injuries if they are acknowledged, healed and rare."
Following is a list of books and films on divorce and marriage compiled from all of us on the panel, that we either liked or were moved by, or wrote. Whether it be non-fiction or fiction, poetry, prose, or film, art can help us all as we grapple. I hope that some of this is helpful to you.
Books:
I DIDN'T DIVORCE MY KIDS -- Gerhard Amendt
A PROMISE TO OURSELVES -- Alec Baldwin with Mark Tabb
IT'S CALLED A BREAK-UP, BECAUSE IT'S BROKEN:THE SMART GIRL'S BREAK-UP BUDDY -- Greg Behrendt, Amiira Ruotola-Behrendt
RADICAL ACCEPTANCE -- Tara Brach
MEN, WOMEN & WORTHINESS -- Brene Brown
THE WORST JOURNEY IN THE WORLD -- Apsley Cherry-Garrard
THE PLACES THAT SCARE YOU -- Pema Chodron
WHEN THINGS FALL APART -- Pema Chodron
GOOD RIDDANCE -- Cynthia Copeland
WIND, SAND and STARS -- Antoine de St. Exupery
THE POWER OF INTENTION -- Dr. Wayne W. Dyer
THE BLUE JAY'S DANCE -- Louise Erdrich
THE GOOD DIVORCE -- Raoul Felder and Barbara Victor
THE SPORTSWRITER TRILOGY -- Richard Ford
EAT, PRAY, LOVE -- Elizabeth Gilbert
COMMITTED-A SKEPTIC MAKES PEACE WITH MARRIAGE -- Elizabeth Gilbert
HAPPENS EVERY DAY -- Isabel Gillies
A YEAR AND SIX SECONDS -- Isabel Gillies
A DRINKING LIFE -- Peter Hamill
HILLS LIKE WHITE ELEPHANTS (short story collection MEN WITHOUT WOMEN) -- Ernest Hemingway
THE DEAD (the final story in THE DUBLINERS) -- James Joyce
WEST WITH THE NIGHT -- Beryl Markham
THE SNOW LEOPARD -- Peter Matthiessen
BOTH WAYS IS THE ONLY WAY I WANT IT -- Maile Meloy
FALLING APART IN ONE PIECE:ONE OPTIMIST'S JOURNEY THROUGH THE HELL OF DIVORCE -- Stacy Morrison
THIS IS NOT THE STORY YOU THINK IT IS...A SEASON OF UNLIKELY HAPPINESS -- Laura Munson
HOW TO SLEEP ALONE IN A KING-SIZE BED: A MEMOIR OF STARTING OVER -- Theo Pauline Nestor
THIS IS THE STORY OF A HAPPY MARRIAGE -- Ann Patchett
TRUTH AND BEAUTY -- Ann Patchett
VOW- A MEMOIR OF MARRIAGE -- Wendy Plump
THE GUYND-A SCOTTISH JOURNAL -- Belinda Rathbone
FRUITFUL -- Anne Roiphe
CRAZY TIME -- Abigail Trafford
THE GLASS CASTLE -- Jeannette Walls
BRIDESHEAD REVISITED -- Evelyn Waugh
FILMS:
BLUE JASMINE
CAMELOT
CRAZY, STUPID, LOVE
HALFWAY SOMEWHERE ELSE
HEARTBURN
IT'S COMPLICATED
KRAMER VS. KRAMER
MANSFIELD HALL
PRIDE AND PREJUDICE
SENSE AND SENSIBILITY
SILVER LININGS PLAYBOOK
UNFAITHFUL
Photos courtesy of the author